This post has not been vetted or endorsed by BuzzFeed's editorial staff. BuzzFeed Community is a place where anyone can create a post or quiz.
Try making your own!
STAR LIGHT: Celebrity Round-Up For March 10-16
In case you missed all the celeb action last week, get in-the-know NOW!
Tattoo-Fever?
Over the past week, Ariana Grande, Justin Bieber, and Miley Cyrus inked up.
Since collaborating lately, perhaps Chris Brown's tattoo obsession has rubbed off on the wholesome songbird Ariana Grande as she took to Instagram to show off her neck tattoo. It appears to read, "Mille tendresse," which means "thousand tendernesses" in French and is a nod to the Truman Capote novel Breakfast at Tiffany's. Is Ariana seeking to add an edge to her squeaky-clean image?
Justin Bieber, coming fresh off a 4½ hour deposition on Monday that put his "un-Belieber-able" childish side on full display, went under the needle on Wednesday during a late night recording session. The 20-year-old singer added his first large piece to his right arm—an image of a young girl reaching for a heart-shaped balloon as it drifts away. The tat is of "Balloon Girl," one of the most famous pieces by mysterious street artist Banksy, who earns millions of dollars for his gorilla artwork since he first tagged a Hoxton, East London wall in 2002. Hours after Canadian tattooist Glen Hartless finished his inkwork, a Facebook page associated with Banksy responded, posting and tagging a photo of Justin and his new tattoo with caption, "Controversial." Maybe Banksy is not a Belieber? Justin's latest tattoo is apropos as it seems his musical career is drifting away just like the balloon of the girl on his arm, as Banksy fan Tara Anderson noted.
Miley Cyrus, who is currently on her Bangerz tour, couldn't wait to show off her brightly colored "sad kitty" tattoo shown prominently on the middle of her lower inner lip via Instagram Friday. Ouch, that must've hurt! "#sadkitty #f–kyeahtulsa," wrote the "Wrecking Ball" singer. Miley, 21, posted two snapshots, one simply looking up at the camera and the other, showing some serious bitchlip. The face of the yellow and black emoji-style cat has a blue tear running down its cheek. Could this be the outrageous entertainer's way of crying out for help? Meow—such a sad kitty, she is.
Rihanna and Drake—'Shine Bright Like Diamonds'
Has Rihanna given up bad boys for good? Multiple sources privy to the intimate details of Rihanna and Drake's bond told TMZ over the weekend that the pair's casual hook-ups have blossomed into an official, exclusive relationship. Who says hooking up can't turn into something real? Riri is finally giving the emotional rapper-singer a fighting chance. Reportedly, the couple is literally inseparable, spending every night together as possible while Drake is touring Europe. Drake who has clearly been smitten with the pop star-turned-fashionista for years dropped the G-word—girlfriend—during a five-hour-long dinner date on Thursday at Zouk in London, according to the bar and grill's owner. After wining and dining, the couple danced and cozied up as Drake's album "Nothing Was the Same," played. Considering Riri's tumultuous past with Chris Brown, it's nice to see she no longer has to find love in a hopeless place.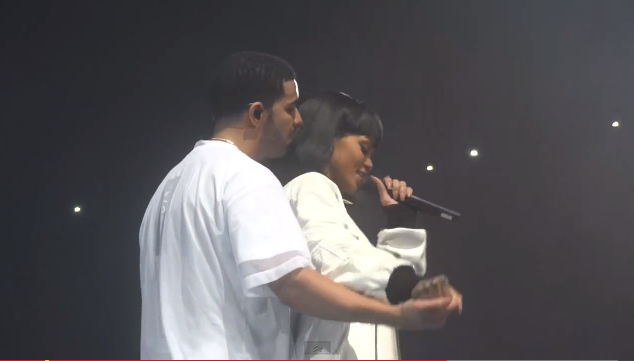 A Baby Bump Debut
In a first since reports broke news that Scarlett Johansson is expecting her first child with fiancé Roman Dauriac, the starlet hit the red carpet for the premiere of Captain America: The Winter Soldier at the El Capitan Theatre in Hollywood on Thursday. Although Johannson is allegedly 5-months pregnant, her baby bump was barely visible as she posed, glowing radiantly, in a lace Armani Privé white cleavage-baring top paired with complementary calf-length, black pencil skirt.
Material Girl Turns Medieval Girl?
Is Madonna way hyped for the April 6 premiere of HBO's Game of Thrones Season 4? Well—sort of. In an unusual selfie posted to Instagram on Saturday, the Material Girl made her love for the show clear by cosplaying as Emilia Clarke's character Daenerys Targaryen in honor of the Jewish holiday Purim. Her ensemble was complete with a long, tousled platinum-blonde wig, bondage-style leather corset, and toy dragons perched on each shoulder. "Happy Purim!!!!! All Hail All Queens! ##certainty," the 55-year-old pop star wrote.
In case you forgot, Madonna converted from Catholicism to Judaism-centric Kabbalah in the late '90s. Purim is celebrated to remember the deliverance of the Jewish people in the Ancient Persian Empire and typically includes costumes among its traditions. Madonna has surely made the Mother of Dragons proud.
Can't Turn Bad Boys Good
Chris Brown who has had his share of legal-woes since his 2009 assault on Rihanna went to jail Friday because he violated a judge's order by getting kicked out of the Malibu rehab facility he has been residing at for nearly 4 months. The "Fine China" crooner was ordered by the judge in the Rihanna assault case to remain in rehab for anger management treatment until April 28, when his D.C. assault case goes to trial. Brown broke the rules, got ousted, and Sheriff's deputies hauled him off to the slammer without bail. He could be there for a month or longer. Brown's lawyer Mark Geragos is scheduled to appear in court Monday to convince the judge to give his client yet, another chance to prove he's a changed man. However, it will be an uphill battle since this is the second rehab facility that has given Brown the axe. If the singer-rapper is found guilty in the D.C. trial set for April 17, he could end up in PRISON for violating his probation related to the Rihanna case. If this isn't enough to scare Chris straight, don't know what will.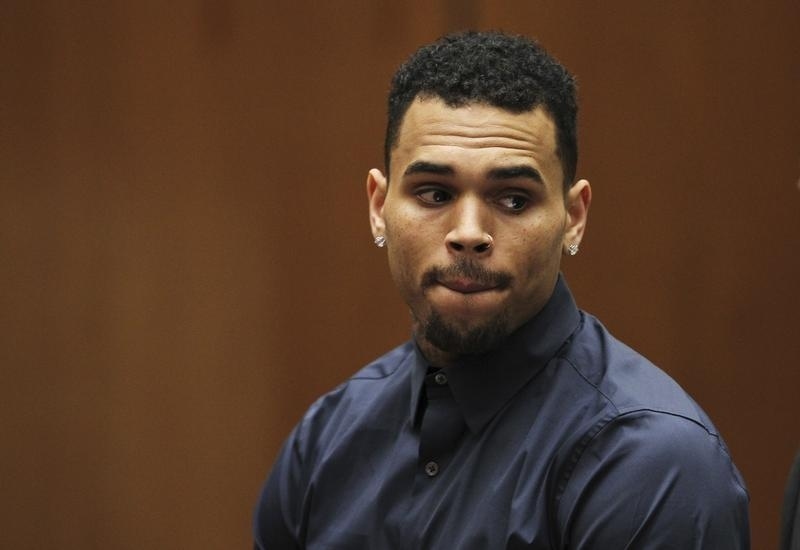 Rapper Tyler, The Creator was arrested Saturday at Austin-Bergstrom Airport for allegedly inciting a riot during a show at SXSW musical festival. Austin police released a video showing a throng of fans bursting through a gate at the Scoot Inn after the Odd Future rapper yelled twice for them to force their way past venue employees controlling access to a Thursday show that was at full capacity. Allegedly, a bar tender had to shield a woman from harm in the resulting push. If convicted of inciting a riot, Tyler Gregory Okonma who was called 'Tyler, The Troublemaker' as a kid, faces up to a year in jail and a $4,000 fine.
From Oscars to Star Wars?
12 Years a Slave break-out star turned Academy Award winner for best supporting actress Lupita Nyong'o might be able to add Star Wars: Episode VII to her growing-list of achievements. Reportedly, Nyong'o met with J.J. Abrams a few weeks ago to chat about starring the part of female lead in the upcoming film. This meeting was even before she took home the gold statuette. Although the film is shrouded in secrecy, it is speculated that Nyong'o may be considered for the role as a descendent of Obi-Wan Kenobi, described as an ethnic character. Now that's how you start a career with a bang! You go, Lupita!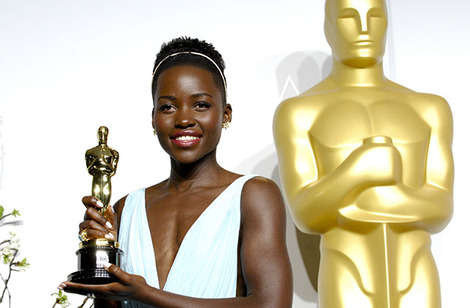 Farewell, Funnyman
Comedian and The Tonight Show regular David Brenner lost his battle to cancer on Saturday, according to Jeff Abraham, a family spokesperson. He was 78. Brenner appeared on Johnny Carson's late-night TV show a record-breaking 158 times, according to his bio on his official site. Among his final requests, according to Abraham, was to have $100 in small bills slipped into his sock, "just in case tipping is recommended where I'm going." Even in death, Brenner will keep the punch lines coming—his grave stone will read: "If this is supposed to be a joke … then I don't get it!" It takes gall to laugh in the face of death.
Hottest Ticket in Town
Mr. Peabody & Sherman topped the box office, bringing in $21.2 million. 300: Rise of An Empire came in second at $19.1M, and Need for Speed sputtered in third with $17.8M.