My daughter gets me socks every year but packages them in a way that I can't tell they are socks. The amount of effort she puts forward and the excitement that giving brings to her is priceless to me. The kids genuinely love giving more than receiving.
– Brandon K.
I was living in South Korea last year, and, as Christmas started to get closer, the more and more, I searched for scented candles. But no matter where I searched, even giant chain candle stores, no one seemed to carry winter-themed candles.
I complained about my empty searches for weeks to friends and family, until a huge box arrived at my apartment. Inside was a note that said: "Just because you're far from home doesn't mean you should miss Christmas." It was two giant yankee candles – one autumn leaves scented and one christmas pine scented – from my boyfriend. It was such a simple gift, but honestly the most perfect one I've ever received.
– Chesney L.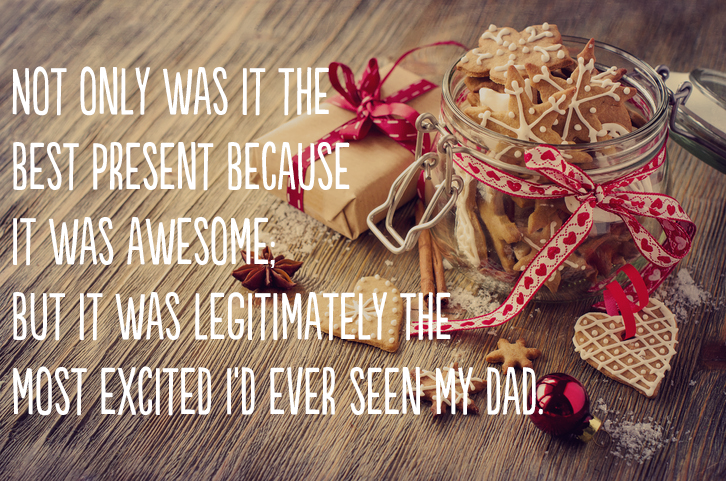 My favourite present was when my brother and I received a Nintendo 64. Not only was it the best present because it was awesome; but it was legitimately the most excited I'd ever seen my dad.
Both he and Mum wanted to do the whole "hold a secret present back until after Christmas dinner" thing, but Dad couldn't handle it. He practically jumped behind the sofa to pull out this "secret" present all of three minutes after my brother had unwrapped his last gift. I'd say the three of us were set up and playing Mario Kart before Mum had even started breakfast.
– Owen S.
My baby was born last Christmas. That was pretty cool. But when I was younger, I was over the moon when I got Castle Grayskull.
– Joe B.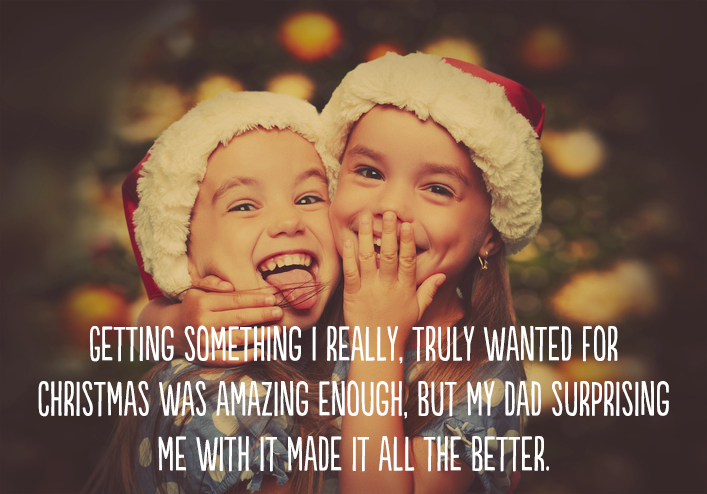 My favourite present was one I got for Christmas when I was 12 years old. A guy had come in to school and played the guitar a few months before, and ever since I'd been obsessed with wanting to learn how to play it. However, my dad wasn't super-keen on paying for lessons after I'd abandoned piano the year before.
After I'd opened all my presents on Christmas morning, my dad asked me to go get something from his car, so I stepped out in my slippers and opened the car. Hidden in the back passenger seats was a brand new acoustic guitar in a fancy case. My dad rushed out and was all, "Happy Christmas!" I was so happy!
Getting something I really, truly wanted for Christmas was amazing enough, but my dad surprising me with it made it all the better. Twelve years on, it's in great shape, and I still play it all the time.
– Ayesha M.
My grandparents would go absolutely crazy with presents for the grandkids. We would all line up in age order at the entryway to their living room, waiting for the doors to open before we sprinted around wildly to find the balloon, with our name written in bubble letters, attached to our gift.
As the only girl out of the first 10 grandchildren, one year we walked into a sea of electric drivable mini jeeps, with one glorious hot pink barbie convertible among them. It was the coolest gift I have ever received, and the chaos of screaming and giggling that ensued is one of the most pure examples of childhood joy I can remember.
– Melissa C.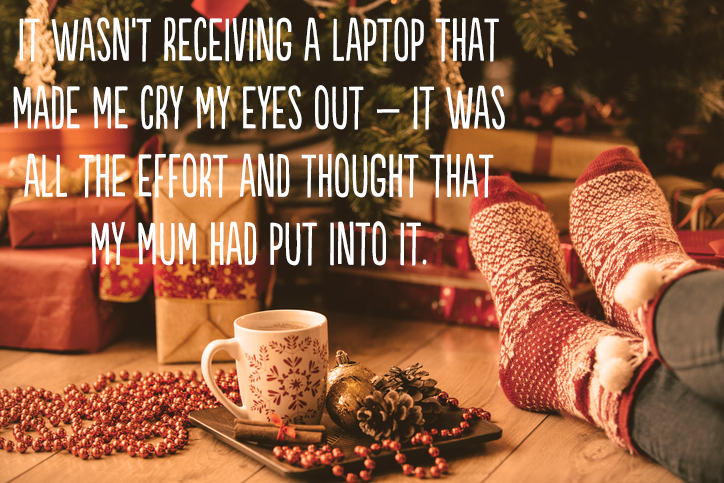 It wasn't receiving a laptop that made me cry my eyes out – it was all the effort and thought that my mum had put into it.
I had no idea whatsoever that she was going to get me one. I didn't ever hint, even though I desperately needed a computer (school work, essays, getting into design, etc.), because I knew she would have never been able to afford it.
My mum would have had to scrimp and save and really put herself last. She also knows nothing about computers, so she must have spent hours researching too. I still can't believe how someone could be so selfless and thoughtful.
– Antonia H.
The best Christmas present I've ever gotten was a big framed piece of art inspired by my all-time favourite movie. Since I was about 8, my mum and I would pass by this store in the shopping centre with that piece of art in the window all the time, and each time I begged my mum for it. And at every occasion: birthdays, Christmas, doing well in school, etc. The thing was it was pretty expensive, and my mum was sure that I would soon get sick of it and want something else (because what normal kid begs for a framed piece of art and not a toy?).
When I was 11, I had a feeling I might get it that Christmas, because my parents kept saying that I was going to be VERY pleased with Santa, and all I could think about was the artwork. Sure enough, the last present I opened on Christmas morning was the big framed piece of my favourite thing in the world, and I can STILL recall my sublime joy.
That piece has been hanging in every room I've lived in ever since, and, even though I've been lucky to get wonderful gifts every year, it remains the best gift I've ever been given.
– Mandy C.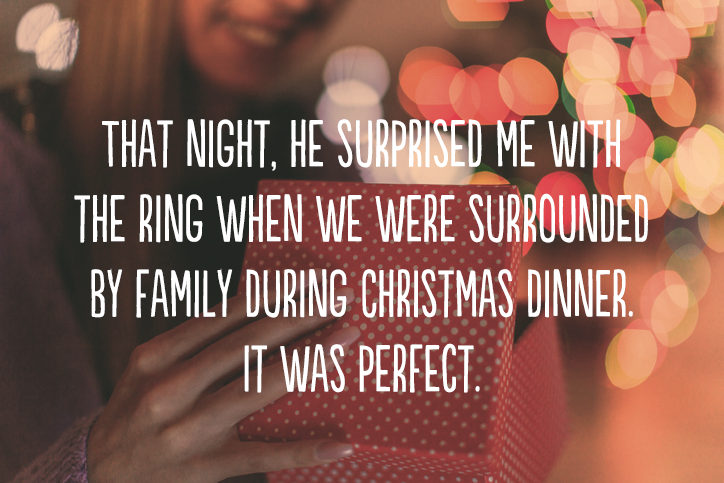 I've gotten a lot of meaningful creative presents over the years from my family – oil paintings from my mum, books of poetry from my dad, a website designed by my sister – but it's pretty impossible to beat the engagement ring my husband gave me six years ago.
I had a vague inkling I might get it Christmas morning, since both our families had come together for the first time and everything felt very special. But when it wasn't in my morning presents, I assumed I'd be waiting for a while. That night, he surprised me with the ring when we were surrounded by family during Christmas dinner. It was perfect.
– Hannah C.
Two years ago, I spent Christmas away from my boyfriend as he was with his family in Brazil. He always knew how passionate I was about music, especially the Beatles, and that I had my grandma's original Abbey Road record but no record player for it.
On the 24th, my family and I celebrated Christmas and exchanged gifts, so I really wasn't expecting anything from him (apart from a sweet Christmas text message). On the 25th, my mother woke me up with probably the biggest gift box I have ever received.
I opened it to find out that "this was a little surprise for me to remember that even though we were physically apart, our thoughts and hearts were closer than ever". The gift? A Crosley record player. I have received many great gifts for Christmas over the years, but this is definitely the first one that comes to my mind. Of course he was the first I invited over to listen to the record with me!
– Paula M.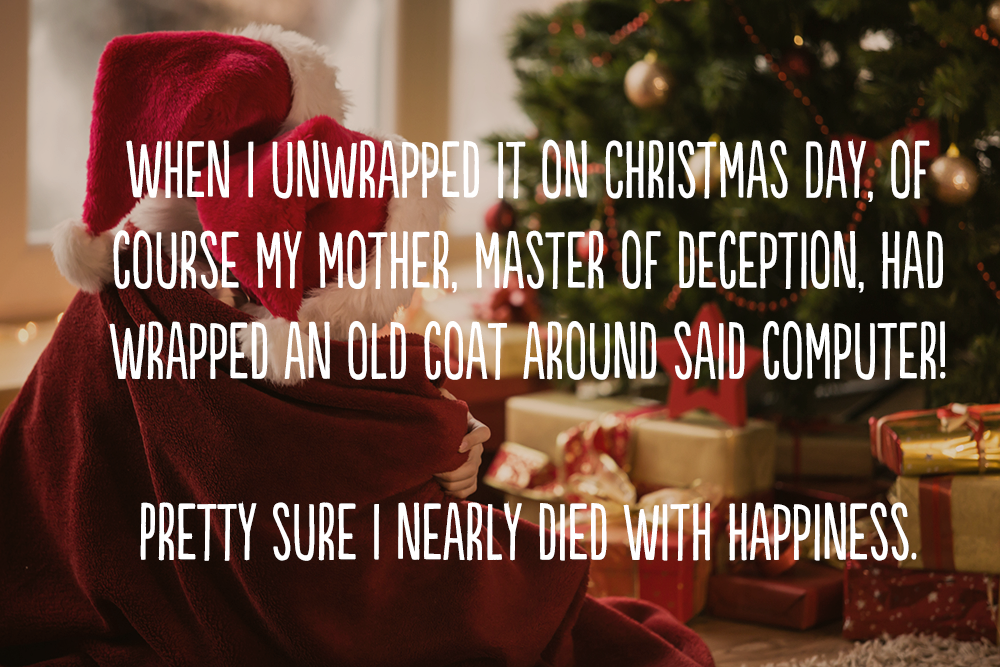 When I was about ten, I remember my best friend had a VTech PreComputer 2000. I was round her house all the time on it and I just became obsessed with wanting my own but my mum always said it was too expensive.
I was hoping that it might be a surprise for Christmas, but as that drew nearer, I was pretty disappointed to find a very squishy, clearly-a-coat-type present from my parents under there. When I unwrapped it on Christmas Day, of course my mother, master of deception, had wrapped an old coat around said computer! Pretty sure I nearly died with happiness.
It actually remains one of the more special gifts, because she spent lots of evenings with me on it teaching me how to touch-type. Which is very useful now!
– Sabrina F.
When I was about 5, my parents surprised me with a Sega Master System for Christmas. It was the best and started my love for video games. Alex Kidd was awesome, and it was built-in!
– Edwin H.
One year, my girlfriend presented me with a little model scene she had made of Alaska which included a frozen "glacier". She handed me a tiny pick axe and told me to chip away at it. Inside were...two tickets to Alaska! Best Christmas ever.
– Quinn L.
This wasn't a gift with an immediate reaction from me, but it wound up changing my life in lots of ways...
I'd always loved music, as a kid, but I was very close-minded about it. I only listened to a handful of albums, mostly Motown. Then, when I was around 14 years old, my dad gave me a box set of Led Zeppelin's Mothership compilation album.
I had only ever heard "Stairway to Heaven" before that day. That night I listened to it all the way through for the first time, and I was enchanted. I continued to listen to it every day for what must have been a year. I listened to it while I played some of my favourite video games. I listened to it in my first car (Sergio) on my drive to school every morning. I listened to it when I finally left for college, and I still listen to it today at my desk. The variety of songs on the album opened my eyes to the possibilities of music in general, and I have since grown to appreciate every genre through it. I'm so thankful that my dad thought, on a complete whim, to show it to me.
– William S.
Tell us your about the best present you ever received in the comments below and then find the perfect gift for your loved one on eBay!