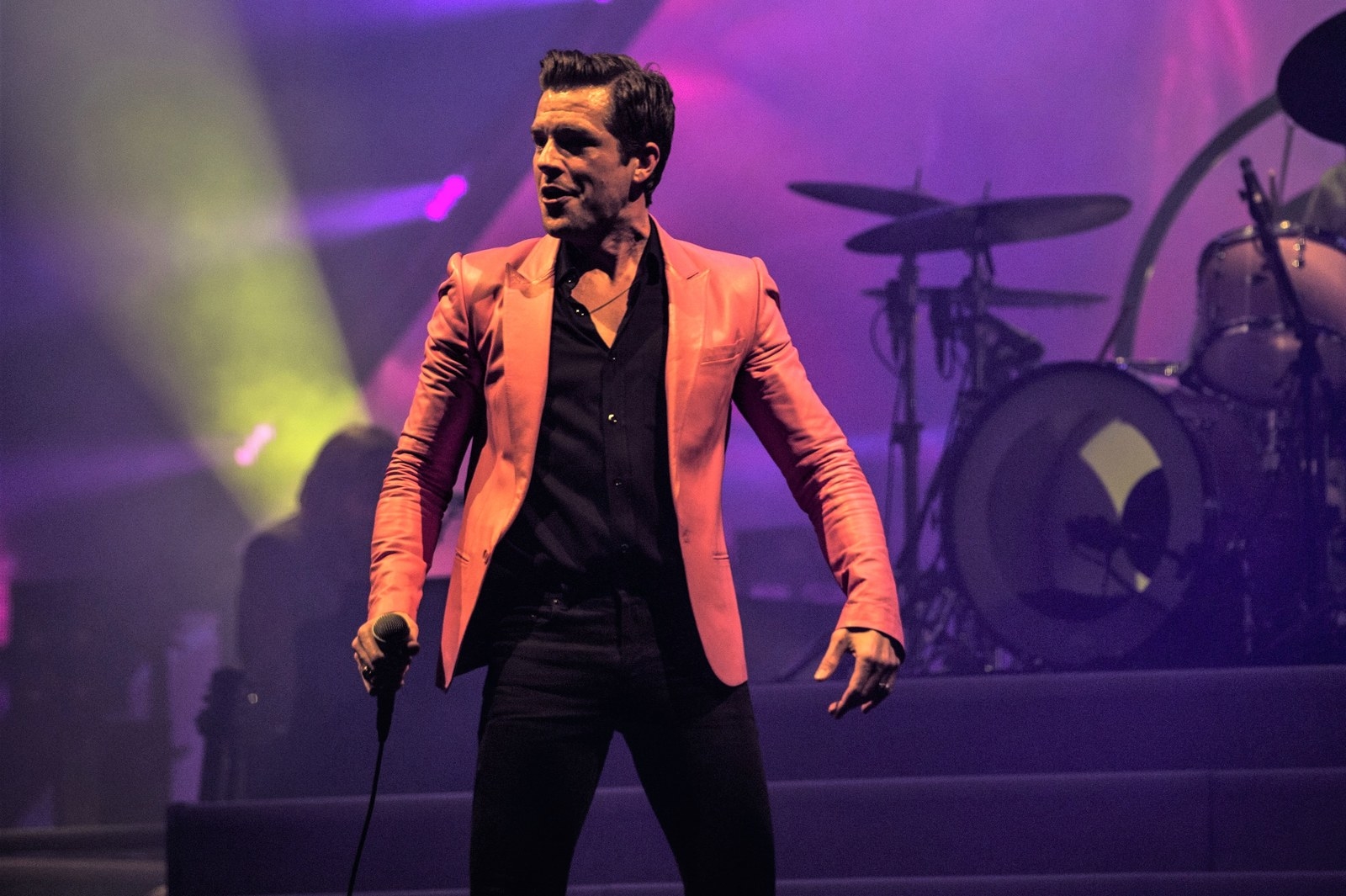 "Why are you so perfect?" an excited and enthusiastic fan in the audience "pit" screamed out at The Killer's lead singer Brandon Flowers, in between a pair of the band's biggest hit tunes during the rock/pop collective's nearly two-hour set at the Smart Financial Centre in Sugar Land, Texas. At hearing the devout declaration, Flowers, sporting perfectly-coifed hair and decked out in a gold lamé suit, broke into an enormous grin, playfully shrugged his shoulders and mouthed back to the audience, "I don't know?"
The 7,000-plus devotees who attended The Killers' concert at the sold-out venue, which lies on the outskirts of Houston, could definitely offer up nearly two dozen perfectly good reasons why Flowers and his band mates should be considered one of the hottest and most musically reliable American-born rockers on the contemporary scene today.
Performing 22 songs spanning their five studio albums, from The Killers' early mega-hit "Mr. Brightside" to "Run For Cover," the latest single from their 2017 album release, Wonderful Wonderful, Flowers, drummer Ronnie Vannucci Jr., three female back-up singers and four sizzling tour musicians (hired to temporarily replacing original guitarist David Keuning and bassist Mark Stoermer — who opted to sit out the "Wonder Wonderful" world tour, but are still members of the band), The Killers delivered a wonderfully flawless, Texas-sized evening of rock extravaganza.
From his numerous glitzy Vegas crooner-type outfit changes and the massive state-of-the-art video projection system to a perfectly-synched, out-of-this-world light show combined with Flowers relentlessly engaging, charmingly energetic stage presence — which often found him prowling across the entirety of the stage in seconds flat — there was never a dull moment in the near two-hour presentation. It was the epitome of jaw-dropping, audience-pleasing arena rock constructed perfectly for their all-encompassing 21 century fan base, which runs the age gamut — equal amounts of every generation, from baby-boomers to millennials — if the crowd that had assembled for Friday night's show is an accurate barometer.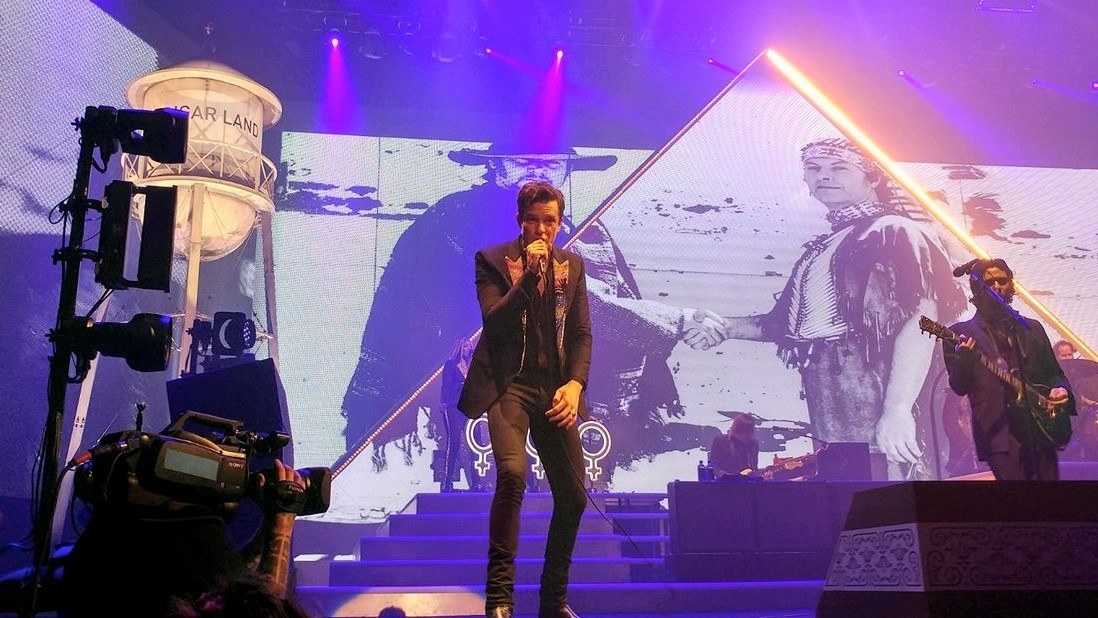 Opening the evening with the aforementioned new single "Run For Cover," another perfect example of The Killers' keen ability to fuse '70s glam rock and '80s nuwave-pop aesthetics with '90s indie rock, the Las Vegas-based collective launched into a stunningly well-paced and outrageously entertaining string of their radio hits wthoughtfully mixed with their most favorite, famous deep album cuts. They would pay homage to their musical beginnings with a healthy dose of songs from their debut album (2004's Hot Mess) with dazzling renditions of "Somebody Told Me," "Smile Like You Mean It," "Jenny Was A Friend," "All These Things That I've Done" (the last song of the night's proper set), "Andy, You're A Star" (the second encore) and, of course, "Mr. Brightside" (the fourth encore and final song of the evening).
The band's Sugar Land set also included Killers anthems from 2008's Day & Age, including "Human," "A Dustland Fairytale" and a blistering rendition of "Spaceman," one of the countless time Flowers had the whole Smart Financial Centre singing entire verses and choruses at the top of their lungs. It was truly a smile-inducing site to hear and behold. Quite frankly, Brandon could do no wrong in front of the night's assembled group of faithful followers. The crowd was completely under the ruggedly handsome Brandon's spell. With his soaring vocals, playful banter, swaggering demeanor and effusively balls-to-the-wall stage presence, it was virtually impossible for even the most casual fan to not discover themselves clapping, bopping and singing out loud with each and every song.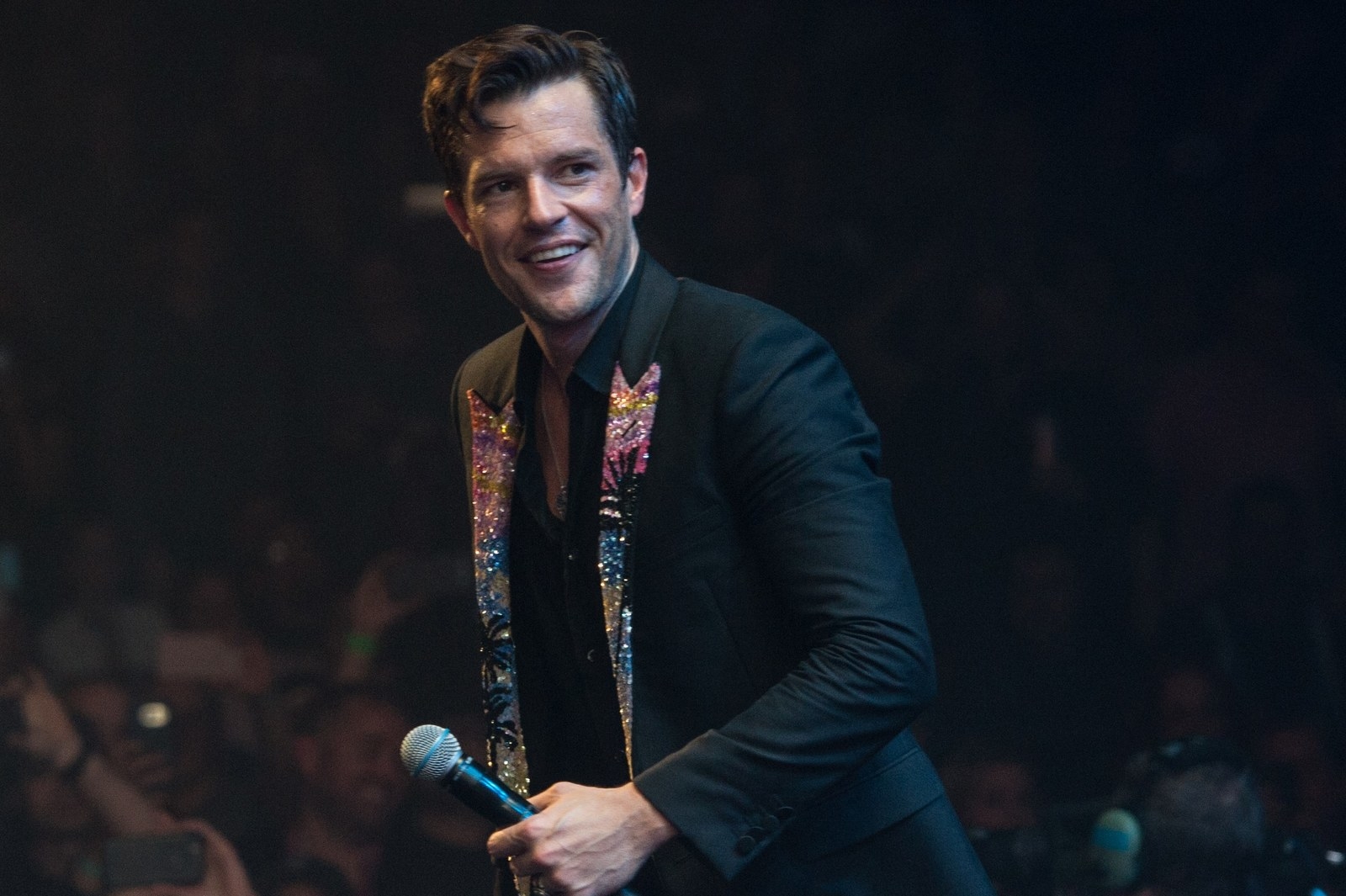 Surprisingly, on a concert trek billed as the "Wonderful Wonderful Tour," The Killers would only perform two more songs from their newest effort; "The Man" and the first encore, "The Calling." Although many fans, after the show, reckoned that the band's five-year Houston-hiatus had a lot to do with the set leaning more heavily on their past catalog (they even performed the b-side "Shot At The Night") instead of presenting an evening completely filled with back-to-back songs from Wonderful Wonderful, the eagerly grateful crowd greeted and consumed each tune with delight. The energy level at the Smart Financial Centre was so thick and palpable that using the term "electrifying" would be something of an understatement.
Since the commencement of their "Wonderful Wonderful" globe-trotting trek (which began late in 2016), it has appeared as if The Killers returned to the road to anxiously prove a point. In a musical era packed with dispensable, one-hit-wonders and flaccid pop poseurs, seemingly, the decade-and-a-half-year-old band have reemerged to validate their standing as THE premiere American rock band. Their Friday night performance in Sugar Land, Texas certainly goes a long way to authenticate that claim, assuring fans that thy should harbor few fears The Killers will drop off our radars anytime soon. They are here to stay. Appropriately, the title of a song from Hot Mess says it the best, "Everything will be alright."
The Killers "Wonderful Wonderful" North American Tour continues:
01/30 – San Diego, CA @ Valley View Casino Center
02/01 – Los Angeles, CA @ Staples Center
02/03 – Las Vegas, NV @ MGM Grand Garden Arena
02/05 – Broomfield, CO @ 1st Bank Center
02/06 – Salt Lake City, UT @ Vivint Smart Home Arena
This post was created by a member of BuzzFeed Community, where anyone can post awesome lists and creations.
Learn more
or
post your buzz!