It's been three years since Shinedown, the hard rockin' band from Jacksonville, Florida, released their last studio album, 2015's "Threat To Survival." Although the album was a bestseller and the band embarked on one of their most successful tours of their 17-year-old career to promote it, there was no guarantee lovers of the album would still be around to greet their next effort with open arms (and ears). To rock radio, and to not always loyal music fans, 36 months can feel like an eternity. With new bands and artists popping up on a daily basis, radio programmers are always looking for tunes from "the next big thing" to throw into heavy airplay rotation on their stations and impatient, easily distracted radio listeners are eager to jump on the latest musical bandwagon. It's easy for even a iconic headlining band to be forgotten and have their newest music fall by the wayside. However, most rock bands don't possess what Shinedown does — unfathomable talent, an unwavering fan base and unbridled tenacity.
Since the May 4, 2018 release of Shinedown's sixth album, "ATTENTION ATTENTION," the band — vocalist Brent Smith, drummer Barry Kerch, guitarist Zach Myers and bassist/producer Eric Bass — have single-handedly shattered all misconceptions concerning what constitutes the appropriate amount of time between album releases and the seemingly short attention span of rock music lovers. Right out of the proverbial gate "ATTENTION ATTENTION" (a concept album, depicting an individual overcoming negativity and related problems to be reborn as a new person) simultaneously hit Number One on Billboard's Alternative, Top Rock and Hard Rock Albums Charts and debuted Top 5 on the Billboard 200 and Number One on iTunes. The album's chart (and critical) success came as no surprise to Shinedown devotees who witnessed the first single from the album, "DEVIL" (released two months previous) shooting straight to the top slot the Active Rock charts and quickly become the band's 12th Number One on Billboard's Mainstream Rock Songs Chart — one step away from the record of most Number Ones in the history of the chart.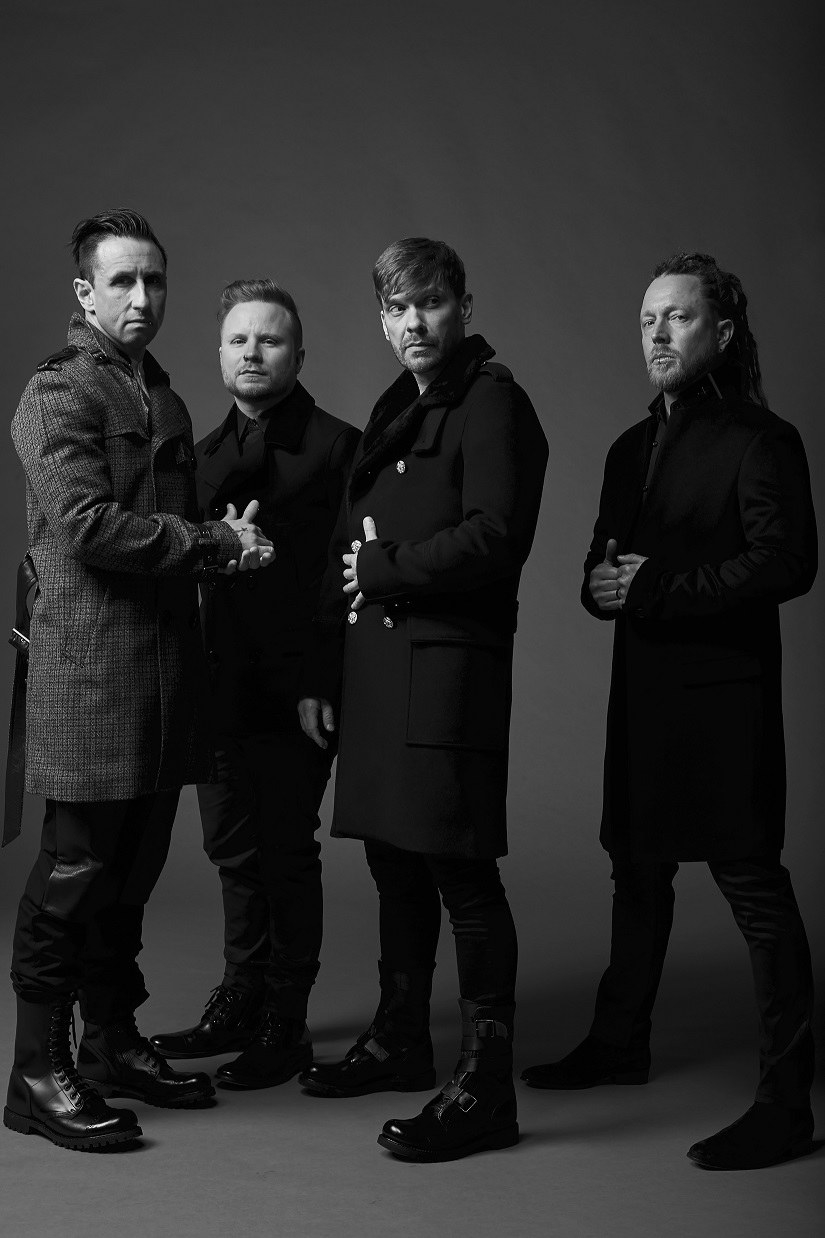 Surprisingly, the unprecedented instant success of "ATTENTION ATTENTION" even has singer and front man Brent Smith feeling a wee bit gobsmacked. "It's a little Shakespearean for us because it's the first record that we've self-produced," admits Smith, the founding member of Shinedown. "Eric Bass, our bass player, who is way more than just a bass player for us, is the producer of 'ATTENTION ATTENTION' and he also mixed the album. So, to see the fact that it has gone into so many different categories and to the top of the charts right out of the gate once it was released is unlike anything we've ever seen before in this band. Really, in all honesty, we're just very honored and kind of taken aback by it. To be able to do it in house was interesting.
"It takes a village," Brent continues. "It really does take a team and a family and the fact is that between the band and Atlantic Records (the band's label), In De Goot Entertainment (their management company) and everybody involved, especially with Press Here (Shinedown's publicity firm), that was something huge for us because everything that Carla, our publicist, has been doing from the jump has been about really exposing us to different circles. But the fact of the matter is we spent a lot of time on this album to make it very bold and make sure it was authentic, so I think getting everybody on the same page from the band to the management to the label, everybody knew what the mission statement was on the release. We're only two months into the birth of 'ATTENTION ATTENTION' and it's really strong and it's just going to keep getting stronger."
With that said, would it be fair to say the band was surprised to the overwhelming positive response to "ATTENTION ATTENTION"? "When you say surprised, I don't necessarily know how to navigate that because the reality for us is that we've never made the same record twice in that none of the records sound the same," Smith explains. "We don't walk into an environment where we're making an album and go, "Okay well we gotta make it sound like the last record because that record did really good so we'll just kind of follow suit with that." We're not designed that way and we also listen to a lot of music and we're inspired by a lot of different styles. One thing with the fan base is that they know that we are being very honest with them. These stories weren't made up. These songs didn't come out of thin air, this all came from reality because we don't really know how to write anything that is made up."
Without a doubt, "ATTENTION ATTENTION" is a very personal and psychologically deep album. In the current world we live in, a lot of younger listeners aren't always attracted to such truth, especially in rock music. One has to wonder why it has struck a chord with so many people. Is it's honesty that rock fans find so endearing? "What I noticed a lot in the first week of the release of the record was that when I went online to see what people were saying about the album was a lot of people talking about how they found themselves in each one of the songs in different ways on 'ATTENTION ATTENTION," Brent reveals. "The album is a story, it's not a traditional record where you write like 50-60 songs and you pick the ten best and you wrap it all up and you present it to the world like 'Here's songs that we did over the last eight months,' this was more about telling a story and being very, very specific and going on an emotional, psychological, and even a physical roller coaster. I think that it's interesting to watch the fan base talk to new fans because you have the fans that hear 'ATTENTION ATTENTION' and they gravitate towards the heavier stuff or the stuff that's more rock influenced, and then when you look at other sides of the album like "special" or "KILL YOUR CONSCIENCE" and "GET UP," and there would be some comments online like "I like this song but the rest of the record has this edge it where this one comes out of nowhere" and it's interesting to watch the fan base talk to newer listeners of Shinedown and very kindly go 'You know this is part of a story, right?' and explain it to them and these big conversations get started online. We feel like 'ATTENTION ATTENTION' was written because this album is necessary right now. I think this album has an urgency to it for a reason. I think that people can hear it inside of the songs and I think that's why it's getting the reaction globally the way that it is."
Currently finishing up the European leg of their 'ATTENTION ATTENTION' worldwide tour, before returning to the States to kick off their summer co-headlining tour with Godsmack on July 22, we were able to spend time with Brent Smith to discuss the making of the album, their willingness to lay bare their own human experiences, their strive to remain authentic and what fans can expect to hear and see during their upcoming American concerts.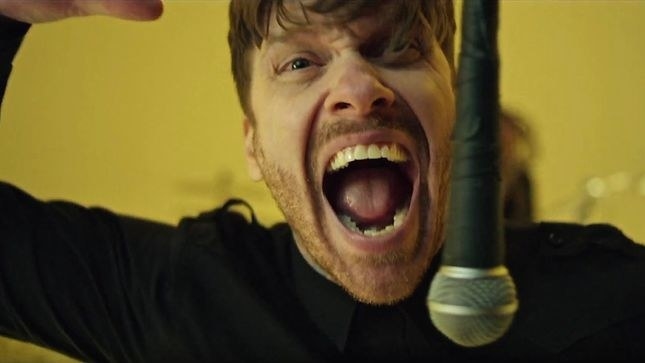 AN INTERVIEW WITH BRENT SMITH OF SHINEDOWN
Why was it so important for Shinedown to release a concept album that touches on things like mental health, social norms and the struggle of the human spirit?
SMITH: "I think that in the last four-and-a-half to five years society was starting to bridge a gap, and then all of a sudden people felt a little freer to talk about mental health. I don't necessarily like the term mental illness because I feel like the word illness is a more difficult approach because when you think of an illness, you think of a sickness, you think of 'well this is the end,' and that is the complete opposite of what 'ATTENTION ATTENTION,' is. It's a story where everything takes place inside of a room. When the record opens up, you hear these footsteps and a knock on the door, you hear the door open and the person walks in, pull up a chair, sit down, and take a deep breath and then "DEVIL" starts. You're starting in the darkest place possible. But you're realizing that in order to not only mentally and physically survive, you're going to have to face these fears because if you don't face it, it's never going to change and those monsters in your head will sabotage you and will eventually kill you. This is a journey in someone's own psychological roller coaster, if you will, but when I look at every song individually, I see how it's presented, it all had to come from a very real place. Like if you know anything about me, I have a very dark past in regards to substance abuse and it is something that I will deal with for the rest of my life, but I don't talk about my sobriety unless I am asked about it because I have to live every day one day at a time. I think a lot of people are like that because if you start thinking too far ahead you'll begin to panic. I have to tell people sometimes if they ask me, I'll be very upfront with them and say 'I didn't do drugs today, I didn't drink today, I have no idea what I'll do tomorrow.' Because I can't live like that, I have to take one day at a time."
Was there ever a moment where all of you thought you might be getting too deep or crossing the line in writing and singing about the human mental state?
"I think if there was ever a point between myself and Eric and Zach and Barry where we were afraid we might be crossing the line with each other, I think when 'GET UP' was written the line was removed. It was a harder song for me to write because I didn't know if I was going to offend my friend. But I had to write about what the music was telling me to do and how I was gravitating towards it. I wrote that song about Eric because Eric deals with something that he is not shy about being upfront with people. He deals with depression and some people might say that it's clinical, but the fact of the matter is he would tell you if he could he would open a tiny hole in his head and if he could reach into his brain and he could grab that part of him and pull it out, he would. There are some days when he gets up and it can be raining outside with storms and thunder and he can be in the best mood and then sometimes he's sad. It's not because he wants to be sad, it's just how he feels that day. It's something he still has to be comfortable in his own skin, and I've watched him grow with just how he handles himself. With this record, he was very, very upfront with how it was presented to the world, I know that a lot more people know the story of "GET UP" and they're not afraid to approach Eric and talk to him about it because they don't feel like they're alone anymore since he's been so open about what he goes through. I think people get afraid that they are putting someone out when they talk about what they are dealing with psychologically, because they don't want to bother somebody or they don't want to make someone else feel bad. I don't think people should be quiet because of that. Sometimes you don't need to mind your own business, if you need to step in and you can see that someone needs to talk about it, you should."
There seem to be so many diverse lyrical approaches on "ATTENTION ATTENTION."
"It's just the dynamic through the whole record, like "MONSTERS" is a song about me because I have these demons in my head that when you're talking about drugs and alcohol for me personally, those pathways in my brain have already been paved. I can't go out tonight and think that if I drink six shots of Jack Daniels and I do a gram of cocaine that it's going to be different than all of the other times that I did that where I either wound up in jail or I set fire to a bar. Just the mad man that lurks in there, for all the goodness that is in my heart, that dude still lives in me and if I let him, he'll sabotage everything. And I think it's the understanding in a song like "MONSTERS" for me I have to be upfront with the audience and be very forthcoming and say, 'My monsters are real and they're trained how to kill.' You also have all these other elements of the record and why I think so many people gravitate toward the cleverness of it, and the simplicity of some of it, and then the architecture of the way that we built the tracks and how the vocals sound and how we have stepped everything up on so many different levels."
The album ends in quite an interesting manner.
"One of my favorite songs on the record is the finale of the album which is 'BRILLIANT,' which I think is the coolest way that we could have ever finished out this record, because the end of the record there's not really an end. It's just the next step for the next journey. The last three albums we've ended with ballads, and it's kind of cool how that song starts where people think 'Ah, they're going to end it with the quintessential Shinedown, end the record with a ballad.' Then, all of the sudden, it's just the most just crazy, over the top, thrilling ride at the end of the album that we could give to the audience and send everybody on their way. Also, we wanted to finish out the story with a big high note that would make people want to start the record over again."
"ATTENTION ATTENTION" is a deeply confessional brilliant piece of work. Were there any subjects you felt "iffy" about addressing? I mean, should artist be concerned about baring too much of their souls in their writing and recording?
"I think the question mark came in regards to the song 'special,' because in the chorus it says very, very clearly 'Stop waiting on your fifteen minutes of fame because you're not special. I'm not trying to rain on your parade, but you're not special. I'm not trying to bring you down. I'm not trying to sound so ineffectual, but you're not special." I think there was concern about how the public is going to accept this song and/or not accept it? The reality of the song is that you're not special and neither am I. It's putting everybody on the same playing field, it's letting everybody know that there is not one person, male or female, young or old, black or white, whatever your religion is — we're all on the same playing field because we're all a part of humanity and I don't want people to lose sight of that. One of the dynamics to that is also if you look at the back of the record, all of the other songs are capitalized and 'special' is lower cased and there is a reason for that. It's putting everybody back on the same level. I think that it's an important song on a lot of different levels because even in the bridge to that song where I say 'We all live to love, we all fall apart / We'd all go to war for the faint of heart / Instead we're condescending / There are no happy endings / I won't hold my breath / I won't cast a doubt / I'd never sell you out but I'll give you one last chance to own it / 'Cause you're not a God or a poet." I think it was one of those songs where we're not trying to smack sense into the listener but what we are trying to do is make everybody aware that we're all human. We all have feelings and we're all going to have opinions, but at the same time we're all on this planet together and we still need to respect each other. I think being concerned with sharing too much is for the artist to decide, I can't tell another artist what to do, I can only do what I do and what we do as a band. I don't ever think that you should censor yourself. If you believe it and it's who you are then do it. Do it loud and do it proud and don't back down!"
Can we talk more specifically about the album's first two singles? "DEVIL" has racked up an astounding seven million streams (to date) and it's your 12th Number One. You've mentioned that the song focuses on fear within oneself and the world around them. Why do you think that particular message resonates with so many people?
"I think it's the quintessential 'What's behind the curtain? What's under the bed? Do you believe in the boogie man?' The fact of the matter is there is no one behind the curtain and there is no such thing as the boogie man, it's you. You are your own worst enemy and you have to be able to psychologically take control of that sometimes because like in the song "DEVIL," every chorus except for the last one says "the devil is in the next room." And, in the last chorus I make it very poignant and very to the point that "the devil is right beside you."
In addition to presenting a positive message "THE HUMAN RADIO" is becoming another one of your most-viewed videos ever on YouTube. It's a great video, but it's not overly flashy with tons of bells and whistles. How much is the band involved in the evolution of the videos, like "THE HUMAN RADIO?" A lot of artists downplay the importance of music videos. Why do you think they are still such a valuable tool for a band or solo artist?
"For us, it's very important especially with this album, every song is going to get a video because not only are we going to sonically tell the story, which we already have with the release of 'ATTENTION ATTENTION,' but we're going to visually tell the story. So, for us, it's very important. I think music videos are always going to be something people want to see though, sometimes you hear a song and you wonder 'What's the visual to this?' It also lets the listener and the fan get to know you and watch your evolution. We've been on Atlantic Records for two decades next year and if you go back to our very first video and you go to the last video we made which was "THE HUMAN RADIO" there is a big evolution there. I think it's a journey, it's a snapshot in time but, I think it's extremely important for every band to have a visual of not only themselves and of their growth but their music as well. I think that's extremely important."
For those handful of rock music lovers who might not have heard "ATTENTION ATTENTION" but are big fans of "Threat To Survival," how would you explain the differences and the familiarities between them?
"'Threat to Survival' is very interesting because I had a relapse during that album with substances and I fell from grace, if you will. I had to crawl back. I've always said you have to fall into a hole sometimes to figure out how to get out of it. But I had fallen pretty hard during the writing process of that record and then I had to go through a two and half year withdrawal on the road during that album. The interesting thing in the dynamic from 'Threat to Survival' and 'ATTENTION ATTENTION' for me is that technically 'ATTENTION ATTENTION' is the very first record that not only did I write but I also recorded sober. There is a really special person in my life that told me something a few years ago that was very profound, and I keep it with me on a daily basis because it's important for me. She said 'You are way more dangerous when you are clear headed and sober, because this other guy, nobody fucking likes him.' I think that's the shift in 'Threat to Survival' and now. It's like being a phoenix, you can rise out of the ashes if you want it bad enough."
Does the success of "ATTENTION ATTENTION" mean the rock "concept" album is not "dead" and they are still incredibly commercially viable?
"We don't really call it a concept album, we call it a story album. It's not a traditional concept record because with that, I think of like Queensrÿche's 'Operation: Mindcrime' or even 'The Wall' by Pink Floyd because there are very specific characters and places and things of that nature. And it's very open. 'ATTENTION ATTENTION' is about the individual because like I said the whole album takes place inside of a room in a chair, so I want the listener to put themselves in that room and in that chair. I describe it more as an individual so that there is not any specific definition of 'Is it a man? Is it a woman? Is it a kid? Is it an old person?' It could be anyone. It's more of a story album as opposed to a quintessential concept record. The thing about us is that even as the industry changes, and the way that people consume music is a lot more about instant gratification, it also took us nearly twenty years to be able to write a record of this magnitude. We couldn't have done this five, even ten years ago because we weren't ready. We were ready in 2017 going into 2018. That's why the album, in my personal opinion, is as strong as it is, but I think it depends on the artist and how you're presenting yourself to the public. I know a lot of people talk about attention span being shorter, but I think it's shorter if your music sucks. That's just not what we do, we work really hard at looking at the scope and looking at the magnitude of why what we're saying in these albums is relevant and why we feel like it's necessary and why it's urgent. I think if you have something compelling to say and it truly is compelling to a wider audience then people are going to listen. If it's something that kind of sounds as we call it 'bubble gum' then it's just like bubble gum, you'll unwrap it, you'll chew it for about two minutes, and then it loses its taste and you spit it out. And that's not what we do."
Would you call "ATTENTION ATTENTION" your best album so far?
"Oh, by far. As of right now, I feel like it's the band's greatest achievement. Which is kind of interesting because we're also celebrating the tenth anniversary of 'The Sound of Madness' this year which a lot of people would tell you from a career standpoint is probably the most recognizable album in our repertoire, but once again, 'The Sound of Madness' is ten years old, 'ATTENTION ATTENTION' is only two months and twenty days old."
This is going to be a bit unfair of a question, but if you were allowed to sent one single Shinedown album on a NASA spacecraft or mission to Mars which one would it be?
"I would send 'ATTENTION ATTENTION' because that's where we are now, and it is also accepting the fact that the four men that wrote it and produced it and presented it to the world had already written those other records. We've already gone through those journeys. We've already gone through 'Leave a Whisper,' we've already done 'Us and Them,' we already know that we created 'The Sound of Madness,' we've already seen what 'Threat to Survival' looks like and now we just want your 'ATTENTION ATTENTION.'"
How has the tour in Europe been going? Are there big difference between European versus American audiences.
"It's actually out of control, in a good way. We just played in front of 120,000 people in Donnington a few weeks ago, and the response from the international side has been overwhelming. There's a lot of international touring to do on this album. We were in Austria and there are people that had been waiting seventeen years to see us perform, we only did 45 minutes, but we probably played in front of like fifteen thousand people at two o'clock in the afternoon. It was the first day of this festival and we did the longest signing of any of the artists today. Most of the people in the line told us they had waited a decade to see us play. That's pretty remarkable and overwhelming in a lot of ways. We told them all we won't make them wait another seven years for the next time we come back. We're very honored by the fact that they would come out today and let us play for them. There is a little bit of a difference, they listen to music a little differently in the European markets and in the UK. In Europe, music is like a religion and it's intense over here. It's just different in that they consume and listen to music differently over here."
Have the new songs been just as enthusiastically received as much or more than everyone's favorite older Shinedown anthems?
"When it comes to Shinedown and what we are about, we have to write about what we know but in the same breathe we just look at the sonic side of what we do differently every single time. The fan base, whether they've been there since day one or they're just kind of figuring out who we are, is interesting because a lot people know say that "This band is just never going to phone it in, they're always going to go to the next level." So, it's nice to see that they know that we work really, really hard at what we do in order to give them every ounce of who we are and make sure that we're giving them the best that we have."
For Shinedown's upcoming American tour Godsmack is on the same bill. To the average listener it appears like an unlikely pairing. Or is it?
"In December of last year, I had gotten a phone call from Sully Erna, who is the singer in Godsmack, because he had heard through the grapevine I was asking what his touring cycle was going to be because they hadn't put a new record out in a while. They've been around for quite some time and have had a lot of success in the rock and metal world, they just haven't been out. He gave me a call, we talked about it and we knew that our record cycles were going to kind of match up and we just felt like the two of us could play together. There's already three legs of the tour with almost 40 shows announced now, but these buildings that we're playing hold between fifteen and twenty thousand every night. I think we looked at each other and the repertoire between the both of us and how we could do it together and show a camaraderie, I think that's why it's going to work."
What can North American audiences expect to see and hear on Shinedown's 2018 summer tour? A perfect mix of old and new? A great representation of your fifteen years as a band?
"I think that the only way you're going to know is to show up. I can tell people this, it will be the most over the top, wild, rock and roll to the bone show they've ever experienced. Inside of that, I want people to remember that when we say rock and roll, there's a lot of genres of music all over the world, there's a lot of different styles. But we don't look at rock and roll as a genre or a style, we look at rock and roll as a way of life. It's a community. It's also a spirit, there's something for everybody and everybody's welcome. Eight years old to eighty, doesn't matter where you're from, doesn't matter what you believe in, everybody is welcome. We wanted to put a show together for the public where we could have the audience come in and we give them the ride of their life and that's exactly what we're going to do."
Any plans to jump right back in the studio after the tour?
"Not initially because honestly we're already starting to book dates in 2019, because we're already booked through 2018. We're finishing up with Godsmack right around the end of October and then we'll be in the UK in November and December. We're already starting to put dates together for next year so no studio time right now."
How do you follow up a stunningly incredible album like "ATTENTION ATTENTION?" Does its rapid success add any extra pressure to come up with something even more extraordinary?
"I have to be honest, like I said the record is two months and twenty days old and we're not known for releasing like one or two singles and going back in the studio. We're known for releasing anywhere between four or five, upwards of six singles. When Casey Kasem signed off the air after 35-plus years, probably one of the most famous DJs in history, the number one song in the country was 'Second Chance' and that's what he signed off the air with. We don't put any labels on what we do because there is no one like Shinedown except for the four gentlemen that are in Shinedown. That relates to our family, to our crew, to the band and like I said, 'ATTENTION ATTENTION' just got released and there is a lot of ground to cover. Am I nervous about the next record? No, I don't need to be nervous about the next record because all we know how to do is be ourselves so as long as we don't lose sight of that I'm never going to be concerned because we're always going to tell it like it is. We're always going to be honest with our audience. At the end of the day I've always said this because it's true: we only have one boss, it just happens to be everybody in the audience.
"I just want the band to never be satisfied. That is something that's very important to me because we don't really believe in a 'top,' we've always looked at every obstacle or whatever we needed to do in front of us like climbing a mountain. When you look at the mountain on your own, you may not be able to get to the top but if you do it together you can get to the top. And then once you get there, you can look around and it's okay to pat each other on the back and say 'Good job,' but just go find a bigger mountain. That's why we're here, that's what we do. Everybody always tells me that I need a hobby and I'm like, "why do I need a hobby when I already love what I do?" The biggest thing for me personally is I want to be able to spend more time with my son. My son is at the top. Always. I know that I'm out here and I work really, really hard but so does everybody else that's out here. Everybody else has families too but my son is 10 years old now and I just want to make sure that we have a lot of quality time as he goes into his teen years. Me and his mother have a great relationship, we're not together but we're very, very lucky that we talk to each other and we respect each other and we love our son. For me, it's just being able to spend more quality time with him, not so much like having him on the road with me — which I know he'll want to come out as the teen years go by. He's ten years old and when he does come out to see me he like lasts through the first song when I go out there and then I'll look over and think he's going to be there and he's gone. He'd rather go play video games or basketball. I just want to make sure that he always is the number one thing in my life."
I know you are incredibly bringing "ATTENTION ATTENTION" to life onstage for fans all over the world, so I have just one final question. In a fifty years time, how would you like Shinedown to remembered? If someone in 2068 looks up who Shinedown was or is what would you want it to say?
"Fifty years? Hopefully, by then they will have figured out a way to preserve me, and they'll be able to take my brain and put it in a different body. You never know! I don't want to take anything away from ol' blue eyes but I have to borrow it a little bit. I want to look at it from Frank Sinatra's style and be able to say that "I did it my way." That the band did it our way. That might sound kind of cheesy but it really just comes back to being authentic and being honest. I would always want people to look at this band and celebrate the music and keep it going for generations after I've left this earth to go to my next journey."
This post was created by a member of BuzzFeed Community, where anyone can post awesome lists and creations.
Learn more
or
post your buzz!