This post has not been vetted or endorsed by BuzzFeed's editorial staff. BuzzFeed Community is a place where anyone can create a post or quiz.
Try making your own!
How Hollywood Undead single-handedly resurrected teen spirit with a brilliantly brash concert performance filled with their own reckless, unapologetic fusion of rock and rap.
While their music seems best suited for 18-to-30-year-old SWMs, when Hollywood Undead took to the stage to deliver their energetic and frenzied live show they obliterated all boundaries separating age, race and social classes with their uniquely intoxicating "genre-less" sound.
REVIEW: Hollywood Undead
Houston House of Blues
May 03, 2018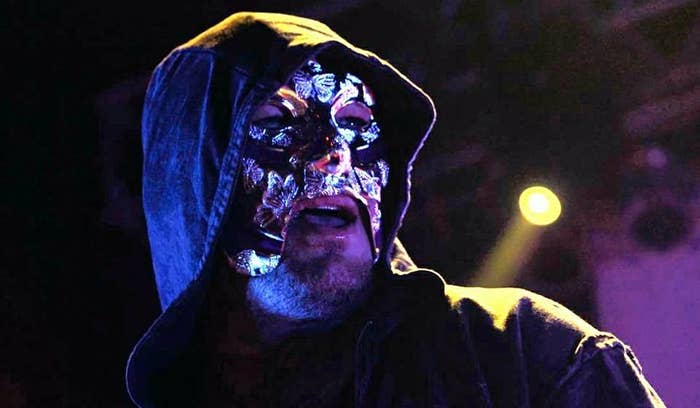 I am not exactly what record label marketing departments would call a typical member of Hollywood Undead's "target audience" or their "core demographic." If you were to visit the band's Redditt fan page, almost all of their followers readily admit that 99.8% of their target audience is 18 to 30 years olds, and that makes up about 99.8% of their listeners. To quote a Hollywood Undead Redditt devotee, "the vast majority of their fans are white," pedroofthewafermen (screen name) confesses. "I've never seen a black fan at a HU concert and have only seen like one Latino." And, after years of dissecting their songs lyrics and realizing the subject matters of their biggest hit anthems tend to focus primarily on sex, drugs, drinking and hanging out with emo kids, I would have to honestly admit that my days of being angry, rebellious, cheesy and angsty have long past. In fact, all those deep-rooted feelings went MIA (missing in action) when The Clash disbanded in the early-80s. So, why do I seem to relate to the almost "genre-less" sound of these often-masked young white boys (with gang-like nicknames) from the streets of LA? Maybe it's the fact that these cocky streetwise dudes are both musically audacious and reckless… all at the same time.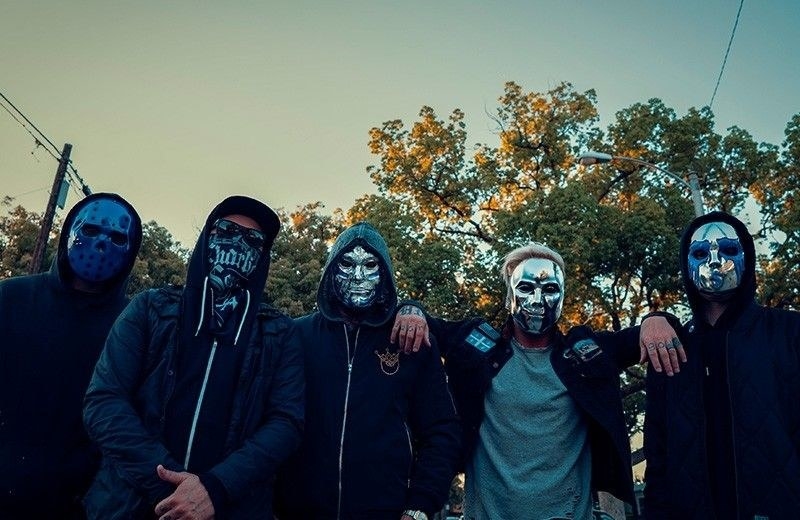 Beginning with their 2008 debut album Swan Songs straight through the band's latest effort, V (Five), released in late-2017, the gang – Jorel "J-Dog" Decker, Dylan "Funny Man" Alvarez, George "Johnny 3 Tears" Ragan, Jordon "Charlie Scene" Terrell and Daniel "Danny" Murillo – has been artistically fearless in unabashedly mixing together elements of brash crotch rock, punk and metalcore with thuggish hip-hop and rap… oh, and a little pop thrown in for good measure. It's a style of music some have even labeled "nu-metal."
My initial introduction to Hollywood Undead happened shortly after the release of their single "Dead Bite," from their 2013 third album, Notes From The Underground. Since I was a longtime of the group Bullet For My Valentine, my newly-installed Spotify app suggested I should give "Dead Bite" a listen. If a twisted metaphysical union of The Misfits, Beastie Boys, Eminem, Dead Kennedys, 2Pac, Parkway Drive, 50 Cent, New York Dolls and Black Sabbath gave birth to bastard children, their offspring would be named Hollywood Undead. Having personally witnessed the rise and fall of all the aforementioned artists, I could hear and relate to all of HU's musical influences, instantaneously. To say I was keen on seeing what they could do in a live concert setting would be a bit of an understatement. Since their inception, the band had developed a reputation for delivering blistering red hot live performances. However, for reasons unbeknownst to me, I managed to miss the two or three times Hollywood Undead made it to Houston in the five years since my infectious exposure to "Dead Bite."
The balmy Houston May night had arrived. I was running behind schedule (performing "mature" tasks) so I missed the support act, In This Moment. As I walked into the Houston House of Blues, I paid incredibly close attention to the near sold-out crowd that assembled for the night of the Undead. I chuckled to myself at how eerily accurate pedroofthewafermen's assessment of Hollywood Undead's following was. I imagined their Tinder bios would include the description "Posturing SWMs, 18 to 30, seeking fist-pumping rock-rap/nu-metal." I felt a wee bit out of my element (like I was there to pick up my grandson!) until the house lights went down and the band began to take the stage.
As J-Dog began to play the opening guitar riffs of their new single, "Whatever It Takes," one thing had become clearly evident to every breathing body in the building – the masked members of Hollywood Undead had come to rock, and they were taking no prisoners in the process! With a sea of arms waving from right to left (a result of Charlie Scene's suggestion that everyone in the building "put your hands up high, now wave them side to side") it appeared as if the audience was ready to join their Hollywood Undead heroes in rocking the rafters off the Houston House of Blues. (FYI: Yes, I did join in on the ritual handwaving).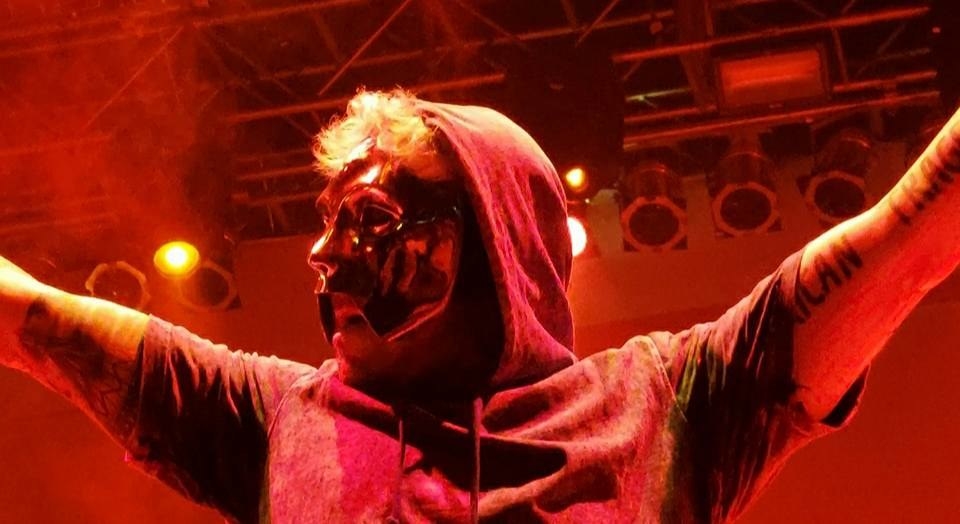 Next up on the setlist were two longtime favorites, the first, "Undead," was a major hit from their first album, and the second, "Been to Hell" (from 2011's American Tragedy) was a HU live show staple. Underneath an impressively choreographed and synchronized light show, the personalities of each Hollywood Undead band member quickly began to take root. While the rest of the group fervidly played their instruments (with savage precision, I might add) Danny and Funny Man took full command, prowling around the entire perimeter of the stage, like caged leopards, while tag-teaming the lead vocals. It was a powerfully cool sight to behold. At the conclusion of "Been To Hell," the stage went completely dark.
Ten seconds later, as the stage lights were brought up to full illumination, the audience began to roar with approval when it was revealed that all the members of Hollywood Undead had removed their masks. "Is this what you've been waiting to see!" Danny asked the now wildly frenetic crowd. He then introduced fans to their new single from V, "California Dreaming." With V having been released late last year, fans had already had the chance to learn every track from the new album. It was evident as audience sang the song, word for word. The band's next offering would garner possibly the loudest shrieks of approval (certainly from myself!)
As the voice of Danny began to chant "Good night! Sleep tight! Don't let the dead bite!" the band immediately launched into "Dead Bite." If the singalong for "California Dreaming" was loud, the crowd took it a notch higher with "Dead Bite." You could not see a single mouth not moving as the entire house, along with Danny, belted out (at the top of their lungs) the song's refrain, "What would you do if I told you I hate you? What would you do if your life's on the line? What would you say if I told you I hate you? I got something that'll blow your mind, mind!" By the end of the song, both the performer and the crowd were equally impressed with each other.
The song pacing was fantastic throughout Hollywood Undead's 19-song set as the band mixed old familiar anthems with fresh new offerings and sounding flawless each time. They would play four more songs from V – "Renegade," "Cashed Out," "Riot" and "Bad Moon." "War Child," Gravity" and the title track from 2015's Day of the Dead, and "Another Way Out" off of Notes From The Underground. American Tragedy was well-represented with takes on "Comin' In Hot," "Bullet" and "Hear Me Now" (the second encore and the final song of the night), and their first encore was "Everywhere I Go," one final tune resurrected from Swan Songs.
The biggest surprises of the proceedings took place towards the end of the set. It's quite risky for a rock-rap band to take on a Johnny Cash classic like "Folsom Prison Blues," but undaunted by the task of playing a true country song our unflinching heroes played their own unique and eccentrically brilliant rendition of the song. It warmed the heart. The band would also tackle another cover, but this time it was the newbie of the group, touring drummer Matt Oloffson (of the L.A. band No Darling) who gave audience members an unexpected treat. Instead of performing a traditional drum solo he was asked to demonstrate his vocal prowess to everyone present. Reluctantly, he acquiesced, and before you could say Bon Jovi he was singing the chorus, acapella, the chorus of "Livin' On A Prayer." It was another showstopper.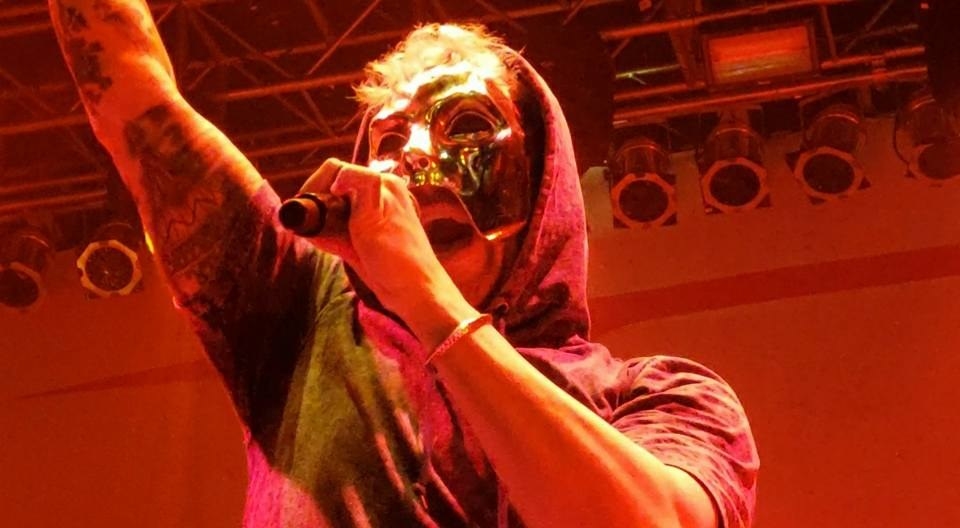 With the last strains of "Hear Me Now" still reverberating throughout the House of Blues, and as the band professed their final heartfelt "thank yous" and "goodnights" to a still packed venue, it finally dawned on me as to why I found the music (at first) and the live personalities (confirmed this night) of Hollywood Undead so enticing and delectable. On this night, without a doubt, they delivered… and then some. Sure, HU may predominantly appeal to teenagers and young adults twice as young as me, but they continue to artistically champion all the best artistic qualities that made rock, rap, metal, pop and hip-hop so appealing to music lovers like myself back in the day.
Quite simply, Hollywood Undead's contemporary (seemingly effortless) fusion of practically every musical genre of the past fifty years into one cohesive sound thrilled the spirit of the angry young 18-year-old deep inside of me. "I know these chords," I said to myself. "During the past couple of decades, I've heard, in some form or fashion, all these melodies and riffs before." But, to hear them realized, in whole new way, particularly in a live concert setting, made me feel rebellious, angsty and pissed off, all over again. Suddenly, the term "everything old seems new again" finally made a helluva lot of sense to me. With that said, I must bid my dear readers adieu, because I am heading to the nearest emo bar to party, get drunk and have sex. See ya!