Lobster Mac n Cheese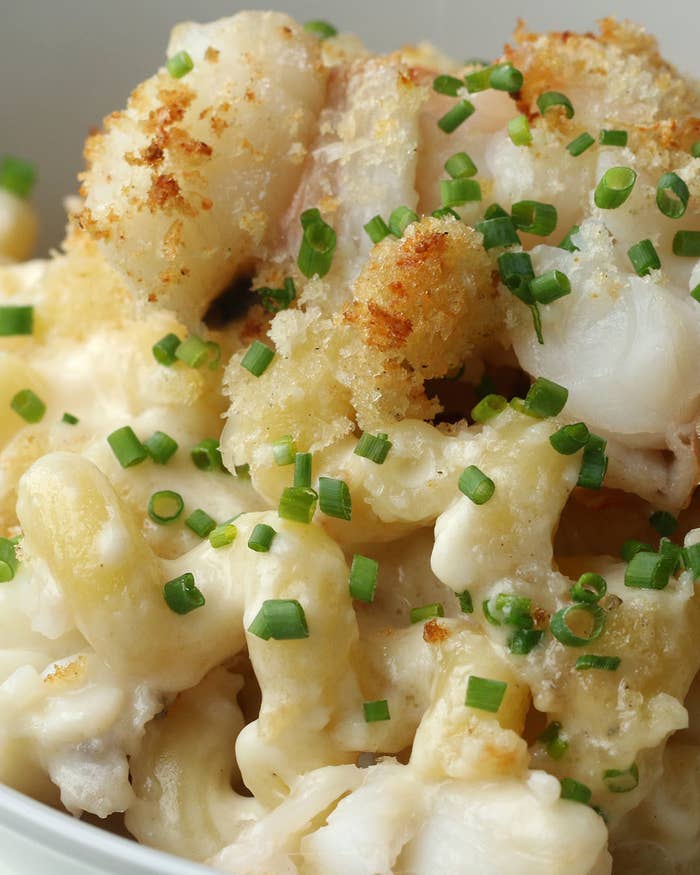 INGREDIENTS
4 lobster tails (about 12 ounces of meat)
1 cup homemade breadcrumbs
2 tablespoon Parmesan cheese
Salt and pepper, to taste
3 tablespoons unsalted butter
2 tablespoons all-purpose flour
1 tablespoon Cognac
2 cups whole milk
2 cups sharp white cheddar cheese
1½ cups Comte cheese, shredded
⅓ cup grated parmesan cheese
2 tablespoons mascarpone
½ pound pasta
2 tablespoons chives, for garnish
PREPARATION
1. Preheat the oven to 425℉.
2. Boil the lobster tails in salted water until just cooked through, about 12 minutes.
3. When cool, remove the meat and dice. Set aside.
4. Cook the pasta in salted boiling water until al dente, about 7 minutes.
5. Drain and set aside.
6. In a large sauce pan, melt the butter over medium-low heat.
7. Add the flour and whisk, cook about a minute.
8. Add the Cognac and whisk. The mixture will thicken immediately.
9. Slowly add the milk, while whisking.
10. Increase the heat to medium and stir occasionally until it starts to bubble.
11. The sauce will thicken enough to coat the back of a spoon.
12. When it reaches this stage, add salt and pepper to taste.
13. Add the sharp cheddar, Comte and parmesan cheeses, one handful at a time, whisking to incorporate. When one handful is melted, add the next.
14. When all the shredded cheese has been added, add the mascarpone and stir.
15. Remove from heat.
16. Toss the breadcrumbs with 1 tablespoon melted butter, 2 tablespoons parmesan cheese, and black pepper.
17. Toss the cooked pasta with the sauce and ½ of the lobster, reserving about ½ for the top.
18. Pour into a bake dish, and top with reserved lobster and buttered breadcrumbs.
19. Bake until golden brown and bubbly, about 10 minutes.
20. Serve immediately.