Cheesy Cornbread-Topped Chili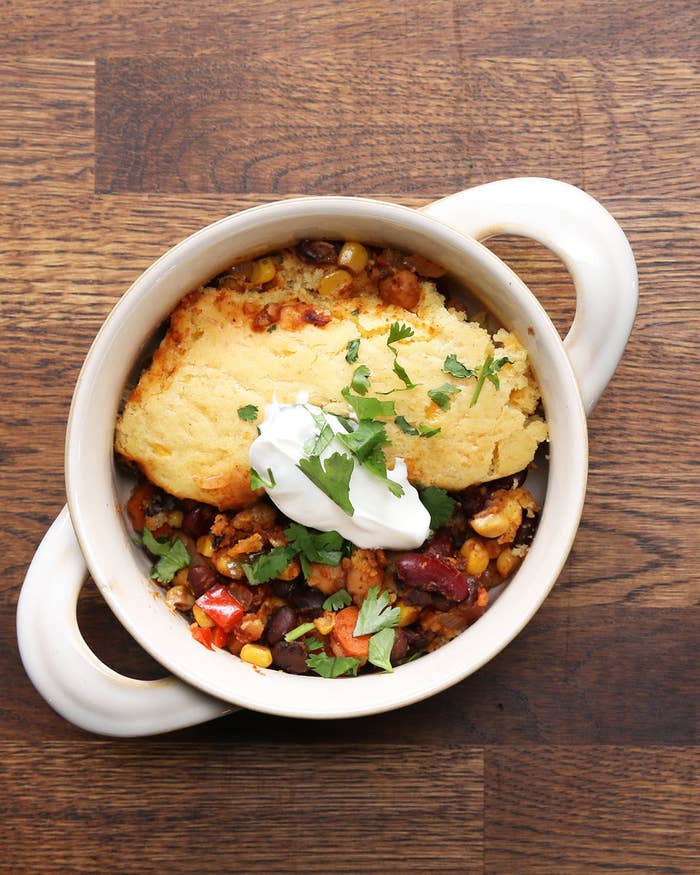 INGREDIENTS
Servings: 6-8
Chili
2 cups onion, diced
2 cups celery, diced
2 cups red pepper, diced
2 cups carrots, diced
15 ounces fire-roasted tomatoes
15 ounces red kidney beans
15 ounces chickpeas
15 ounces black beans
15 ounces corn
1 package taco seasoning
Salt, to taste
Pepper, to taste
Cornbread
1 box cornbread mix, prepared
2 cups Mexican cheese blend
Garnish
Cilantro
Sour cream
PREPARATION
1. Preheat oven to 375˚F/190˚C.
2. Saute onions, celery, red peppers, and carrots in a pan.
3. Add fire-roasted tomatoes, kidney beans, chickpeas, black beans, and corn.
4. Simmer for 15 minutes.
5. Prepare boxed cornbread mix according to box instructions, then fold in the cheese.
6. Spread cheesy cornbread batter over chili.
7. Bake at 375˚F/190˚C for 20 minutes.
8. Let cool for a few minutes, then garnish with sour cream and cilantro
9. Enjoy!