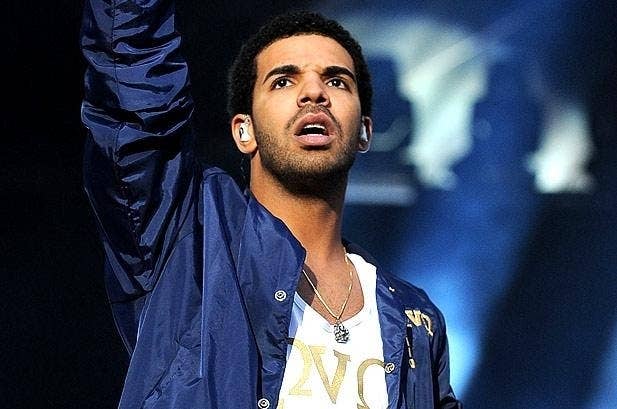 You see the look on that guy's face up there? That's the look of a confused, distraught young man. He's rich and he can probably sleep with any woman in the world he wants (except my mom), but still he struggles. It isn't some shallow, distant issue that he suffers from, like not knowing what to do with all his money. No. Drake is emotional. Just like all of us.
Every time I listen to a new rapper, it's the same story: their girls and cars are foreign (why can't they support product American-made products, for gosh sakes?), they've got enough money to throw on the floor at the strip club (I guess that's supporting the American economy), they're always trying to have sex with my girlfriend, they're constantly talking about Nikes, Jordans, and footwear with fancy names like "Loubotin", and their raps are peppered with expensive brands only carried in stores that I feel too broke to step in to.
Rappers get a pass for this kind of ostentatious display of fortune because the art form has always been aspirational. In '89, Special Ed was a 16-year old kid gloating about how he had a new car every other week and got a million dollars for every song he recorded. It didn't matter that those kind of exaggerations were blatant bollocks; Ed was vocalizing the dreams of kids around the world by using rhymes on wax as a way of speaking those dreams into existence. 24 years later, Jay-Z is in an art gallery rapping about buying Picasso and Basquiat paintings, but he's dead serious. The message of Magna Carta Holy Grail is similar: all these things I'm rapping about? I actually own them, and you can too one day.
But too much of hip-hop is veering into this overly materialistic realm of abundance. There's something refreshing about hearing 2 Chainz say that he doesn't want to have sex with my girlfriend because he's got his own girl (thanks Tity!). Everybody is talking about wealth and swag and having all the expected spoils of being a celebrity. What about the dark side? Can't we get something different?
Enter Drizzly Cakes. Now I have to admit before I go on, I am not much of a Drake fan, and I'm not sure there's any rhyme or reason to why I don't like him. I was enamored with So Far Gone, which was a departure from his previous mixtapes, where he was more of a straightforward, traditional rapper. It seemed like "So Far Gone" was the perfect balance of rapping and singing, neatly wrapped up with the 808's and Heartbreaks-inspired production from Drizzy's phenomenal right-hand man, 40. Then Thank Me Later dropped and it was a little too mushy for me. Jay-Z had the best verse, the production wasn't as atmospheric as the previous tape, Drake was singing about his feelings a little too much. Secretly, I knew that my expectations of what I wanted him to sound like were distorting my ability to enjoy his development as an artist. I was harboring disappointment because Drake wasn't doing exactly what I wanted him to do.
By the time Take Care dropped, Drake had been boxed in and labeled by most hip-hop purists like myself. You know, music to scroll through your girlfriend's phone to. Music to cry yourself to sleep to after looking at your ex's Facebook. Music to bake cupcakes to. I ignorantly adopted this outlook, feeling shunned by the first album, and any hint of emo Drake turned me off on Take Care. How can I be a man if I listen to Drake?????? In hindsight, Take Care is one of the best rap albums of the past couple years. I just needed to drop my brawny insecurity to enjoy it.
Take Care is also one of the best selling rap albums of recent times, surpassing the RIAA's double platinum landmark just months ago while continuing to sell between 3,000-5,000 copies per month. It was a dominating showing from the rapper, and one that solidified his position as a top-tier artist in today's game. Even the many hardcore hip-hop heads who don't vibe with his music can't deny that he's amongst the elite within the genre right now. And the reason he's so popular is the very reason that so many people hate on him: he doesn't shy away from awkward topics. It's one of the reasons why Future is another budding superstar: his hit single "Turn On The Lights" isn't about having all the bitches in the world. It's about looking for the one that's right. By hip-hop standards, that's basically blasphemous.
You see, Drake's new album Nothing Was The Same is about to be the biggest rap album of 2013 because he shows us his soft side. He'll say things no other rapper (except maybe Lil' B and Little Pain) would say by exposing his thoughts and feelings in a way that's so vulnerable, it would spell career suicide for any other hip-hop artist (and that's not even taking into consideration their actual friends). Drake is smart to resist being categorized as just another rapper, and it's not simply because he sings. It's because he doesn't feel the need to match his subject matter with the rest of the uber-masculine hip-hop crowd. Fans can only take so much macho boasting about copious amounts of groupies. Drake is going to win once again this year by daring to sidestep common expectations and showing his fans the true, albeit embarrassing, sides of his own personality. He's going to subvert the expectations of an entire genre, just like he's always been doing.
Kanye expressed his anger and frustration through abrasive production and over-misogynistic, thoughtless lyrics, while Jay-Z played the Fonz, cool as can be with a touch of regret and doubt here and there. Drake will blow them both out of the water come September with brutal honesty.
This post was created by a member of BuzzFeed Community, where anyone can post awesome lists and creations.
Learn more
or
post your buzz!