Compared to other platforms, these two hold the largest market share which is making them untouchable. Although tech giants such as Microsoft have tried to compete with these two platforms with its Windows-based phones, other tech providers such as Blackberry have adopted these systems.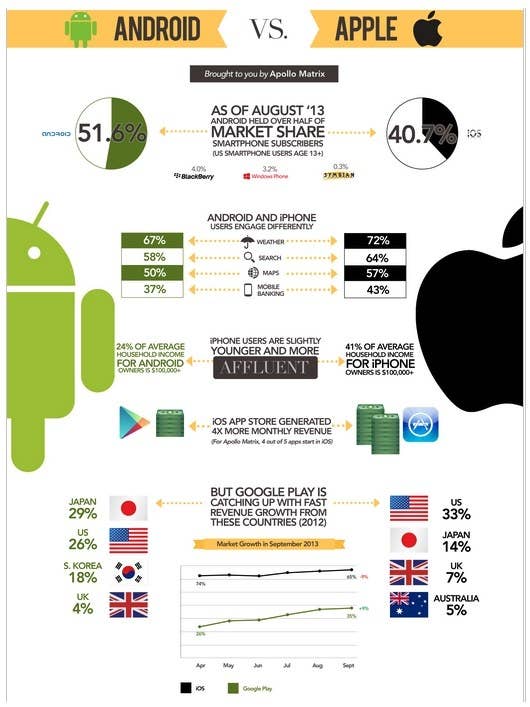 With all of its products, Apple has always been at the relatively high end of the market in terms of pricing. However, as we have seen more recently, the iPhone X took the plunge higher with a massive starting price tag of nearly £1000 and the iPhone XS Max at £1,249.
Their slightly more affordable models, the iPhone XR and older phones such as iPhone 8 can offer a cheaper alternative but with a technology disadvantage as their top spec phones are the only one with the high-end technology.
Android is very different from Apple when it comes to prices. Due to the large scale of tech giants who use the Android system, there is a lot more option on this side of the boxing ring. If you're looking to spend the same amount of money as Apple's high-end phones, you would potentially still be saving money as Androids top smartphones such as Google's Pixel 3 XL and Samsung Galaxy Note can be purchased at a cheaper price.
Android also has a variety of smartphones from different manufacturers, offering good low-end hardware. In comparison to Apple, Android also offers more free apps which makes them more attractive to those on a budget.
Apps
With a like for like comparison of the number of Apps, you can find on each systems platform evidence of a considerable gap in the number of apps. Roughly iOS has 2.2million apps, and Android has 3.5million Apps. As mentioned above, Android offers users more free Apps and as their market share grows this is sure to grow alongside it. However, Apples does offer a more lucrative platform for developers which is why gaming apps are more likely to release on iOS first.
Battery life and charging
Battery life is vital for all users and knowing how much you've got left and how far you can go with it before needing to charge it is always good to know. Android and iOS both offer visibility via battery apps which shows users how much they have used. However, Android takes this one step further and can show users an estimate of how much battery life is left.
For instance, the newest iPhone XS Max has an impressive battery talk time of around 25 hours:

Both systems offer power saving modes which can help extend battery life. This is done by limiting the performance of the device and connectivity with customizability on Android.
Android has pioneered in charging as they were one of the first to offer fast-charging capabilities and wireless charging. However, Apple has only just adopted wireless charging and fast charging, making it relatively new technology for them and their users.
Camera
For Android systems, Google's Pixel 3 and Pixel 3 XL have reviewed as some of the best smartphone cameras around. However, the iPhone XS and XS Max are not that far behind.
Most of the current high-end Android phones have great cameras. The more budget you go, the higher the chances of not having a high-quality camera. The Camera Apps on both platforms are quite good and very fast, but there is more variation on Android due to the different manufacturers who use the technology and add their own features.
Voice assistant
In comparison, users can carry out the same functions with Apple's Siri as with Google Assistant. The only difference between the two is Siri is more like a to the point helper who can follow straight orders such a making calls or adding things to the calendar.
Google Assistant, on the other hand, has an extra element. It can preemptively offer users suggestions which are useful, making it more conversational. Google assist can also offer entertaining games and contextual information purely based on your activities making it smarter and more versatile than Siri.