SBID 20:20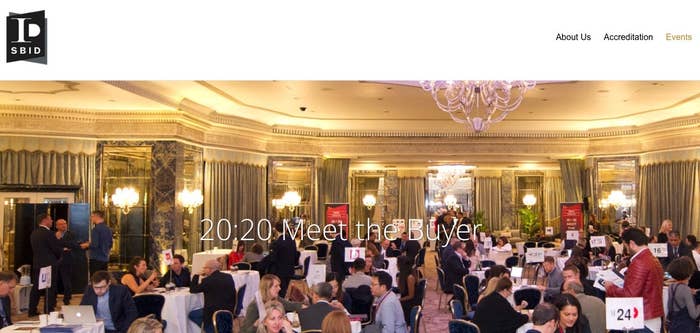 When: 25th October 2018
Where: London, United Kingdom
SBID 20:20 Meet The Buyer brings the cream of the crop of interior designers, architects, and specifiers together for one prestigious networking event in London this Autumn.
The event takes place prior to the esteemed SBID Awards, and promises to provide plenty of opportunities for face-to-face contact with key decision makers and industry leaders.
Expert-led business seminars will take place regularly throughout the one-day event, and industry suppliers have to opportunity to arrange a series of meetings with targeted buyers before SBID 20:20 begins.
SBID puts the emphasis firmly onto enabling connections to be made. Attendees even receive a profile of their prospective buyers equipped with contact details ahead of meeting them, allowing full preparation going into the event.
Domotex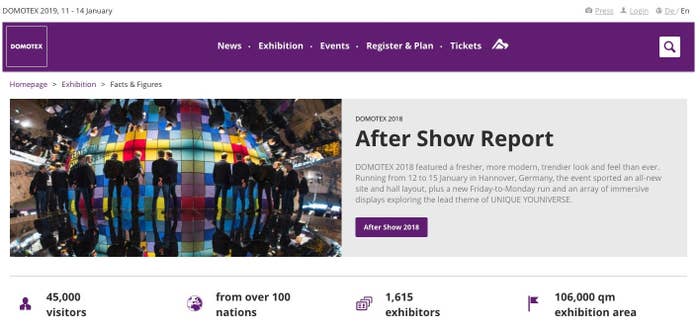 When: 11th - 14th January 2019
Where: Hannover, Germany
Domotex is a four-day event that takes place over a long weekend in the middle of January each year. Although 2018's incarnation has passed, we felt it was too much of a cornerstone in the interior design events calendar to ignore.
Domotex is an industry behemoth that boasts 1,615 exhibitors from over 100 nations, with over 45,000 trade visitors making the pilgrimage to northern Germany annually.
The event is the largest in the world when it comes to floor coverings, with traditional and modern blends of carpets, wood, laminate flooring, mats and outdoor flooring for residential and commercial uses alike.
Salone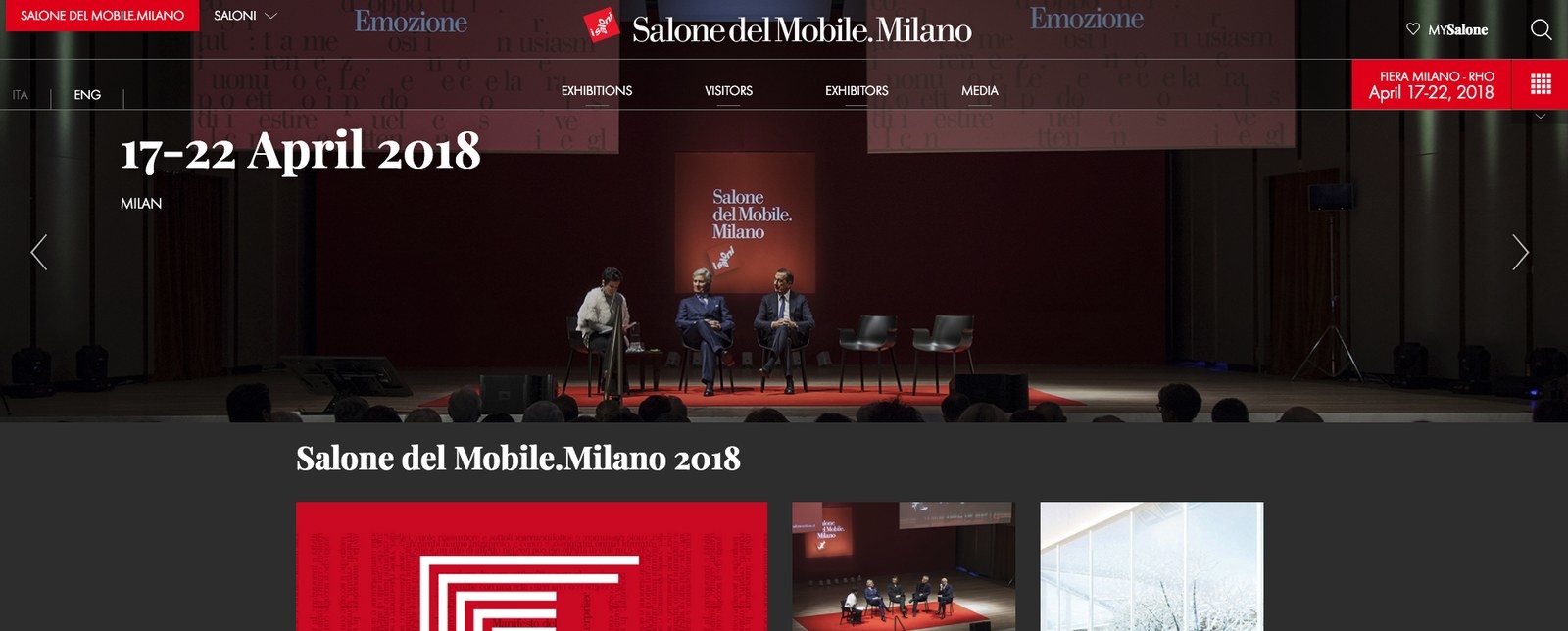 When: 17th - 22nd April 2018
Where: Milan, Italy
As the fashion capital of the world, it only seems fitting that Salone del Mobile showcases the furnishing and design sectors most innovative ideas in the Lombardy capital.
With an astounding 2,000 exhibitors covering over 200,000 square meters, the experience is sure to be eye-opening for its 340,000 annual visitors.
The event is held alongside the International Furnishing Accessories Exhibition at the Milan Fairgrounds of Rho. The exhibition is split into three categories, 'Classic: Tradition in The Future', 'Design', and 'xLux' - which is a section devoted to timeless and contemporary luxury installations.
Design Shanghai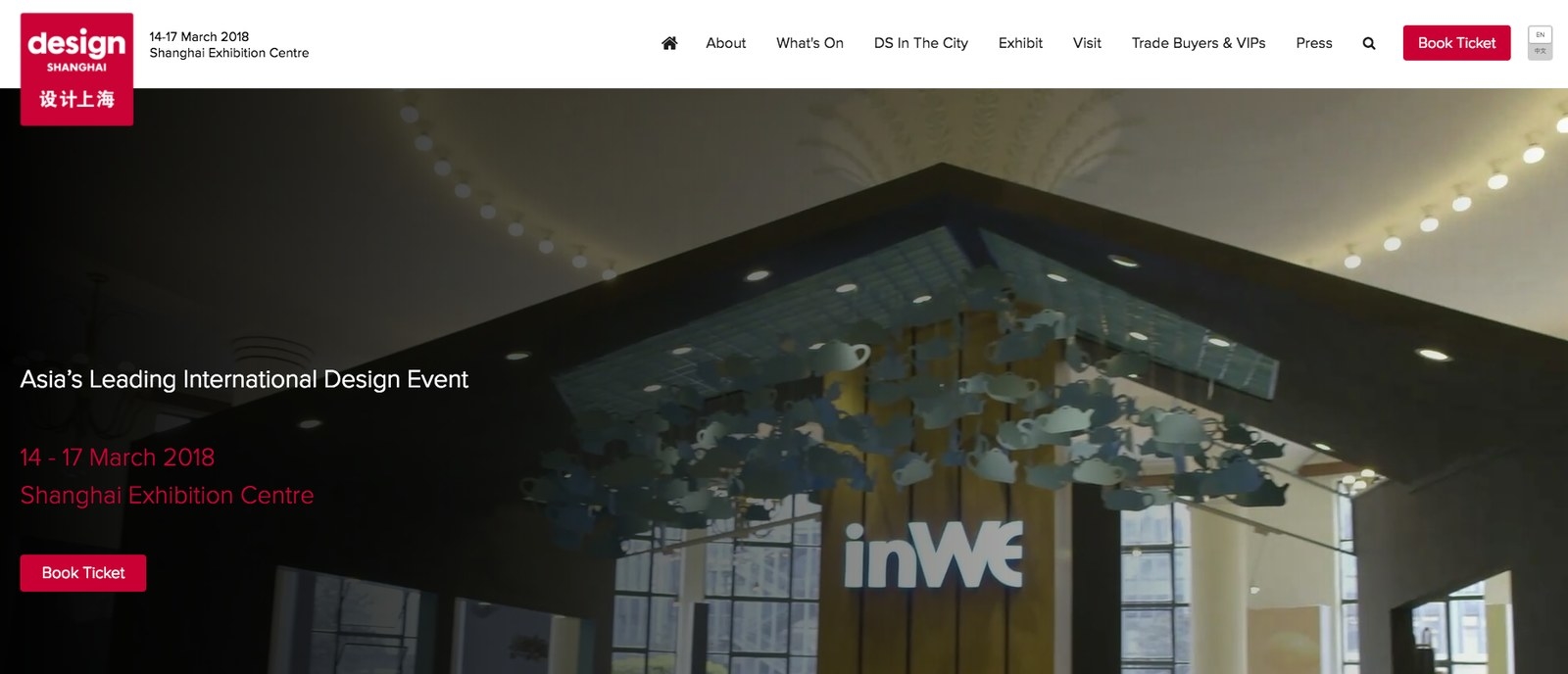 When: 14th - 17th March 2018
Where: Shanghai, China
Design Shanghai 2018 is set to showcase a blend of never before seen designs from over 350 participating brands at their four-day event.
The exhibition features works from the best galleries in the world, with organisers boasting that China's premier design event is essentially five shows rolled into one.
The categories, which are condensed into five different styles, offer diverse perspectives on the latest trends hitting the industry. From Contemporary Design, Classic & Luxury Design, Collectible Design, Kitchen & Bathroom Design, to Workplace Design - Design Shanghai reserves a position of prominence for all approaches.
Maison & Objet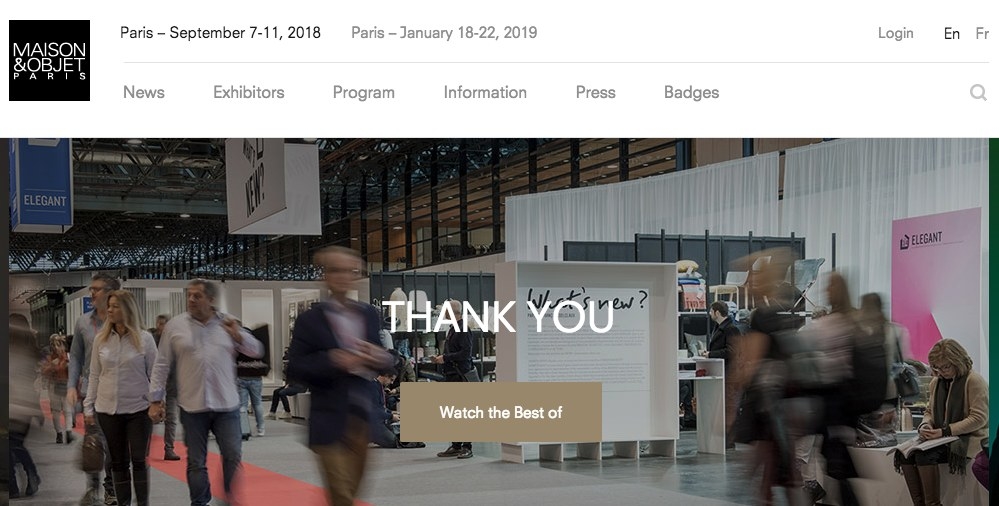 When: 7th - 11th September 2018
Where: Paris, France
Maison et Objet is a bi-annual trade fair based in Paris. Located just a stone's throw away from Charles de Gaulle Airport, the event features installations from 3,000 brands covering 130,000 square metres.
Significantly, Maison & Objet define their event as an 'experience', which seems justified considering over 85,000 visitors gather in the north of Paris twice a year to see the latest styles.
Audiences generally consist of 67% buyers and 33% specifiers, and with 2,800 journalists regularly attending plus over 362,000 Facebook posts based on the event, it seems to be the place to get noticed in the industry.
The trade show takes place over five days, making it one of the longer on our list - but with what organisers describe as 'three universes' to explore, it could be that you'd need longer to process all of the action. The Maison section is a tribute to 'full-on' interior design, while Objet explores the 'absolutely essential'. The third 'universe' is 'Influences' - which takes a look at designs that range from 'the unique to the bespoke'.
NeoCon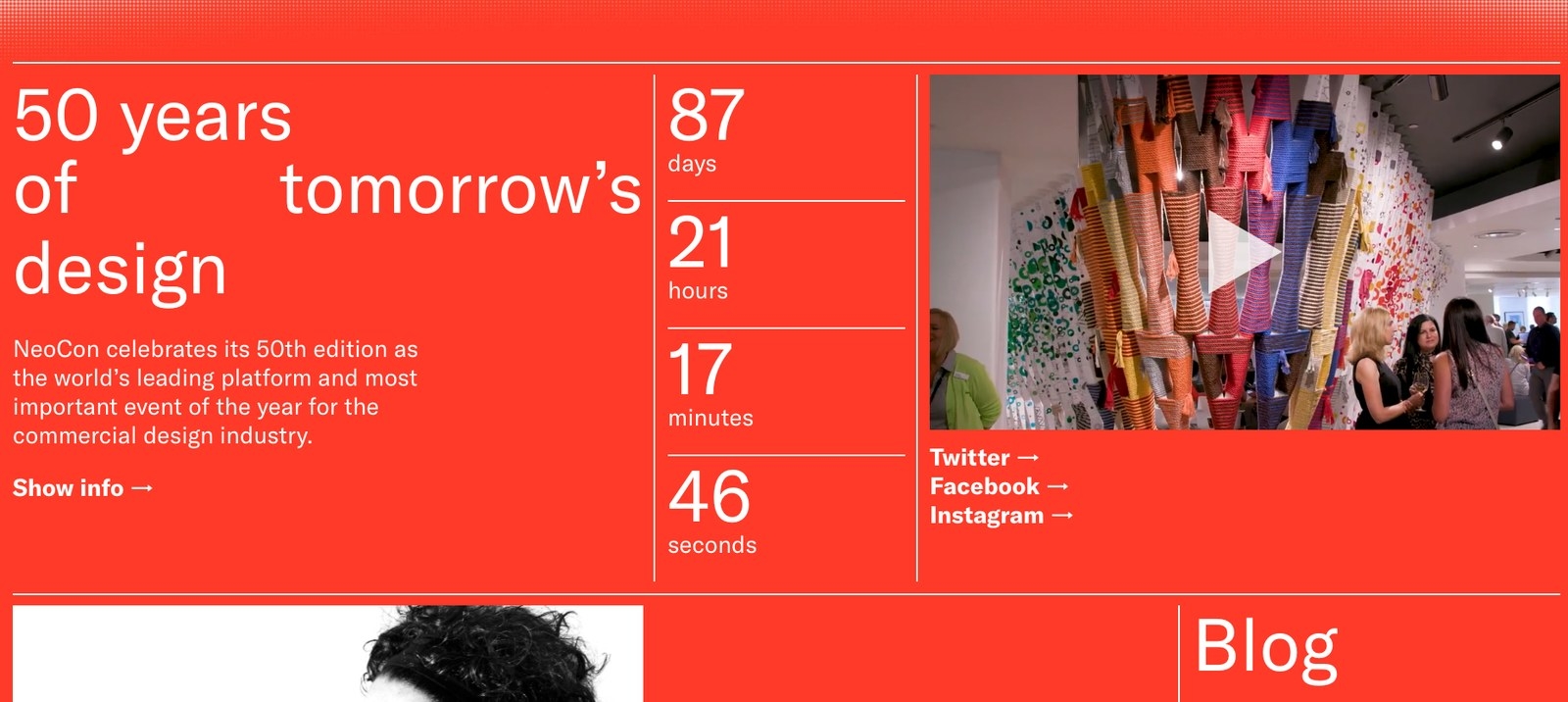 When: June 11th - 13th
Where: Chicago, USA
'50 years of tomorrow's design' is the bold tagline from NeoCon's fittingly avant-garde website. The event enters it's 50th year in 2018, and is looking to mark the occasion accordingly.
With over 300,000sq metres of floor space occupied by 500 leading companies, 50,000 design professionals and 100 industry seminars, NeoCon's annual event is one that's not to be missed.
NeoCon focuses heavily on innovation in all interpretations of interior design, from wall coverings and window treatments to furniture, lighting, textiles, tiles, contract accessories and building products.
The event also benefits from the excitement of a dedicated awards ceremony, which celebrates the best exhibitions from the designers. Categories as esoteric as 'carpet filler' are covered as well as a 'best of competition' award for particularly excellent entrants.
International Design Awards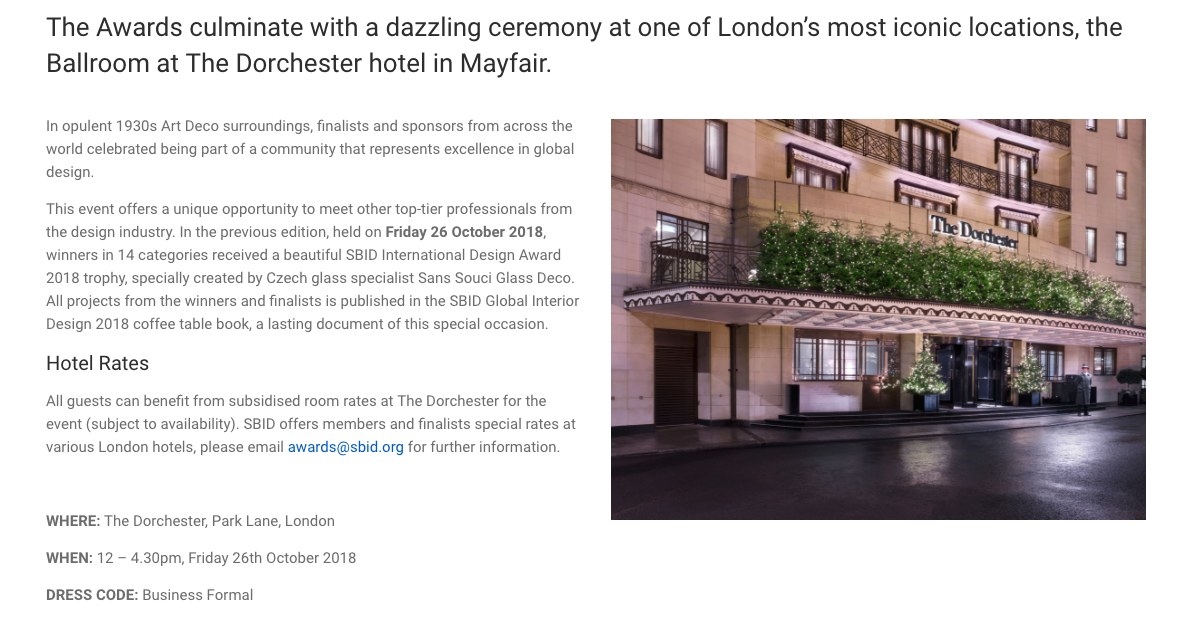 When: 26th October 2018
Where: London, United Kingdom
Located in the iconic Dorchester Hotel, the International Design Awards is a prestigious yearly event that celebrates the very best of design worldwide.
With judges assembled from the world's best-known organisations, such as Disney, Christian Louboutin, Belmond, Boeing, Walpole, The BBC and Quintessentially, the ceremony is undoubtedly in safe hands. 14 categories covering a range of luxurious and heartening causes like 'Residential Design Over £1m' and 'Healthcare Design' underline the versatility of the considerations from the panel.
The International Design Awards focus on being a wholly enjoyable event for all concerned, with live performances (2017's edition featured a ballerina opening proceedings) along with impressive incentives for the winners - including free entry to a House of Lords networking event.
For absolute confidence in the winner selection process, they have incorporated a three-tier judging system, that draws in considerations for the entrants' technical merits, creativity, and a public vote.