The panic and anxiety is real when it comes to presentations. There are so many aspects to think about, and the number of things that could potentially go wrong is enormous. The main issue many worry about when presenting is trying to avoid mistakes on the day, forgetting what to say and what if the equipment stops working when you need it to. Aside from all this stress, you still have the burden of putting together a carefully curated presentation outlining your goals and points. Although building a presentation can be quite challenging, here are five steps that will simplify and de-stress the process for you, helping you to concentrate on the aspects that actually matter.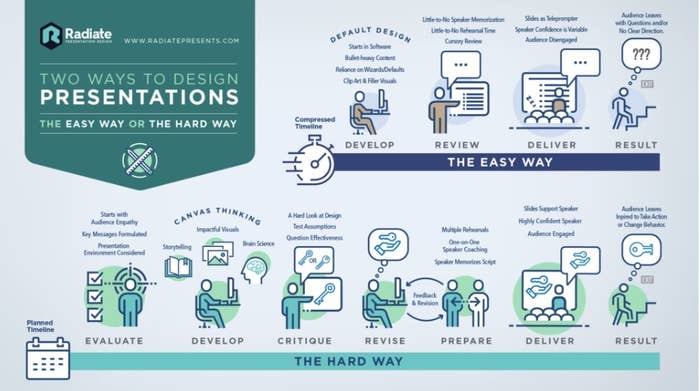 1. Be prepared for the worst
Preparing for the worst of things to happen can reduce and eliminate stress. When you are ready for something to happen, you can better handle and deal with it compared to if it arises out of nowhere and takes you by surprise. Part of preparing also means to rehearse your presentation but not obsess over it. Chances are you likely to provoke more stress when you overthink the process. One of the best ways to do this is to rehearse the presentation once you have completed it to ensure nothing has been missed.
The last, and the final practice should be done just a few hours before you are due to present - this will help you keep the stress level down.
2. Accepting the reality
When thinking about presentations, our mindset automatically defaults to wanting it to be perfect and correct. By doing this, we are inevitably putting ourselves under a lot of pressure and scrutiny. One of the best ways to prepare for a presentation is to accept the reality, and the matter of fact that in reality, things may go wrong. Instead of dwelling over them, it's more important to take them in your stride. It's vital to understand that you may make a mistake or forget to cover an important point, but that is normal and happens to everyone.
This is why it's essential to have notes in front you that will help you remain calm during your presentation.
3. Reduce your workload
Presentations can require a lot of work to be put into them; the first task is to identify what material needs to be included in the presentation and what content can be left out. Once you have gathered the required information, it needs to be organised chronologically, detailing a solid train of thought to prevent your audience from getting lost, ensuring that your point is fully understood. Once this is completed, the content needs to be placed onto slides in a presentable manner. This can get time-consuming and relatively stressful.
Clear topic structure and segmentation is a necessity when it comes to creating a flawless presentation.

4. Make it conversational
During a presentation, you are speaking to people rather than having a conversation. This is why our minds get stuck as we're used to getting a response, positive or negative. During the discussion, we have the time to listen and think about our replies. During the presentation, as you're the only one talking, there's no time to gather your thoughts. This is why people lose their train of thought. To reduce the stress, pace yourself and get comfortable with the silence, giving yourself time to breathe, pause and think about what you're going to say next.
5. Plan for Questions
At the end of every great presentation is a Q&A session. This can be quite daunting for the presenter as there's no possible way to prepare for the questions being asked. However, there are a few things you can do to help you through this. Think critically about your subject matter and your audience. Unless you're a high-profile individual with numerous achievements, the audience will no doubt try and catch you. Think about what types of questions you might ask after having seen the presentation yourself.