Loaded Grilled Cheese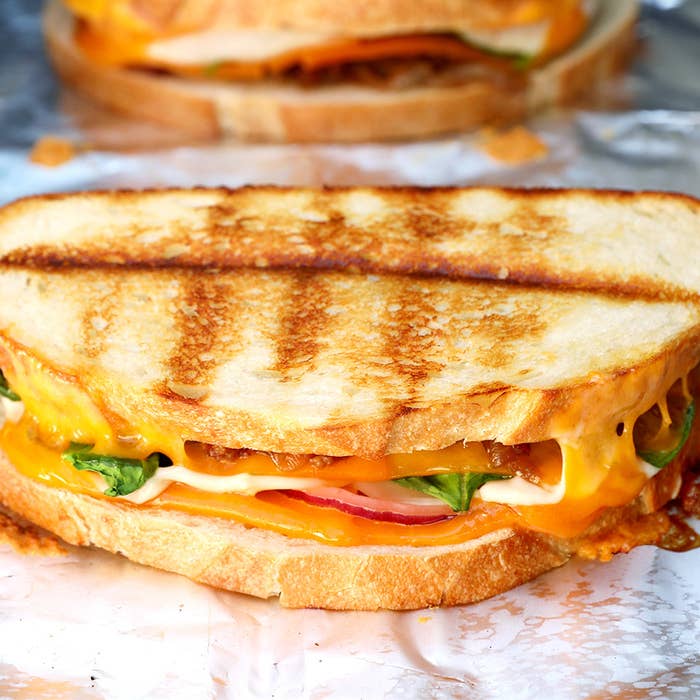 INGREDIENTS
Servings: 8
Bacon Jam
8 slices thick-cut bacon
1 large onion thinly sliced
2 tablespoons brown sugar
1 clove garlic, minced
Pepper, to taste
1⅓ cups Dr Pepper, divided
2 tablespoons cider vinegar
Grilled Cheese
8 slices sourdough bread
Softened butter
16 slices sharp cheddar
1 cup fresh spinach
8 slices provolone
2 tomatoes, sliced
Red onion, thinly sliced
PREPARATION
Bacon Jam
1. Cook bacon until crispy and drain onto paper towels. Once cooled, chop bacon into small pieces. 

2. Reserve 2 tablespoons of bacon fat in the frying pan and add onion. Cook over medium heat. Once softened, add brown sugar and continue to cook until caramelized and golden. 

3. Add garlic, pepper and stir to lightly cook the garlic. Then add ⅔ cup Dr Pepper. Cook the mixture until it starts to thicken, then add the cooked bacon, vinegar, and remaining ⅔ cup Dr Pepper. Cook stirring periodically until thick and deep brown. 

Grilled Cheese
1. Heat grill to medium heat.

2. Butter one side 4 slices of bread and place face down. Layer bacon jam, two pieces of cheddar, spinach, provolone, tomato, red onion, and two more slices of cheddar. Place second slice of bread on top and butter the top. Stick the sandwich with 2 toothpicks to hold in place. 

3. Place a greased piece of foil onto the grill and put sandwiches top. Once cheese is beginning to melt and the bottom slice of bread is crisp, flip sandwich. Remove from heat once done. (Optional: Cook directly on the grill if you would prefer a more barbecued taste.)

4. Slice in half and enjoy!