Loaded Dr Pepper Bars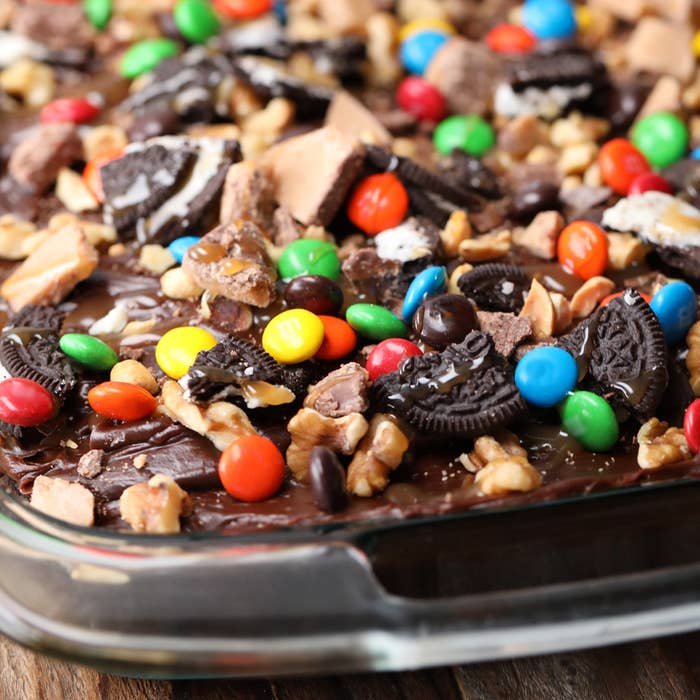 INGREDIENTS
Servings: 24
2 cups sugar
1 cup butter, melted
5 eggs
1 tablespoon vanilla
½ cup Dr Pepper
1½ cups flour
1¼ cups cocoa powder
1 teaspoon salt
1 teaspoon baking powder
1 cup chocolate peanut candies
Chocolate frosting
Optional Toppings:
Nuts
Crumbled chocolate sandwich cookies
Crumbled toffee bar
Chocolate candies
Caramel
PREPARATION
1. Preheat the oven to 350ºF (180ºC). Grease a 9-inch x 13-inch pan.

2. Combine the melted butter and sugar; mix until combined. Add eggs, Dr Pepper, and vanilla, then whisk until fully incorporated. Add the cocoa, salt, baking powder, flour, and chocolate candies, stirring until just combined. Pour the batter into the pan.

3. Bake the bars for 30–35 minutes, or until a toothpick comes out clean. Cool, frost, and decorate with desired toppings. 

4. Enjoy!