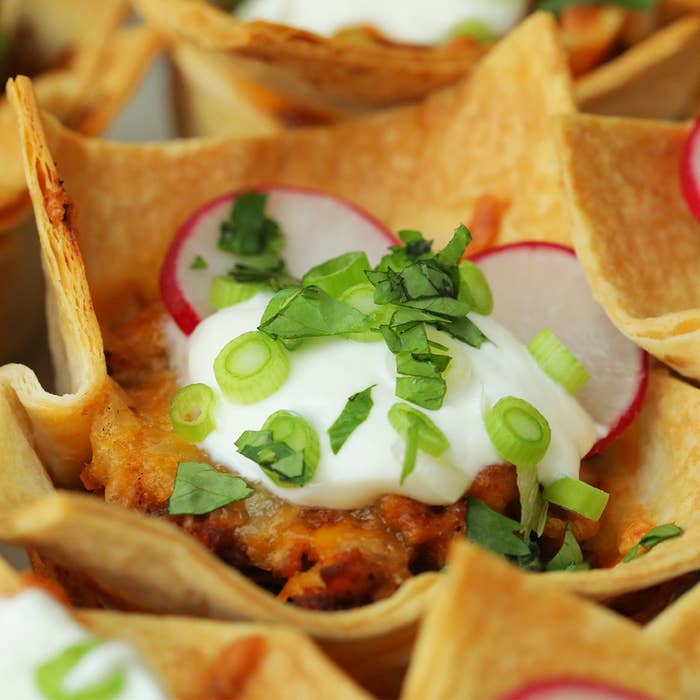 INGREDIENTS
Sauce
1 cup Dr Pepper
1 cup chicken stock
3 tablespoons olive oil
3 tablespoons flour
2 tablespoons tomato paste
1 tablespoon hot sauce
1½ tablespoons ground chili powder
1 teaspoon white vinegar
1 teaspoon ground cumin
½ teaspoon chipotle powder
½ teaspoon cayenne
½ teaspoon garlic powder
½ teaspoon dried oregano
¼ teaspoon salt, to taste
Pinch of cinnamon (optional but recommended)
Freshly ground black pepper, to taste
To assemble
4 cups rotisserie chicken, finely shredded
6 flour tortillas, burrito size (large)
1½ cups shredded Mexican cheese blend
Scallions, sliced (garnish)
Cilantro, chopped (garnish)
Radishes, shaved (garnish)
Sour cream (garnish)
PREPARATION
1. Preheat oven to 375℉.
2. To prepare the sauce, combine all the dry spices ingredient in a small bowl. In a medium-sized pot over medium heat, warm the oil.
3. Add the flour and spice mixture to the pot. While whisking constantly, cook until fragrant and slightly deepened in color, about 1 minute. Whisk the tomato paste into the mixture, then slowly pour in the broth and Dr Pepper, whisking constantly to remove any lumps.
4. Raise heat to medium-high and bring the mixture to a simmer. Reduce heat to maintain a gentle simmer. Cook, whisking often, for about 5 to 7 minutes, until the sauce has thickened slightly. (The sauce will continue to thicken as it cools.)
5. Remove from heat, then whisk in the vinegar and hot sauce. Season to taste with a generous amount of freshly ground black pepper.
6. Reserve ½ cup of sauce for serving.
7. Combine the remaining sauce with shredded chicken.
8. Cut flour tortillas into a square shape and cut each into 4 smaller, equally sized square pieces.
9. Generously coat a standard-size muffin tin with nonstick cooking spray.
10. Line each cup of prepared muffin tin with a tortilla sheet and press into mold. Add 1½ tablespoons taco mixture. Top with 1 tablespoon of cheese. Press down and add another layer of tortilla sheet, taco mixture, and a final layer of cheese.
11. Lightly brush the top edges of the tortilla with cooking oil.
12. Bake 18–20 minutes until cups are heated through and edges are golden brown.
13. Let rest in muffin tin for 5 minutes.
14. To serve, drizzle with remaining enchilada sauce and top with sour cream, scallions, radish, and cilantro.