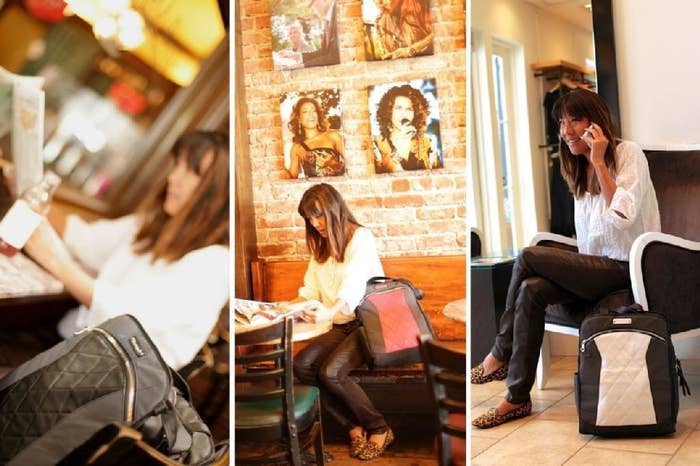 This past week was an exciting time for Debra Chin founder of MotoChic® Gear. Her line was the winner of the inaugural PowerLily Gas Tank Program competition. PowerLily an exclusive membership group within the Motorcycle Industry Council (MIC) created the Gas Tank Program, a Shark Tank inspired competition that gives women-owned brands the opportunity to present their business plan for a new powersports industry innovation, product or service, live in front of influential industry leaders and members of the press.
The event happened at AIMExpo 2016 in Orlando, Florida where over 500 exhibitors were on-site showcasing new products to the trade and the public.
In addition to exciting new releases from major manufacturers such as Honda, Suzuki, and Yamaha, there were many exciting groundbreaking gear introductions. Although options for women are still very limited, mainstream manufacturers are starting to focus on more versatile and stylish gear.
Cam Arnold, who facilitates the PowerLily Program at the MIC stated, "The presence of women in the powersports industry is undeniable, and it's growing every day. These are fearless pioneers, many of them testing the waters and breaking ground with innovations that are inspiring. MotoChic® is a prime example."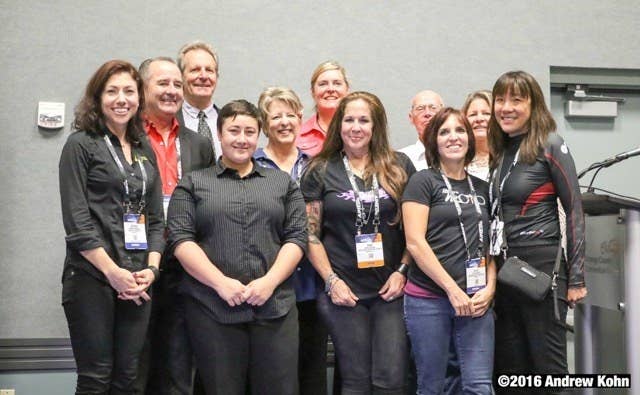 The Gas Tank mentor for MotoChic® Gear was Eric Anderson an MIC Board Member and founder of the VROOM Network. Anderson has over 30 years' experience in the powersports industry building major aftermarket gear and helmet brands including Hein Gericke, FIRSTGEAR, Scorpion, Schuberth, Held, and Roland Sands apparel.
Eric stated, "I knew being a mentor for the Gas Tank Program would be rewarding. To be able to share my years of powersports industry experience and witness a promising start up hone its brand voice and really come into its own was very cool … especially when you come across an idea like MotoChic®. This is truly the first high-end accessory line for women combining leading edge design with high-performance material for the powersports market and beyond. It's really exciting."
Inspired by adventurous and empowered women with active lifestyles, Debra Chin conceived MotoChic® and raised over $30K in 30 days on Kickstarter in December 2014. The successful Lauren and Valerie bags were launched in the spring of 2015. Both bags were designed after researching what women on the move want and need: functional gear that suits their active lifestyles without having to sacrifice style. The bags are amazing, not only functional but very attractive.
Chin's vision to combine leading edge design with high performance materials for women who ride resonated with the panel of Gas Tank judges including Jessica Prokup – Founder of PowerLily and Marketing Director of Twisted Throttle; Arne Ackerman – Chairman Emeritus and Founder of Motorsport Aftermarket Group, Inc.; and Kim Harrison – GM of Coleman PowerSports and MIC Dealer Advisory Council Member, as well as, an audience filled with industry experts, media, and trade representatives.
Chin's vision and grasp of how to reach the 7.6 million under-represented female riders in the USA clearly separated her from the other competitors.
Chin stated, "It was an incredible experience presenting in front of the judges at AIMExpo. The spirit of camaraderie in the riding community was evident everywhere. All of the program participants were impressive and inspiring; we are especially honored that MotoChic® Gear won the competition. I've grown so much during this process and have gained a tremendous amount of insight and feedback from my mentor, Eric, which shaped the MotoChic® brand vision and business plan. I'm committed to my mission of helping to end the 'pink it and shrink it' approach to women's gear."
MotoChic® answers the need for high quality, design-conscious clothing and accessories for women with fast-paced lifestyles. World travelers, sports lovers, fitness fans, commuters, moms, students and fashionistas will find what they need in MotoChic® Gear.
Check them out at: motochicgear.com