We may not want to admit it, but I bet many of you are not so gentle when you plug your phone to charge. I'm certainly guilty of it. You know, when you're half asleep ready for bed and you maybe try to jam your cable in the wrong way.
For Android users this is especially damaging with those oh-so-delicate pins. Or, in the rush of getting ready for work you grabbed your phone a bit too hard and the cable went flying out. There is just no way our ports can hold up too well after that kind of wear and tear. As some of you may also know, over time dirt and dust can collect inside your port, interfering with the connections. This often results in charging issues as well. So, what is the resolution you ask?
One company, ASAP Technologies, has taken the initiative to solve these very prevalent problems. Earlier last month ASAP Technologies launched an Indiegogo Campaign for the world's first cross-device Magnetic cable: ASAP x-connect.
The ASAP x-connect is brilliant in every way. This 18k gold plated cable is compatible with three tip types to work with all iPhone and Android devices. What is most exciting is that It ensures an instant connection on the first attempt as It is equipped with a reversible Type A connector.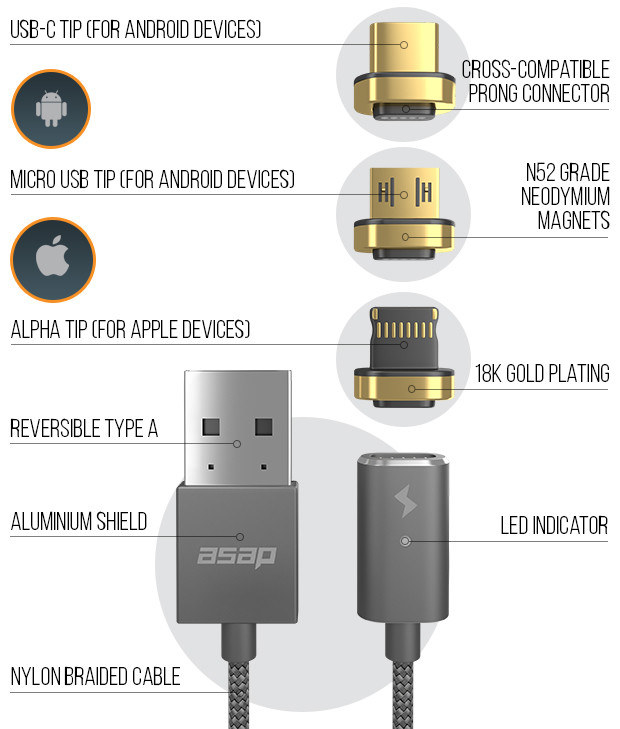 While there are a few magnetic cables available, the x-connect utilizes a N52 grade magnet, the strongest commercial grade magnet possible. ASAP has even taken instant connection one step further by introducing the world's first USB-C tip. Finally, a reversible USB! They expect the USB-C to replace all phone connector types by 2018 as they provide a much faster charge and eliminate this problem:
"Too many times have I heard someone say: 'my phones playing up' and 6 months later they finally get a new phone and exclaim how life changing having a new phone is," says Founder and CEO Vinson Leow, "The way you interact with your phone is crucial to your daily productivity and happiness and we hope to bring you that life changing experience with asap x-connect. By increasing a person's time and efficiency is crucial to human technological development."
If you like the idea of x-connect, but perhaps the crowdfunding aspect is holding you back, Founder and CEO Vinson Leow is just as impressive as his product. Leow is one of Australia's leading experts in crowdfunding. He is currently the first and only person in the world to run three 6 dollar-figure reward crowdfunding campaigns in a one year period. These campaigns have all been 100% self-owned and managed on his own.
The ASAP x-connect campaign has already raised over $125K and a month still remains. A single pack is currently available for $21 plus shipping and all products are expected to ship March 2017.
This post was created by a member of BuzzFeed Community, where anyone can post awesome lists and creations.
Learn more
or
post your buzz!