15 Celebrities Who Have Spoken Up About Their Diabetes
"When I first got it I didn't know what the fuck was going on."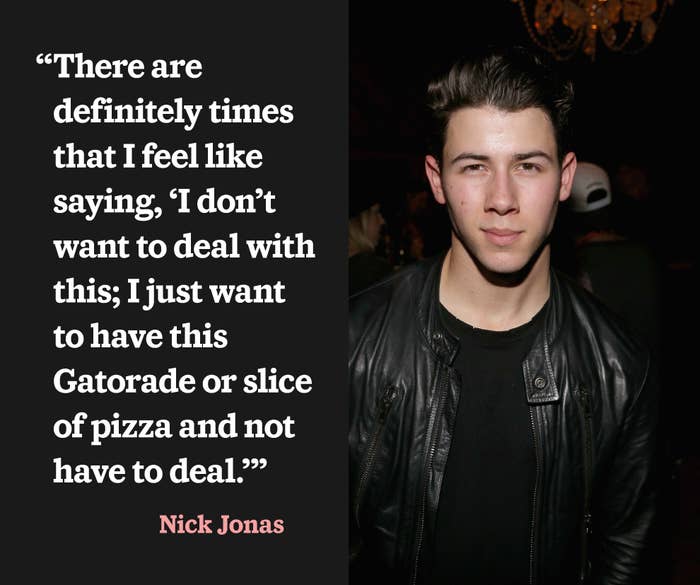 1. Singer Nick Jonas spoke to Diabetes Forecast magazine about being diagnosed with Type 1 diabetes when he was just 13 years old:
"As I've grown into a young man and my body has changed, I'm definitely noticing changes in my diabetes. It's continually changing — it's not like I get in a good place and it stays there. Every day I have to watch, to look at it, to make sure that everything is cool and still intact, to make sure I'm doing the best I can to manage it. There are definitely times, though, that I feel like saying, 'I don't want to deal with this; I just want to have this Gatorade or slice of pizza and not have to deal,' but I have to take it one step at a time, and I do."

2. When Sonia Sotomayor was in the nomination process for the Supreme Court, some headlines suggested her Type 1 diabetes would be a handicap. She revealed how it felt to receive that diagnosis as a 7-year-old:
"There is a huge amount of fear when you're first diagnosed with a disease of any kind, but particularly one like diabetes, where one of the advantages is constant control over the long term, but in the short term, the process can feel overwhelming. All the things that you have to do and pay attention to can seem much more than you're capable of, especially if you're a child — you already feel there are many more things you'd rather do."

3. Halle Berry told Marie Claire how having Type 2 diabetes affects her as a mother:
"When I found out, I was like, Oh my God, I have a disease. I was terrified. But I'm healthier since the diagnosis, and I think it has made me a better mom, because I'm so aware of how much sugar we consume. I've very conscious of what my children eat and how much they take in. People think it's hard to cut out sugar, but it can be done. You just have to put some effort in."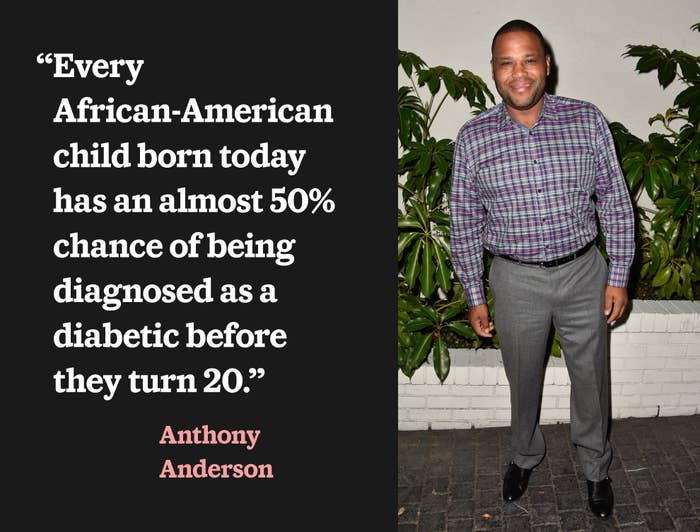 4. Anthony Anderson, star of the hit show Black-ish, advocates for minorities, who are disproportionately affected by the disease. He was diagnosed with Type 2 diabetes at the age of 31:
"I go around the country and talk to the inner city about being a minority and having diabetes because every African-American child born today has an almost 50% chance of being diagnosed as a diabetic before they turn 20."
5. Tom Hanks explained to former Late Show host David Letterman the role weight plays in managing his Type 2 diabetes:
"My doctor said, 'Look, if you can weigh as much as you weighed in high school, you will essentially be completely healthy and will not have Type 2 diabetes.' And then I said to her, 'Well then I'm going to have Type 2 diabetes because there is no way I can weigh as much as I did in high school.'"
6. Some women develop diabetes when pregnant, as Salma Hayek told Parents.com:
"I got gestational diabetes, which I didn't realize at first. It occurs in women who have high blood sugar levels during pregnancy. I didn't know whether I was feeling bad because I was pregnant or whether something was seriously wrong. I was nauseated for nine months, which can be one of the symptoms."

7. Former talk show host Larry King spoke for a lot of people when he told Diabetes Forecast magazine how easy it is to underestimate diabetes:
"I try to do the best I can with my health, and diabetes just boggles me. I know when you get a heart pain; I've had them. I don't know what diabetes feels like. … If someone had said to me, "What's your No. 1 health problem?" I would have said heart disease and then diabetes. And what doctors tell me now is that I can transpose them and say diabetes first. In fact, as my cardiologist said to me, diabetes is heart disease."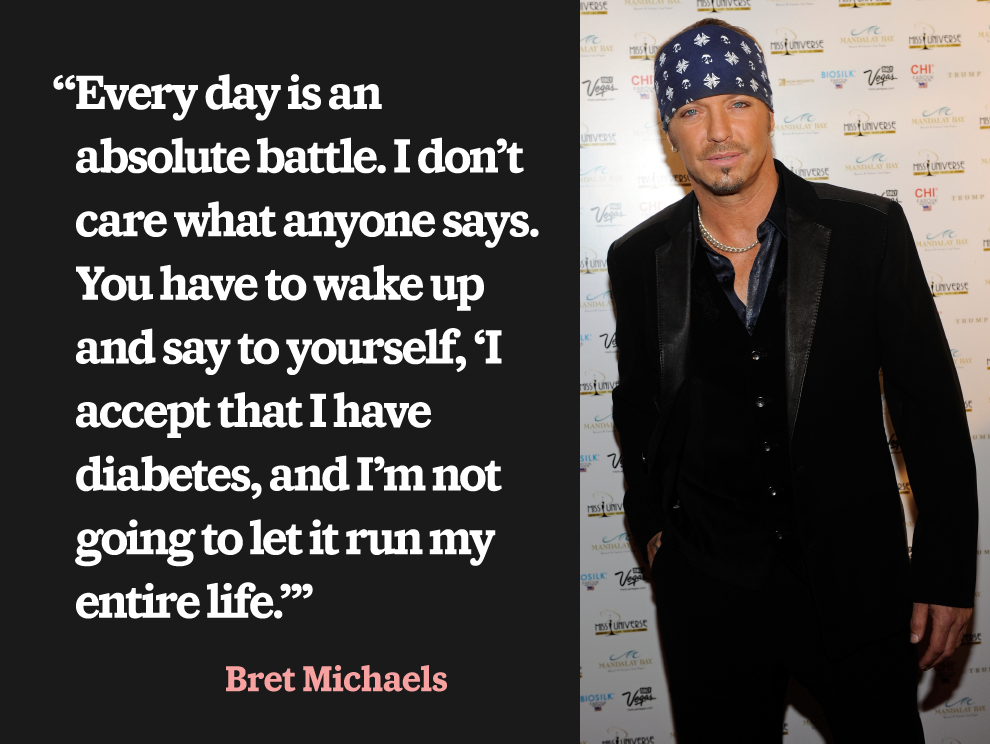 8. Poison frontman Bret Michaels has been dealing with Type 1 diabetes since the age of 6. He admitted that it's still a struggle to manage on a daily basis:
"Every day is an absolute battle. I don't care what anyone says. You have to wake up and say to yourself, 'I accept that I have diabetes, and I'm not going to let it run my entire life.' It's a fine line, a Catch-22, a balancing act. I work to enjoy my life like a regular human being and at the same time keep my blood sugar levels as decent as possible."
9. Rapper Lil Boosie spoke with XXL magazine in 2008 about not wanting accept his Type 1 diabetes diagnosis:
"The first couple years, I struggled with it. I was in and out the hospital. I just ain't wanna face the fact that I really had this shit. I'd go a month without taking my insulin shots, so I was just throwin' up, losin' weight, all kinds of shit. It was hard."
10. Entrepreneur Dame Dash said it took him years to master the rigors of managing Type 1 diabetes:
"You can't cure it. You gotta do what you gotta do. You gotta put insulin physically in your body, and you have to know how many carbs you're putting in your body so you can cover the carb. And then you have to know when...like, certain carbs react differently. It took me to be 43 to be able to speak intelligently about it. When I first got it I didn't know what the fuck was going on."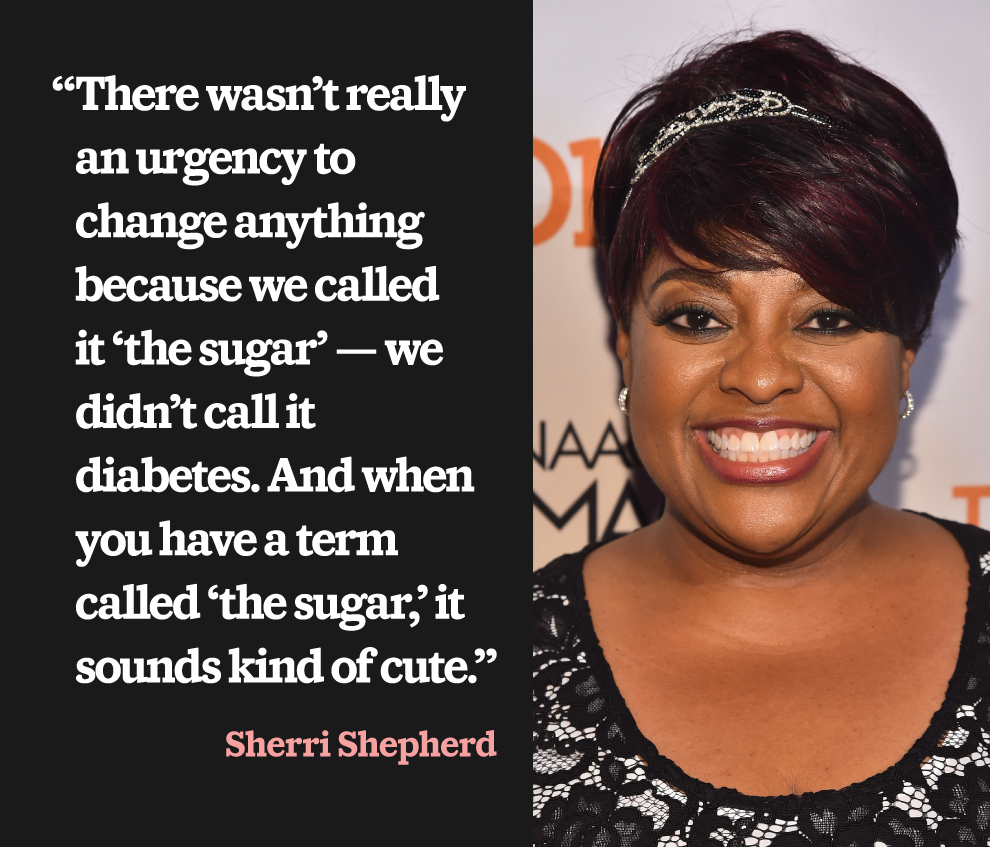 11. Actor and comedian Sherri Shepherd wrote a book about coping with Type 2 diabetes. Speaking with U.S. News & World Report in 2013, she addressed the moment she knew it was serious:
"I ignored it for years because mostly everyone in my family had diabetes. My mom passed away from complications at 41. But there wasn't really an urgency to change anything because we called it 'the sugar' — we didn't call it diabetes. And when you have a term called 'the sugar,' it sounds kind of cute.
"So for years, I ate, because that's what I was taught: If something was going wrong in your life, there was a peach cobbler to fix it. Even when my mom passed away, it didn't stop me from eating. I ate more. And then I started getting these signs, like my feet and toes were numb, I was always going to the bathroom, my vision got blurry and I was really thirsty. But I ignored it. I kept thinking, If I don't talk about it or do anything, then it's going to go away. But it never did."
12. Chicago Bears quarterback Jay Cutler, husband of Kristin Cavallari, said on his ESPN show that learning to be aware of his diet helps him keep his Type 1 diabetes under control:
"It's something you go to sleep with and you wake up with every day. It's not something that you can just be like, 'Hey, I'm going to take a day off here and I'll catch back up with it tomorrow.' It's difficult to deal with. I think more than anything over the past three, four, five years is I've changed my diet a lot. I think that's made the biggest impact on me being able to control my numbers and being able to control diabetes."
13. Randy Jackson told More magazine that when he was diagnosed with Type 2 diabetes, he learned that it would be a lifelong condition:

"My doctor pulled no punches with me, and because of that, his diagnosis was the biggest wake-up call of my life. I mean, he told me I could lose my life from this or be completely incapacitated from this. This is no joke! This is a disease I will have forever." 14. Patti LaBelle, living legend, talked about how her mindset surrounding the disease evolved from despair to pride:
"My uncle went blind because of it and he died. My aunt and my grandmother had it, so when the doctor told me I was a diabetic, I was like, 'No, no, no.' I cried.
"You can take hold of the situation. I feel great now. I live the right way. I wear fierce clothes. God has blessed me. Everything I do now, I do it proud. I am a divabetic!"
15. And of course, Malik Taylor, aka Phife Dawg, died from diabetes-related complications on Tuesday at 45 years old. In the documentary Beats, Rhymes & Life: The Travels of A Tribe Called Quest, the emcee said he was addicted to sugar, "like straight-up drugs":
"Even though I knew I had [diabetes], I was in denial. I had to have my sugar. You have to accept it. If you don't accept it, it's going to kick your ass."
For more information on diabetes, you can visit the website of the American Diabetes Association.