How To Kick Ass In Business, From A Google Exec
Major key: If Valeisha Butterfield-Jones says it, she gets it done. Let Google's new head of black community engagement teach you the way.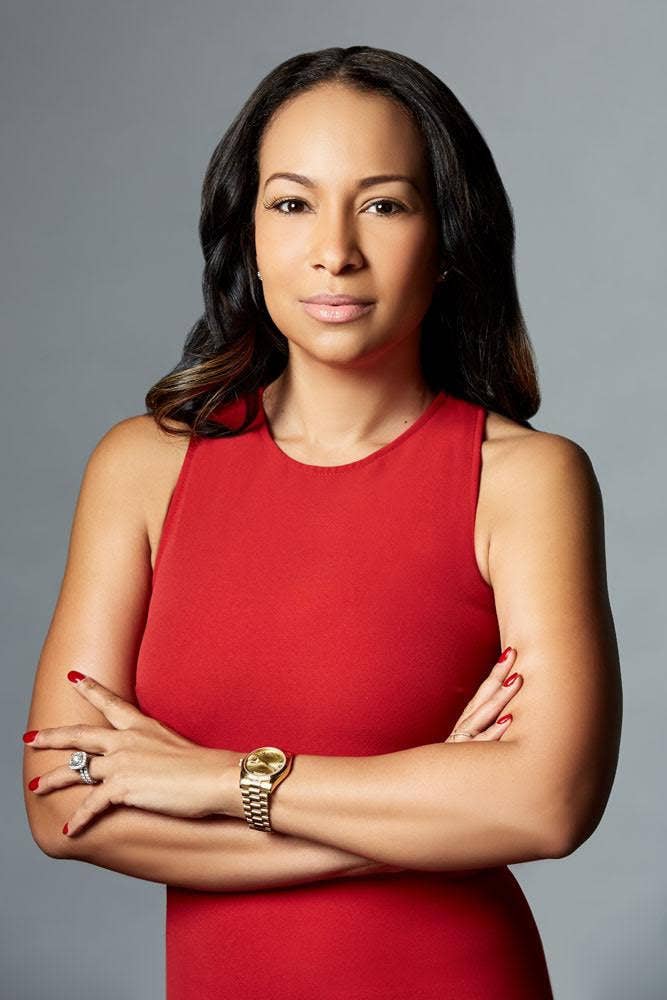 Let's say you're a tech behemoth worth $66 billion. So ingrained are you in modern culture that your name has become a verb in our lexicon, shorthand for how to instantly find the answer to any question.
You've solved a Really Big Problem for over a billion people. Now you have a Really Big Problem of your own: Among you and your industry-leading peers, just 3–4% of the workforce is black or Hispanic. Diversity, as it's broadly called, is "a challenge." So who do you call to solve it? Enter Valeisha Butterfield-Jones, Google's new head of black community engagement.
How kick-ass is she? Well, in five minutes of conversation, a young Butterfield-Jones convinced hip-hop mogul Russell Simmons to give her a job.
She did not climb the ranks of the Hip-Hop Action Network — she cleared them, going from unpaid intern to national executive director. There, she amassed a Rolodex of celebs and enacted initiatives to mobilize young people to vote.
"I set what I feel like are very aggressive goals for myself as a high school student to lead an entertainment company one day, and I thought that would be the endgame, and something I would end at maybe 45, 50, 55, doing," Butterfield-Jones says. "And I hit it before 30."

"I set goals for myself to lead an entertainment company one day ... And I hit it before 30."
So what did she do next? Oh, just worked for the president. Barack Obama appointed her deputy director of public affairs for the International Trade Administration; she then served as national youth vote director for his second campaign.
Along the way, Butterfield-Jones developed a leadership style that allowed her to hold her own in notoriously male-dominated industries. "I wouldn't be honest if I didn't acknowledge that when I sat in board rooms and executive meetings, more often than not I was not only the only minority, but the only woman," she says.
Her job at Google was just announced in January, and Butterfield-Jones calls it "a dream position." But this ambitious exec, who has a 3-and-a-half-year-old son and is married to a professional basketball player, says she doesn't think she'll ever feel like she "made it."
"I know that there's more ahead, so it's about being present, working at my fullest capacity where I am — but also looking ahead to the future, because I feel like I have a long way to go," she says.
While the path is different for everyone, she shares with BuzzFeed some advice we can all use as we climb together.
1. Be persistent and consistent.

As a student at Clark Atlanta University, Butterfield-Jones heard legendary rap group Wu-Tang Clan had an office in midtown Atlanta — so one day after class she walked until she found it. Of course, she knocked on the door and landed a job.
Those tales seem like a thing of the past, but Butterfield-Jones insists young people today have an advantage. "This was before you had social media and the opportunity to ping people and DM people and engage them outside of a professional email address or cold-walking up to their offices," she says, "so I feel like young people have more access now than we did."
She acknowledges the job search is arduous, but says young people should not be dismayed: "It's about putting in the work and being willing to have patience because you may not get the results you want right away."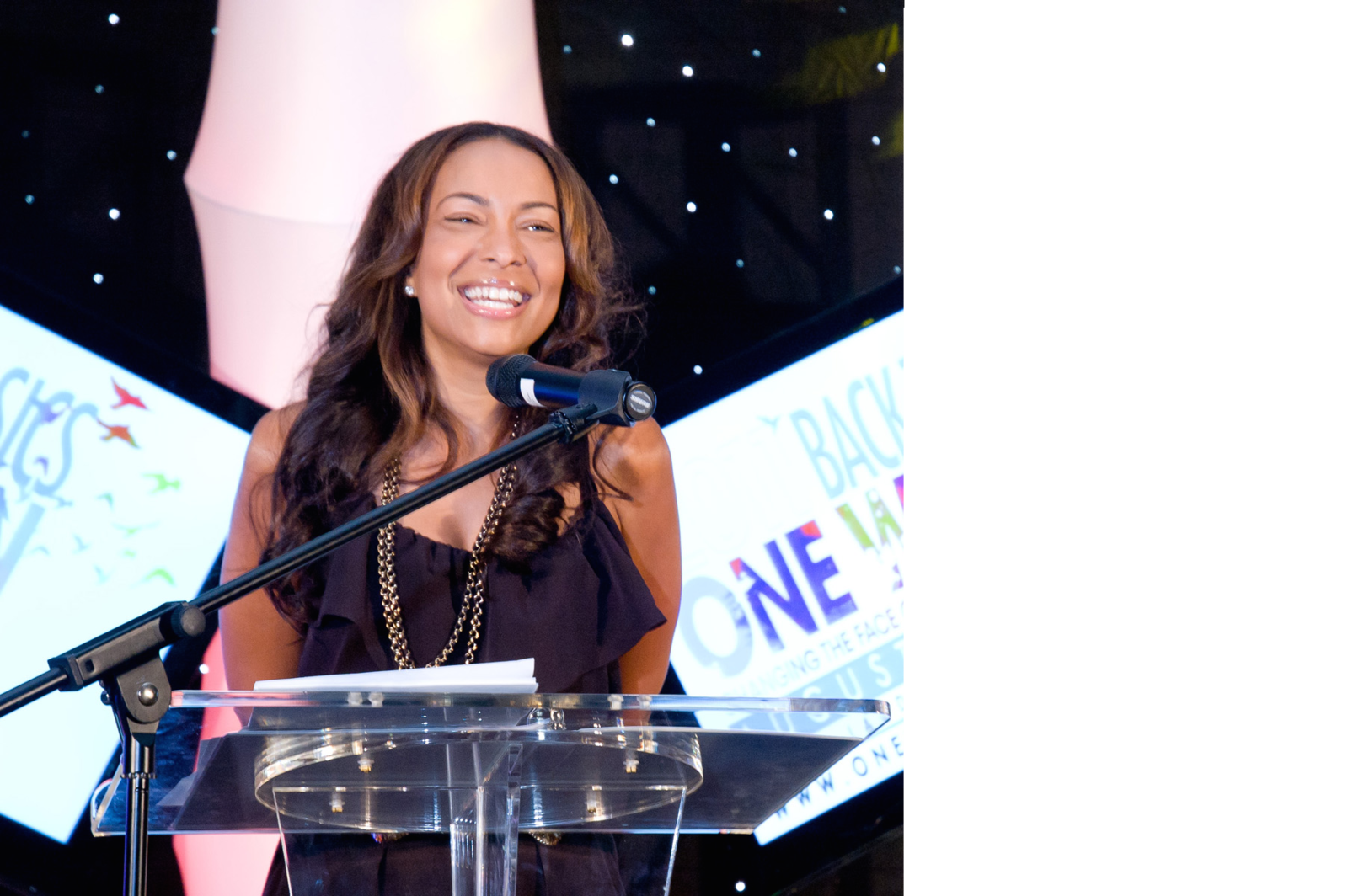 2. Do your research.
Once you gain access, if that door opens you have to be prepared. "It starts with understanding the market and who it is that you want to work for and why," she says, "and then also, really understanding whether you're ready for that opportunity."
3. Take an action-based approach.
It's easy to get caught up in your own brand and recognition, Butterfield-Jones says, but you must lead with the work. "Action is a part of everything that I do. I believe that's how I'm able to stay relevant because anything I say you can pretty much count on me to do."
4. Sometimes you have to take the step before you're ready.
"As women we like to overly prepare. We want to strategize, we want to make sure that we've planned our next 10 steps, and while all of that's important sometimes you have to take action and take the first step to propel the next steps."

5. Be willing to negotiate.
Understand your worth and ask for it, Butterfield-Jones says.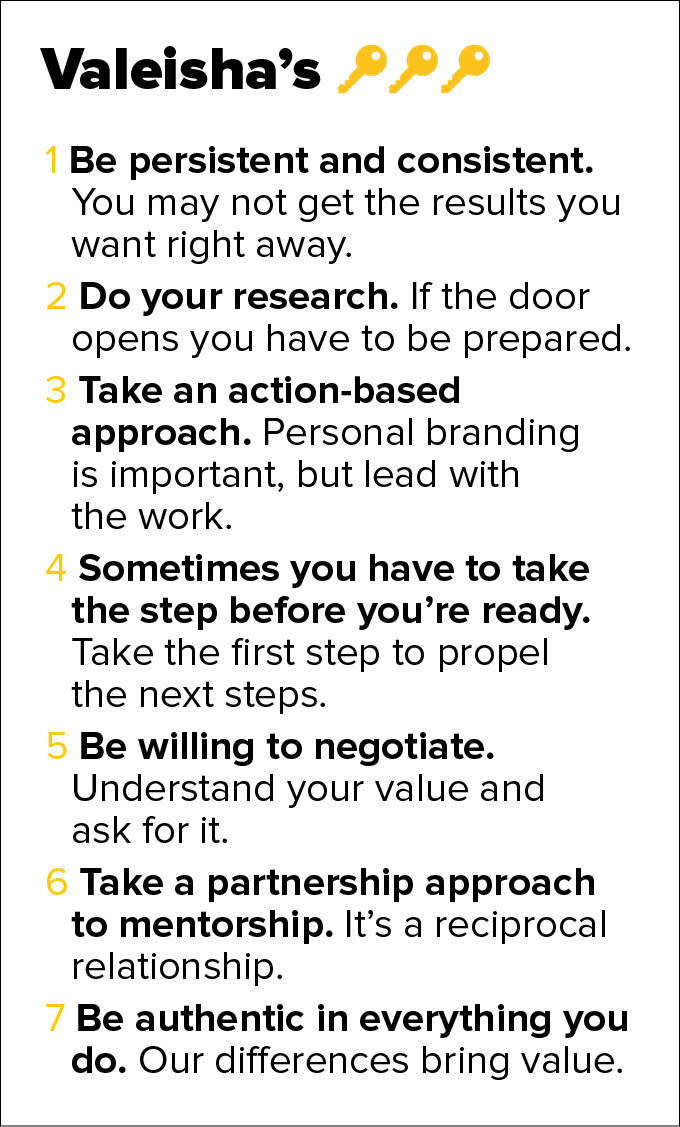 6. Take a partnership approach to mentorship.
Butterfield-Jones makes it clear that having mentors played a huge role in her career ascent. She pays it forward as CEO and co-founder of the Women in Entertainment Network, a nonprofit that provides opportunities to young women interested in the industry. She also makes time to regularly attend networking events.
At a recent event in New York City, one woman stood out because she didn't just say what she wanted, but she pitched the skills she possessed that could potentially add value. "As much as I want to pour into you, I would love your new ideas and your fresh approach and way of doing things," Butterfield-Jones says.
7. Be authentic in everything you do.
"When you transition like I have from environment to environment, industry to industry, it can become tempting to kind of morph into the environment that you're in," Butterfield-Jones says. "And for me I think it's our differences that bring value to any organization that you're in."