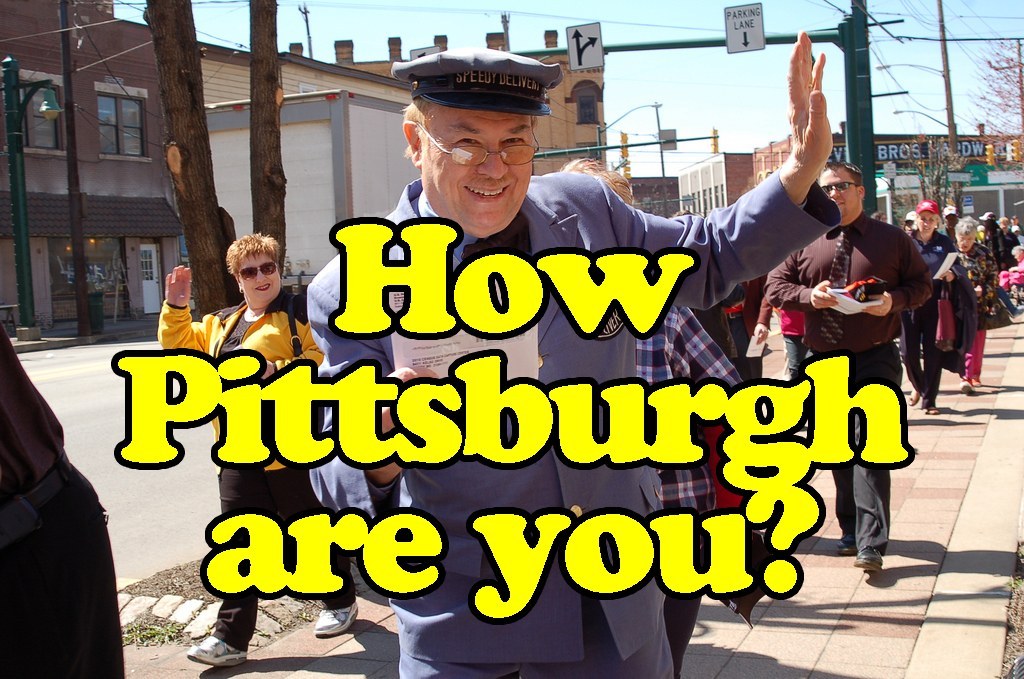 Been to an away Pirates game?

Owned Pirates season tickets?

Been to an away Penguins game?

Owned Penguins season tickets?

Been to an away Steelers game?

Owned Steelers season tickets

Called a group of people "Yinz?"

Called a group of people "Yinz" without any sense of irony?

Called someone a "jagoff?"

Checked your fly after being told that "Kennywood's Open?"

Eaten a Primanti's sandwich?

Eaten a Primanti's sandwich in the Strip District?

Eaten a Primanti's sandwich in the Strip District between midnight and 6 a.m.?

Given directions using the Allegheny County Belt System?

Given directions based on the former location of a Gulf gasoline station?

Given directions based upon whether there is a game being played downtown?

Slowed down when entering a tunnel?

Stopped on an onramp for no reason?

Given Luke Ravenstahl a break because he comes from a good family?

Wondered who David L. Lawrence was?

Been to the Carnegie Museum of Natural History?

Been to the Carnegie Science Center?

Been to the Carnegie Museum of Art?

Been to the Andy Warhol Museum?

Been to the Mattress Factory?

Been to the Depreciation Lands Museum

Felt pride for the Whiskey Rebellion?

Been caught saying "Please, Pittsburgh isn't that bad"?

Eaten Chipped Chopped Ham?

Refused to eat ketchup that was not Heinz?

Shopped at a Giant Eagle?

Shopped at the Squirrel Hill Giant Eagle?

Golfed at the Oakmont Country Club?

Been to Point State Park?

Been to Moraine State Park?

Been to Presque Isle State Park?

Called a carbonated soft drink "Pop?"

Driven over more than five different bridges in less than 30 minutes?

Been excited to hear Donnie Iris played on the radio?

Heard Wiz Khalifa's "Pittsburgh Sound?"

Known that Mac Miller was once a prep school student?

Bragged that Christina Aguilera is from Pittsburgh?

Gotten excited when Sister Sledge is played at a major league sporting event?

Known the name of the Pittsburgh Zoo's Amazon River Dolphin?

Visited the Pittsburgh Zoo in order to see a quahog?

Made fun of West Virginia?

Made fun of Philadelphia?

Ridden the Steel Phantom at Kennywood?

Ridden the Mr. Rogers Neighborhood ride at Idlewild?

Known where Wilmerding is?

Complained about the lack of service out of Pittsburgh International Airport?

Changed the channel to avoid watching a UPMC or Highmark advertisement?

Set aside a room in your home exclusively for Pittsburgh sports items?

Called a newspaper or television station demanding they send a reporter to do a feature on your Steeler Room?

Met someone visiting Pittsburgh as a tourist?

Wondered why that person chose Pittsburgh as their vacation destination?

Seen a Rick Sebak documentary?

Given a Rick Sebak documentary as a gift?

Had an opinion on the brand of the fireworks used in your local fireworks display?

Ridden the Duquesne Incline?

Ridden the Monongahela Incline?

Been to Three Rivers Stadium?

Worn a sports jersey in a formal setting?

Tried a Potato Top Tomato?

Used french fries as a salad topping?

Been really passionate about the H at the end of Pittsburgh?

Complimented the ceiling in the Benedum Center?

Attended the Three Rivers Regatta?

Referred to many of the things mentioned in this quiz as "The Touristy Things?"

Pronounced the name Carnegie the correct way? (It's CAR-neg-EE not CAR-na-GEE)

Wanted Pitt and Penn State to play football games against each other again?

Been shocked when Pittsburgh is rated highly in quality of life?

Never felt compelled to leave Pittsburgh?
This post was created by a member of BuzzFeed Community, where anyone can post awesome lists and creations.
Learn more
or
post your buzz!