Hot Chocolate Ice Cream Pie Bites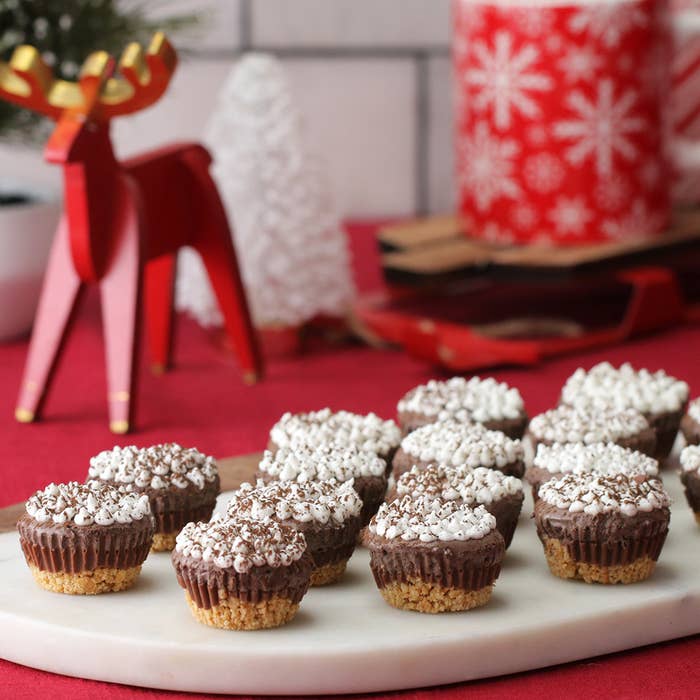 INGREDIENTS
Servings: 48 pieces
9 graham crackers sheets, crushed
5 tablespoons coconut oil, melted
2½ cups heavy cream
1¼ cups sweetened condensed milk
½ tablespoon vanilla extract
⅓ cup cocoa powder
40 milk chocolate Dove Promises
PREPARATION
1. Place graham crackers in a ziplock bag and crush with a rolling pin.
2. In a bowl, combine crushed grahams with melted coconut oil.
3. Line a mini cupcake pan with cupcake liners.
4. Press 1 tablespoon of graham mix into each cup, and place pan into the freezer.
5. Pour heavy cream in a large bowl and using a hand mixer, whip until stiff peaks form.
6. Using a spatula, fold in vanilla extract and condensed milk.
7. Separate the mixture into 2 bowls. Set aside one bowl to use for the topping.
8. In the other bowl, make the ice cream base by sift cocoa powder into the mixture in increments and fold to thoroughly combine.
9. Place Dove Promises in a bowl in the microwave for about 1 minute to melt, being careful not to overcook.
10. Add 4 tablespoons melted Dove Promises to the ice cream mix and fold, leaving streaks of chocolate.
11. Take your sheet pan out of the freezer and layer 1 tsp of melted chocolate onto each cup of graham crackers and smooth out to the edges.
12. Place back in freezer for 5–10 mins.
13. Then spoon fill the cups with ice cream mixture, and refreeze for 10 minutes.
14. Put the topping in a piping bag and decorate.
15. Place back in freezer for one hour.
16. Take the sheet pan out of the freezer and finish with a dusting of cocoa powder.
17. Freeze for at least 3 hours before serving.
18. Enjoy!