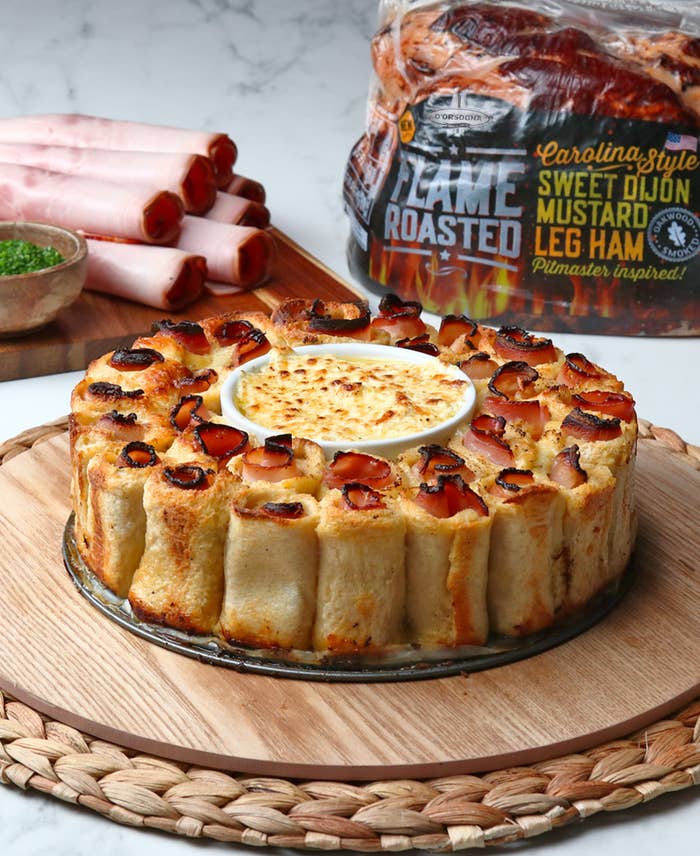 Ingredients:
8 slices D'Orsogna Flame Roasted Sweet Dijon Mustard Leg Ham, halved
16 slices white bread
¼ cup Dijon mustard
1 cup tasty cheese, grated
1 cup parmesan cheese, grated
4 eggs
1/3 cup milk
30g butter
Chopped chives, for garnish
1 tsp pepper
Salt, a pinch
For the Cheese Dip:
¼ cup cheddar
¼ cup parmesan
½ cup mayonnaise
¾ cup cream cheese, softened
1 tsp pepper
Method:
STEP 1: Preheat your oven to 170 degrees, line the base and sides of a 22cm non stick tin and place a small ovenproof ramekin in the centre.
STEP 2: Cut the crusts off each bread slice and then use a rolling pin to roll out each slice of bread until evenly flat.
STEP 3: Brush each slice of bread with mustard, then place a slice of D'Orsogna Flame Roasted Sweet Dijon Mustard Leg Ham on top.
STEP 4: Add a tablespoon of grated parmesan and tasty cheese in the centre of the ham, then roll up each slice until it forms a tight coil. Press the edges firmly so the bread holds, and slice each coil in half.
STEP 5: Add eggs, milk, salt and pepper to a large bowl, then whisk until fully combined.
STEP 6: Dip the bread halves into the egg mixture, making sure they are soaked on all sides, then place directly into your prepared tin until they form a full ring.
STEP 7: Pour over any remaining egg mixture, and dot the roll ups with butter.
STEP 8: For the dip, add all the ingredients in a bowl, mix until fully combined and then pour into the ramekin in the centre of the tin.
STEP 9: Cover the tin with foil and bake for 30 minutes at 180C. Remove the foil and bake for a further 10 minutes until golden.
STEP 10: Garnish with chopped chives.
STEP 11: Enjoy!