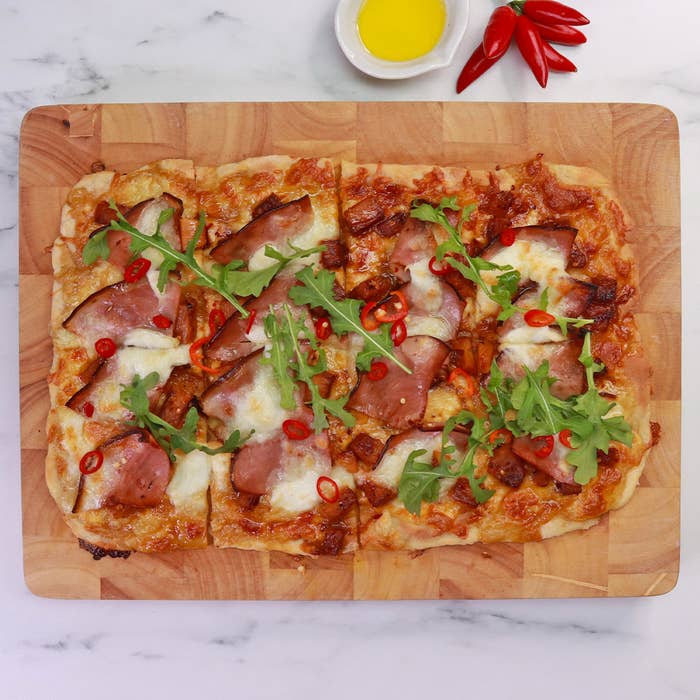 Dough ingredients
1 Cup (200g) full-fat Greek yogurt
1 ¼ cups (220g) pizza flour
1 tbsp olive oil
1 pinch of fine sea salt
Toppings
300g fresh pineapple, diced
200g D'Orsogna Australian Jarrah Honey Ham
150g shredded mozzarella
100g fresh buffalo mozzarella
2 tbsp (30g) light brown sugar
1/2 tsp salt
1/2 tsp chilli flakes
2 small red chillies, thinly sliced
1 tbsp olive oil
To Garnish
A handful of rocket leaves
1 chilli, sliced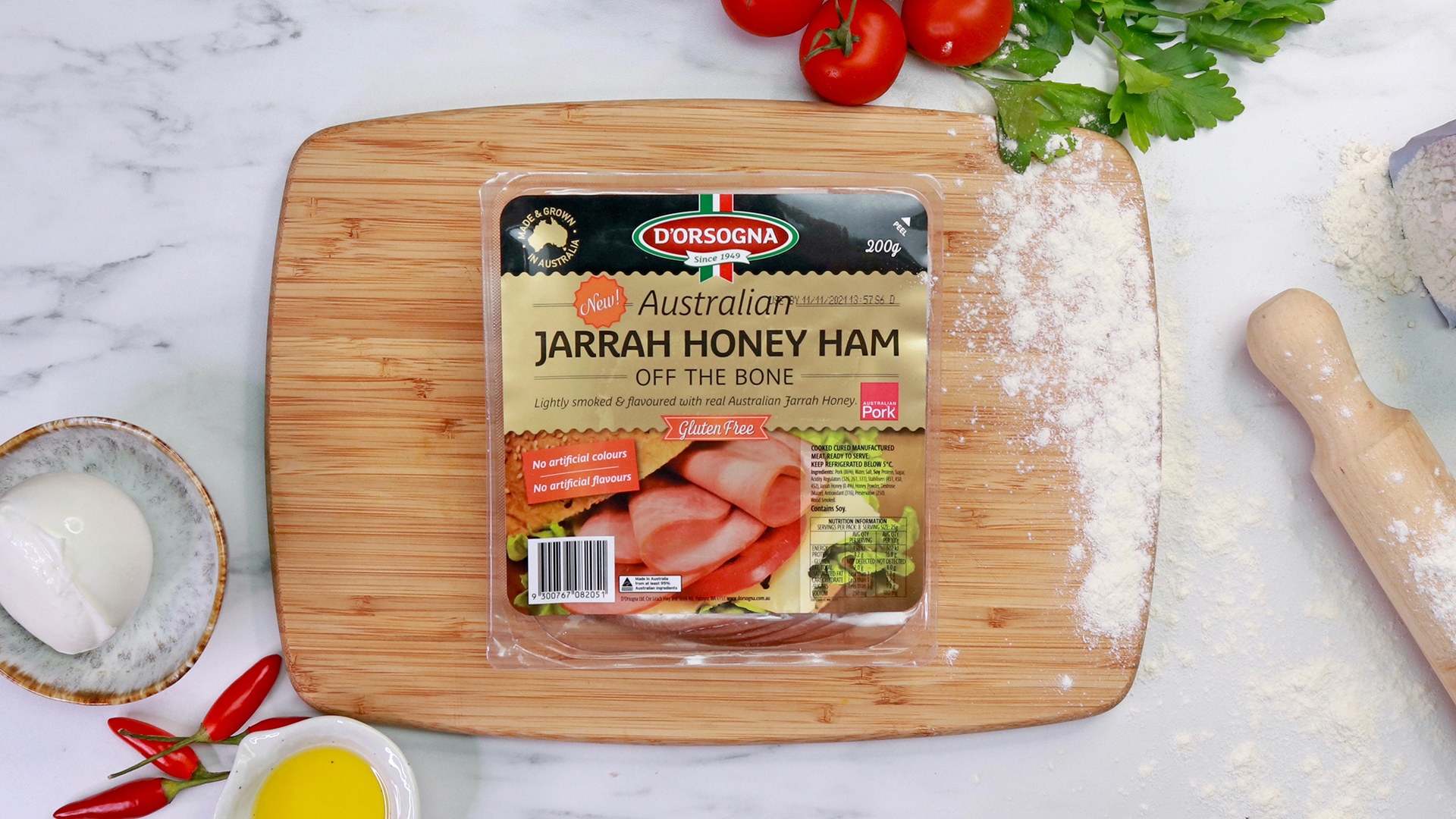 Method
STEP 1: Preheat the oven to 250°C, with a lined rectangular baking tray heating inside.
STEP 2: In a large non-stick frying pan, over medium-high heat, char the D'Orsogna Australian Jarrah Honey Ham Off Bone for 3 minutes or until slightly crispy. Set aside. 
STEP 3: In a non-stick frying pan, over medium-high heat, combine pineapple pieces with the brown sugar, salt and chilli flakes. Cook for 20 to 30 minutes, stirring regularly. The pineapple should be caramelised, but not burned. Add a splash of cold water if needed. Set aside. 
STEP 4: In a large bowl, combine the Greek yogurt with the salt and olive oil, then mix in the pizza flour until the dough comes together to form a ball.
STEP 5: Lightly flour a surface then lay the dough on top. Use a lightly floured rolling pin, roll the dough into the shape of a 14-inch (35 cm) rectangle.
STEP 6: Transfer the dough to the lined preheated baking tray, then add another layer of baking paper on top. Bake the base for 5 minutes at 250°C.
STEP 7: Remove the tray from the oven and flip the base on the tray so the crispier side is up. Peel off the top sheet of baking paper.
STEP 8: Sprinkle the shredded mozzarella evenly across the base. Top with the caramelised pineapple and the charred D'Orsogna ham. Break the fresh buffalo mozzarella into chunks for extra garnish and finish with fresh sliced chilli.
STEP 9: Bake for 15-20 minutes, until the cheese has melted and the crust has turned golden-brown.
STEP 10: Garnish with rocket and chilli. Slice, serve and enjoy!