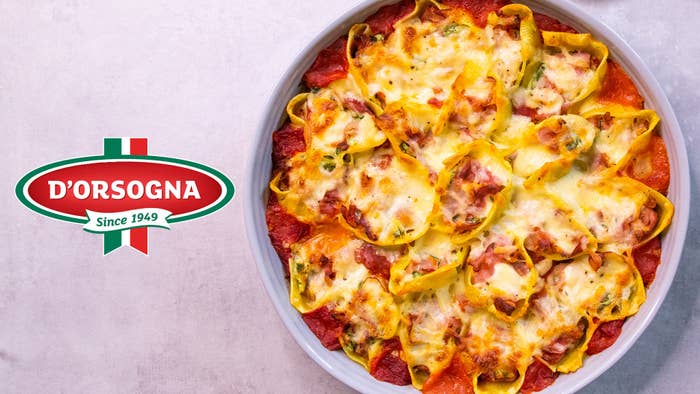 Ingredients:
500g giant pasta shells
500g D'Orsogna Premium Ham Off The Bone
2 cups passata
1 tsp olive oil
250g ricotta
100g spinach
2 tsp garlic
1 bunch fresh basil
2 tsp dried parsley
1 ½ cups mozzarella, shredded
¾ cup parmesan cheese, shredded
50g butter
2 tbsp plain flour
1½ cups milk
Salt, to taste
Pepper, to taste
Extra mozzarella, to coat
To Garnish
Fresh basil leaves
Method:
STEP 1: Finely chop spinach and fresh basil leaves, then add to a large mixing bowl. Save a few leaves for garnish.
STEP 2: Add ricotta, garlic, 1 cup of mozzarella, parmesan, dried parsley, salt and pepper to the bowl, then stir until fully combined and set aside.
STEP 3: Cook giant pasta shells in water, then drain. Add to a separate bowl with some olive oil to prevent them from sticking together.
STEP 4: In a skillet, or a round baking dish, spread passata on the base.
STEP 5: To stuff the pasta, take one giant shell and line with a slice of D'Orsogna Premium Ham. Using a tablespoon, scoop one spoonful of ricotta mixture and layer on top of the ham, then press it inside the shell and use the ham to hold the mix in place. Add to the base of the skillet, then repeat for all shells until the skillet is filled.
STEP 6: To make béchamel sauce, add butter to a saucepan and melt until it bubbles. Add flour and whisk until it pulls away from the side. Add milk and whisk continuously until the mixture starts to thicken. At this point add ½ cup mozzarella, salt and pepper to taste, and stir until it's combined and mixture stretches.
STEP 7: Pour béchamel over the giant sea shells, and then sprinkle with leftover mozzarella.
STEP 8: Bake in the oven at 180°C for 1 hour until mozzarella turns golden and the edges of the ham crisp up.
STEP 9: Serve hot and enjoy!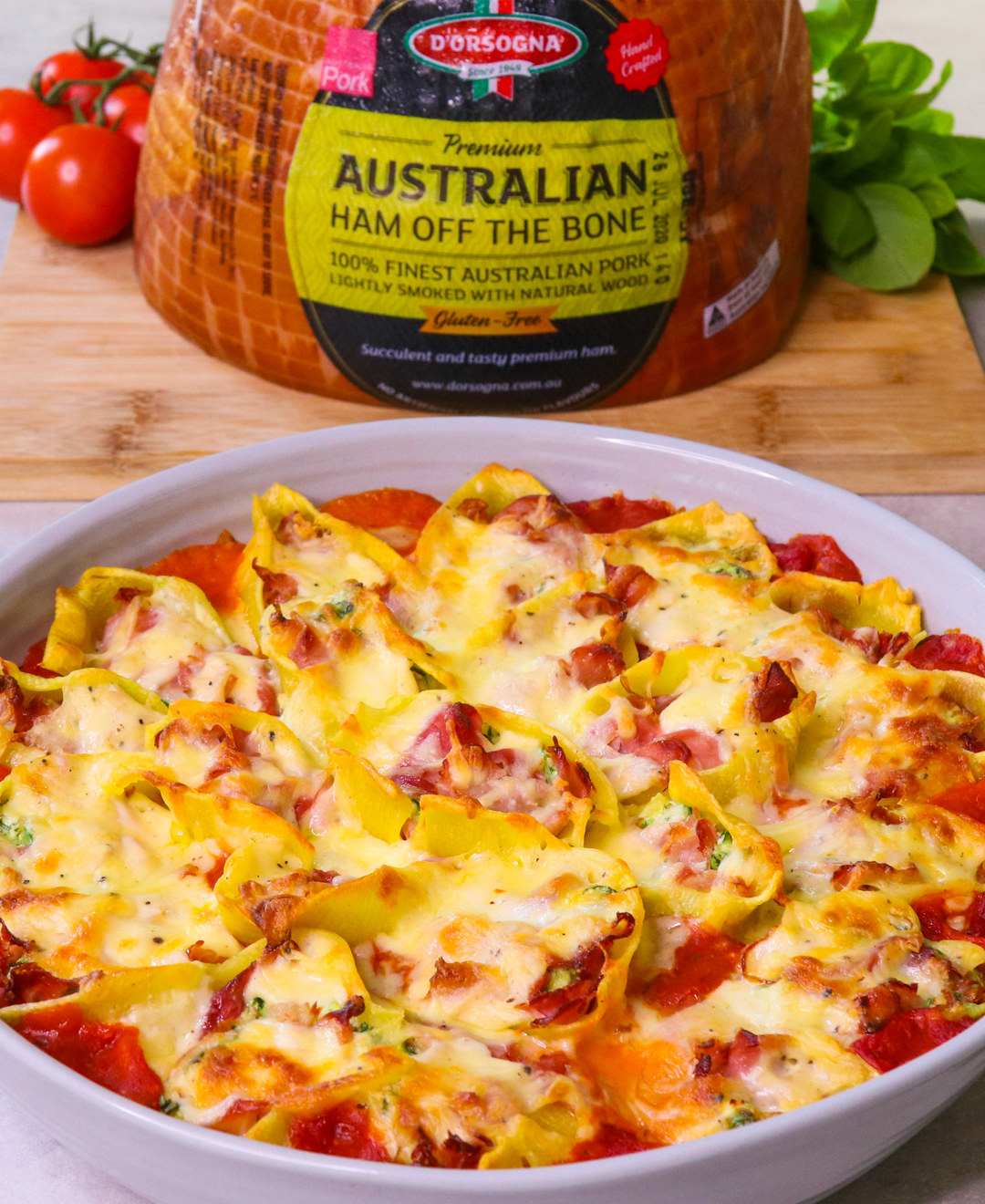 D'Orsogna Premium Leg Ham made with 100% Australian Pork is available freshly sliced nationwide at Woolworths Deli. Shop now!