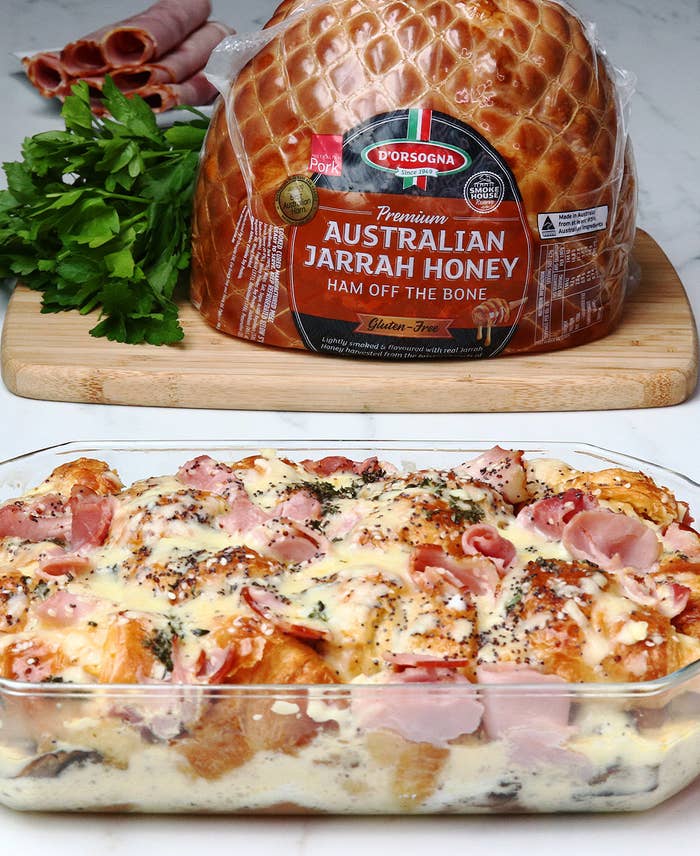 Ingredients:
15 croissants, torn into half
1 tbsp olive oil
200g mushrooms, sliced
1 tbsp chopped fresh thyme
2 garlic cloves, crushed
1 cup cream
3 large eggs, beaten
1 tablespoon wholegrain mustard
200g D'Orsogna Australian Jarrah Honey Ham
125g tasty cheese, chopped
Salt and pepper, to taste
To garnish
1 tsp poppy seeds
1 tsp sesame seeds
1 tsp thyme, chopped
Method:
STEP 1: Preheat the oven to 200C (180C) fan-forced. Heat the olive oil in a medium frypan over high heat. Add the mushrooms and thyme and season well. Sauté for 5 mins, or until the mushrooms are golden brown.
STEP 2: Arrange half of the croissants onto the bottom of a medium sized baking dish. Top the croissants with the mushroom mixture. Arrange the remaining croissants over the top, and weave through torn pieces of D'Orsogna Australian Jarrah Honey Ham, then add tasty cheese.
STEP 3: In a large jug, mix the garlic cream, milk, eggs and mustard and carefully pour it over the torn croissants. Leave to soak for 10 mins.
STEP 4: Garnish the top with poppy seeds, sesame seeds and thyme.
STEP 5: Cover the baking dish with foil, and bake for 25 mins, until the cream mixture starts to set. Remove the foil and bake for a further 5 mins, until the croissants are golden and the cheese is melted. Serve warm.