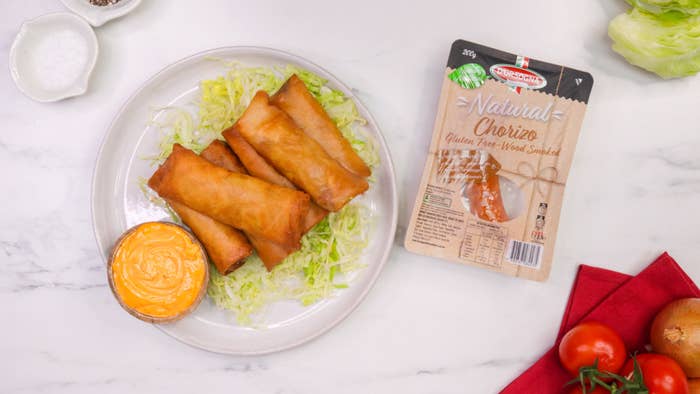 Ingredients
1 tbsp olive oil
200g D'Orsogna natural chorizo, finely chopped 
100g D'Orsogna bacon, finely chopped
50g dill pickle, finely diced
1 onion, finely diced
1 tomato, finely diced
¼ cup tomato sauce
2 tbsp American mustard
10 sticks mozzarella cheese
150g large spring roll wrappers
1 egg, beaten, to seal
Vegetable oil, for deep frying
Burger sauce, to serve
Shredded iceberg lettuce, to serve
Method
STEP 1: Heat the olive oil in a large fry pan over medium heat. Add the chorizo and bacon and fry for 4-5 mins, until golden. Set aside to cool completely. 
STEP 2: Add the chorizo mixture into a large bowl, with the pickle, onion, tomato, tomato sauce and mustard. Mix well. 
STEP 3: Lay out a sheet of spring roll wrapper with a corner towards you. Spread out 2 heaped tablespoons of chorizo mixture. Place a stick of mozzarella cheese into the middle of the mixture. Brush the top two edges with beaten egg. Carefully lift the corner closest to you and enclose the mozzarella cheese in the chorizo mix. Fold in the two sides, and continue rolling away from you until the spring roll is sealed. Repeat until the filling and cheese is finished. 
STEP 4: Heat the vegetable oil in a wide saucepan or pot until it reaches 180C. Carefully fry the spring rolls, in batches, for 4-5 mins, until golden. Remove from the oil and drain on paper towels or a kitchen rack set over a tray. 
STEP 5: Place the shredded lettuce on a large platter and arrange the spring rolls over the top. Serve with burger sauce on the side for dipping. 
STEP 6: Enjoy!