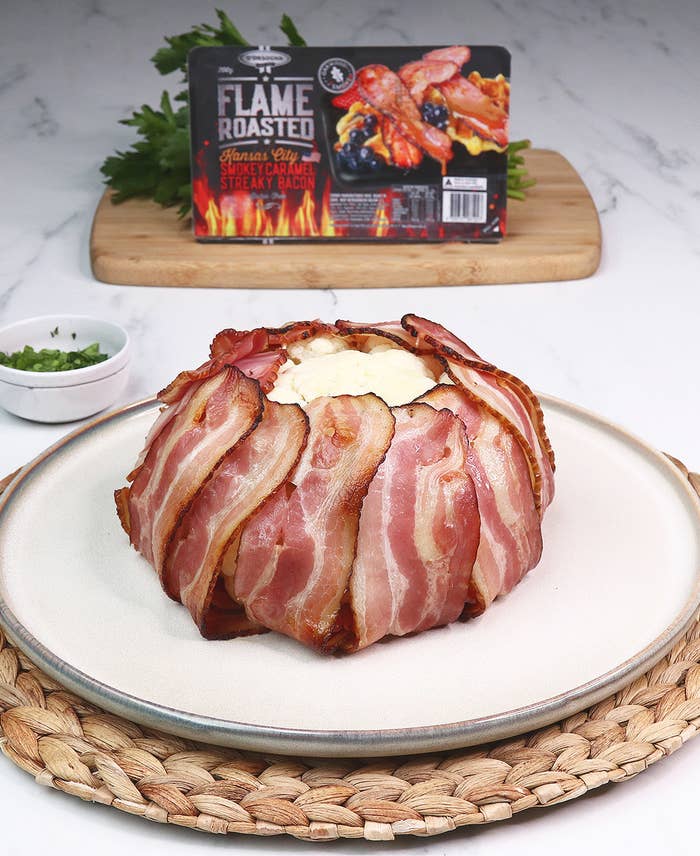 Ingredients:
1 medium cauliflower, leaves removed and bottom trimmed, so that it sits flat
1 tbs olive oil
425g D'Orsogna Flame Roasted Smokey Caramel Streaky Bacon
15g baby spinach
1 large egg, beaten
2 garlic cloves, crushed
¼ cup grated cheddar
60g cream cheese, softened to room temperature
60g canned corn, drained and rinsed
¼ cup dried breadcrumbs
Cheese sauce
Salt and pepper, to taste
Method:
STEP 1: Preheat the oven to 200C (180C fan-forced). Bring a large pot of salted water to the boil. Carefully lower the cauliflower down and boil for 10-15 mins, or until the cauliflower is cooked through and a knife inserts easily.
STEP 2: Meanwhile, finely chop 25g of the D'Orsogna Flame Roasted Smokey Caramel Streaky Bacon. Heat 1 tablespoon olive oil in a medium frypan over medium heat. Add the bacon and fry for 4-5 mins, until it's starting to brown and crisp. Add the spinach with 1 tablespoon water and cook, stirring, for a further 1-2 mins until the spinach has wilted and the water has evaporated.
STEP 3: Add the cooked bacon and spinach mixture, egg, garlic, cheddar, cream cheese, corn and breadcrumbs to a bowl and mix until combined. Season well.
STEP 4: Drain the cauliflower well. Set aside 4 slices of bacon. Line a medium oven-safe metal bowl with the remaining D'Orsogna Flame Roasted Smokey Caramel Streaky Bacon, leaving the edges overhanging, and place the cauliflower head-side down into the bowl. Using a sharp knife, carefully scoop out some of the stem, to make room for the stuffing.
STEP 5: Spread the stuffing into the cauliflower, pressing it into the crevices with the back of a spoon. Weave the 4 slices of bacon together and press onto the stuffing, tucking the ends into the sides of the cauliflower. Fold over the ends of the overhanging strips of bacon and invert onto a lined oven tray.
STEP 6: Leaving the bowl in place, bake the cauliflower for 15-20 mins, or until the bottom of the bacon is starting to caramelise. Remove the bowl, and bake for another 10 mins, or until the bacon is browned and crispy.
STEP 7: Remove the cauliflower from the oven and cover with cheese sauce.
STEP 8: Enjoy!