Last Saturday, Instagram account @TheShadeRoom posted a screenshot of a comment left by the singer and actor Countess Vaughn on the Instagram of her former Moesha co-star Brandy. It read, in part: "I apologize for anything Negative I've ever done are [sic] said to you ... sorry this had to be on social media, I just want the world to see that I've grown out of my comfort zone." The apology was a long time coming: In 1998, Brandy told Vibe that Vaughn had left Moesha out of jealousy.
The Shade Room posted it with the comment "#CountessVaughn sends out an apology to former cast mate #Brandy." This was classic Shade Room: It assumed that its mostly black audience would be familiar with the long-simmering conflict, and more important, The Shade Room knew that this would be big news. Within 24 hours, the apology had been picked up by Vibe, BET, Rolling Out, and other sites that cater to a black readership. But The Shade Room was there first.
Since its launch almost two years ago, The Shade Room has quickly gained readers thanks to its quick-hit, bottom-up approach to black celebrity gossip. There were other websites about black celebrities, to be sure, but The Shade Room was the first to launch on the platform — Instagram — where many of its readers spent much of their time. It aggregated from existing sites like TMZ or Bossip but gave gossip a social media spin: It actually did detective work on Instagram to figure out who was dating whom, who had broken up, who was in a fight. If Nicki Minaj liked a photo, then The Shade Room would screengrab the like and post it with a comment. If Kourtney Kardashian unfollowed Scott Disick, The Shade Room noticed. If Deion Sanders' daughter posted a photo not-so-subtly mocking her ex-stepmother — well, The Shade Room was there, monitoring, watching, screenshotting.
Behind it all is a 25-year-old Los Angeles resident named Angie Nwandu, who started posting on Instagram as @TheShadeRoom in March 2014. At the time, she was unemployed and just looking for an outlet for her writing. Within two weeks, she had 10,000 followers; today, the account has 2.6 million and has spawned a website, Facebook page, YouTube channel, Snapchat account, and online store.
"A lot of people wondered if we could ever get off Instagram, if we could build something bigger," Nwandu told me when we met at a Brazilian restaurant in West L.A. on a sunny November afternoon. In a purple top, black skirt, and heels, she was the best-dressed person in the restaurant.
Nwandu started The Shade Room right after she'd quit a dead-end job as an accountant for a motorcycle company that, she told me, had stopped paying her. Now she has a full-time staff of four who work in shifts to publish 24 hours a day; 20 unpaid interns around the country who work around 10 hours a week, going to events and keeping an ear to the ground in Atlanta, Miami, New York, and L.A.; and an ever-growing number of readers, aka "Roommates," who submit tips of varying levels of accuracy, like a recent one that spotted the singer Teyana Taylor entering a hospital in Cleveland with her boyfriend, the basketball player Iman Shumpert; the tip said Taylor was "about to deliver" her baby, but it turned out that Taylor had in fact already had the baby at home — delivered by Shumpert. Still, The Shade Room broke the news that something involving Taylor's baby was happening a day before any other site had reported it.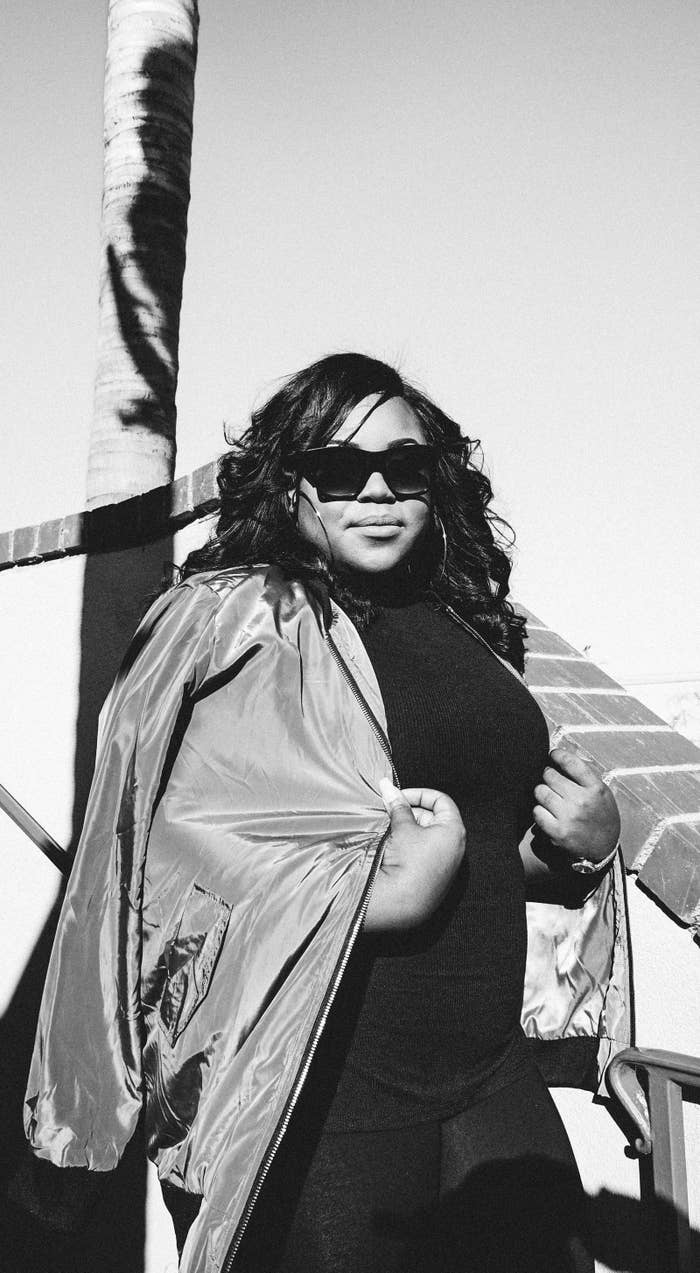 Nwandu might be the first media mogul of the distributed content age, and she's a perfect avatar for this particular media moment: a young woman of color who knew nothing about the media business when she launched, still figuring it all out as she goes along. Nwandu had no internships and she didn't take any journalism classes in college — but she's managed to monetize her deep understanding of social media and her contributions to online culture in a way that few young people of color have. "Can a black girl from the hood get to that level in media?" she said. "That's the question I ask literally every day I wake up. I'm like, 'Can you do it?' The Shade Room doesn't have to just be an entertainment website. It can be an entity, a media company."
Nwandu's biggest competitors in black celebrity gossip — MediaTakeOut (which has been criticized for publishing fake stories), Bossip, The YBF (The Young, Black, and Fabulous, which seems to target a slightly older demographic) — have all been around for much longer, but have smaller social media presences and don't seem to have the same ambition. (In July, the black celebrity blogger Necole Bitchie shut down her site, telling the Huffington Post, "I don't see where gossip is considered positive. But, of course we posted a lot of positive, but the gossip would overshadow it.")
Like much of the celebrity gossip space, her competitors have lagged in thinking of themselves as cross-media brands. Nwandu's advantage is that The Shade Room can be whatever she wants it to be, she can move quickly, and she is a participant in the social media communities that she's also using for her business.
So it makes sense that The Shade Room in particular has become a cool, relatively safe space where certain celebrities know that their voices will be amplified in a way that they can control more than the mainstream gossip media, not to mention an incredibly savvy way for celebrities to create the appearance of authenticity and intimacy while maintaining complete control of their narrative. And it works both ways: By tacitly endorsing The Shade Room, they make the site feel more authentic.
The Shade Room has also elevated a particular rung of celebrity — Instagram models, reality stars, rappers' girlfriends — to greater visibility, helping to take them from a large, if niche, audience on social media to more mainstream media. Nwandu pointed to the 19-year-old Instagram model India Love as an example. "She had a following but we'd broken the exclusive of her dating the rapper the Game, and because of that we kept talking about her because we liked her. We thought she had a spark about her. Because every time we would post about her people would go crazy." This fall, a BET reality show, #TheWestBrooks, debuted that chronicles the lives of India Love and her four sisters as social media stars.
Unlike most other gossip sites, though, The Shade Room also has a distinct political agenda. Interspersed with the news about the stars of Love & Hip Hop and the Kardashians are posts about #BlackLivesMatter, Healthcare.gov, and other issues of the day, written in the same matter-of-fact best-friend voice of the rest of the posts.

"I never intended to be a voice in the black community, because that's a heavy burden to take on, because I'm still educating myself on a lot of things," she said. "But I think somehow, we became a voice. Not the voice, but a voice." She paused. "There are very few media outlets that are urban, as you would say, or serve that demographic, and because of that, we do have a responsibility. It's scary, but I have to accept it."
So far, it's working. In April, she told the New York Times Magazine that she was making "hundreds of dollars" per sponsored post. Now, she said, that figure is more like "thousands of dollars." She declined to say exactly what her revenue will be this year, but claimed it will be "over half a million, almost towards a million" — and that "close to 70% of that is profit." Overhead, at least for now, is low, since everyone works from home (she's close to signing a lease on an office space for next year).
She's also been approached by VH1 and We TV about potential reality shows based on The Shade Room, though she says she's not interested right now. Nwandu has even bigger plans that will allow her to keep control over everything she does while also expanding: original songs that she'll release through The Shade Room, more original video, more branded merchandise on TheShadeRoomStore.com.
But as The Shade Room gets bigger, it will likely face more scrutiny — from readers and celebrities alike. Most of the photos it posts are from celebrities' social media accounts, but The Shade Room also posts photos without attribution — and could start facing expensive licensing fees. ("Sometimes we'll use Getty and things like that," Nwandu said. "We try to stay away from using the professional photos all the time, but we want to get to a place where we can just buy photos.") And it will have to continue to diversify to avoid becoming too reliant on any one platform. It was shut down by Instagram twice without warning, once because it was hacked, and once because Bad Girls Club star Natalie Nunn complained to Instagram about a Shade Room post. Nwandu has been able to rebuild her following each time, but it does highlight the precariousness of the enterprise.
And like anyone who's ever dipped their toe into the celebrity gossip (cess)pool, Nwandu quickly had to figure out how to reconcile her morals with the site — just because something will get traffic, does that mean it's worth posting? But she's also wrestling with some of her own demons. In fact, it's practically a miracle she's even where she is at all.
"People say, 'Oh, she's ignoring the precariousness of her situation, her business could just be done if Instagram says bye, if Facebook says bye; we have to figure out how to bring those people to our website,' or something like that," Nwandu told me. "But at the end of the day I'm just very happy that I can say I have a business right now, because I remember when I was homeless during the Christmas break and I was sleeping in my car. I came a long way from sleeping in my car."

Nwandu's parents emigrated from Nigeria in the late 1980s, and Nwandu was born in the U.S. in 1989. She described her parents' relationship as violent — which culminated in her father's murder of her mother in 1996 in Los Angeles; he was sentenced to 28 years to life in prison in 2002. After her mother's death, Nwandu and her four sisters went into the foster care system in Los Angeles. "I experienced every kind of abuse you can even think of," she said. "Sexual abuse, verbal abuse, mental abuse. That's why I'm an advocate for foster youth — I know it's very hard for them."
Her life started to turn around when she was 13 and enrolled in a program for foster children called Peace for Kids. There, she began writing poetry and eventually started performing in poetry slams. "Over a period of two years, she became the best poet we ever worked with," said Peace for Kids' executive director, Zaid Gayle. "She wrote an amazing poem about witnessing domestic violence and what happened between her father and her mother. It was pivotal for her."
Nwandu credits Gayle for being part of the reason she became one of the 6% of foster kids who graduate from college with a two- or four-year degree. The other part, she said, is because she's Nigerian. "Nigerians are some of the most successful immigrants in America," she said. "And so when I would go to class, people would say, 'Oh, you're Nigerian,' so they would expect me to be smart. Somebody expected something from me."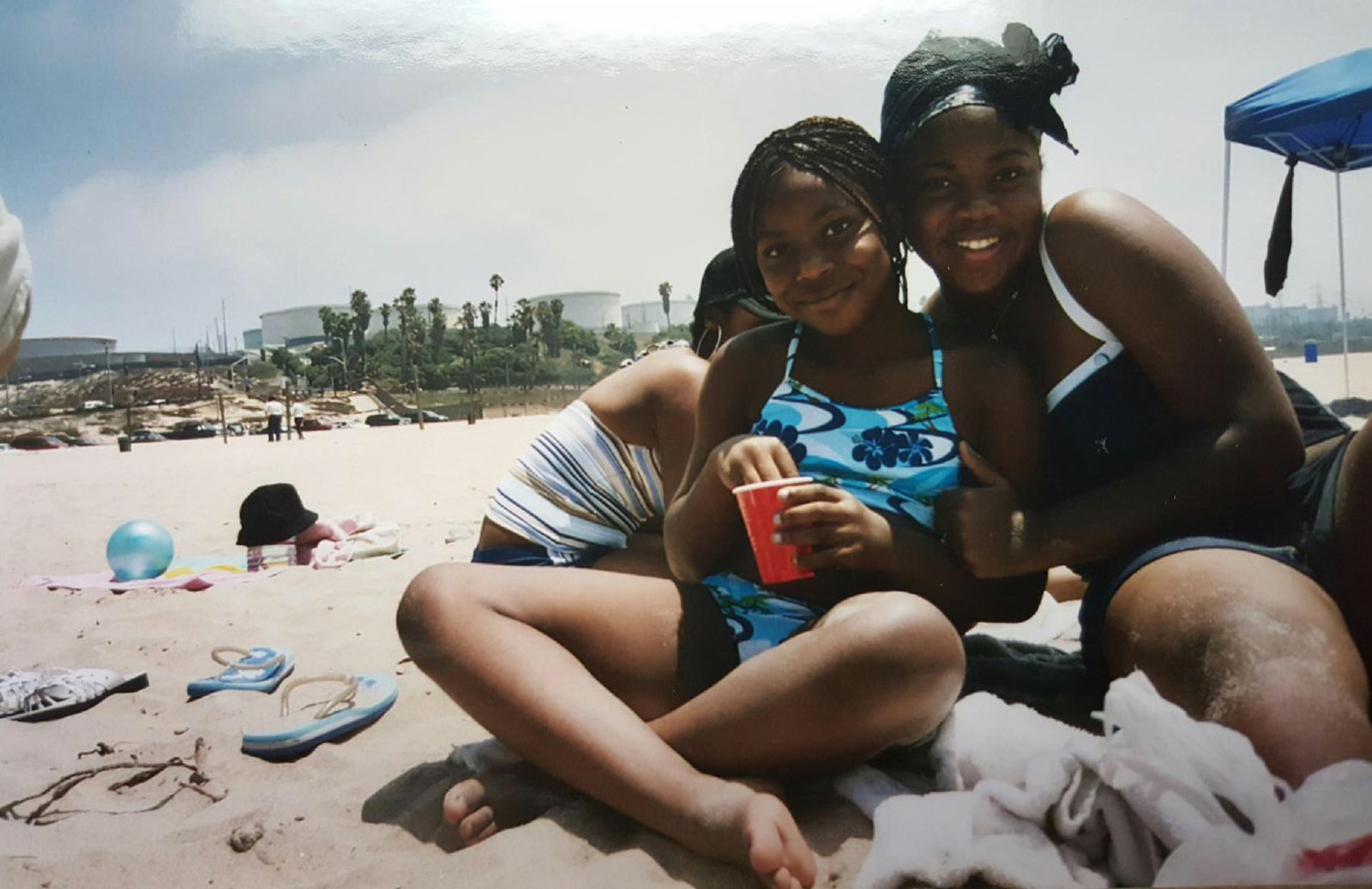 She received a full scholarship to Loyola Marymount University and found work as an accountant after she graduated in 2012. But accounting didn't exactly take, and she eventually found herself reaching out to Gayle again for advice on becoming a writer. A week later, Gayle introduced her to the actor Jordana Spiro (My Boys, The Good Wife), who had volunteered with Peace for Kids and was working on a script about foster youths. Nwandu collaborated with Spiro to produce a script for a movie called Night Comes On, about a foster youth who gets out of juvie with the mission to kill her father, because he had killed her mother — "a similar story to mine," as Nwandu put it — and the pair were accepted into the prestigious Sundance Screenwriters Lab in January 2014.
"It's really extraordinary how much she can shoulder," said Spiro. At Sundance, Spiro said, Nwandu got up in front of a crowd that included Quentin Tarantino and Robert Redford and said she wanted to share something. "She stood up in front of everybody — over 100 people — and she performed one of her poems. There was not a dry eye in the house. That really stuck with me."
Night Comes On is currently in financing talks. "These smaller films take a long time to get made and you have to have a real stick-to-itiveness about them," said Spiro. "She constantly supports it and is always eager and thrilled to talk about it and work through it."
After she returned from Sundance, Nwandu was unemployed and trying to figure out her next move when she started posting gossip items to Instagram using the moniker The Shade Room in March 2014. It took off quickly, but she has always stayed behind the scenes, rarely posing for photos and refusing to allow her last name to appear in print in connection with The Shade Room because she was worried about what might happen if her father found out. She allowed me to use her last name because, she said, she felt ready to tell her story, to own what happened to her as a child and everything she's been through, and what got her to where she is today.
Until now, going by only her first name has also allowed Nwandu to keep those two spheres of her life — the rarefied world of independent film and the more rough-and-tumble world of online celebrity gossip — relatively separate. In the filmmaking and poetry worlds, Nwandu has long been herself; she wrote the script for Night Comes On under her full name. And maybe there's another reason for that.
"She was very embarrassed about The Shade Room," said Gayle. "She did not want to tell me about it. When I finally took a look at it, it made a lot of sense to me. I had said to Angie, 'I don't know why you're so upset,' and she said, 'I don't think this is the kind of stuff you'd be proud of me for writing.' But I said, 'You allow people to say whatever's in their mind. You built a community.'"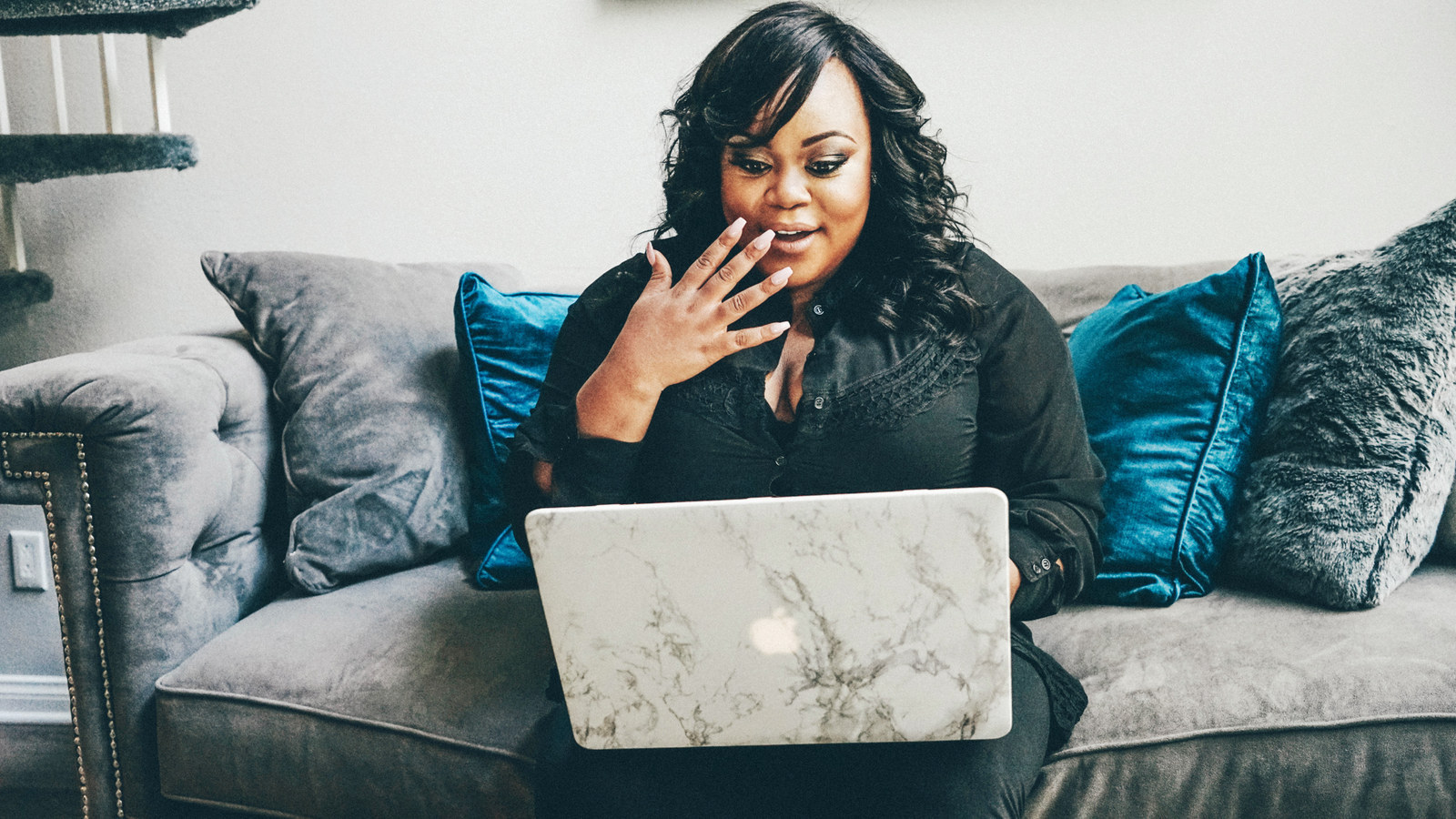 The Shade Room often finds itself in the position of creating the news that it's also reporting on. Last February, when Amber Rose and Khloé Kardashian got into a social media spat over Rose's words about then-17-year-old Kylie Jenner's relationship with the 25-year-old rapper Tyga — "She's a baby, she needs to go to bed at 7 o'clock and relax" — The Shade Room played a key role. "The fight probably would have died down and been over with a couple of tweets," said Nwandu. "But what we did, because we can see who liked what picture and the Roommates are sending screenshots of the comments to us, we were able to extend the fight."
Nwandu seemed slightly conflicted over her role in these fights. "I don't even think we knew what we were doing," she said, then reconsidered: "Well, we knew. We knew it was messy and shady. But we didn't know that they were paying attention, I will say that." She explained that one way The Shade Room perpetuated the conflict was by posting that Khloé had liked a photo that was a meme with Amber's nudes. "So they were shading each other through likes. Maybe if The Shade Room never existed, you wouldn't have known that she liked that." Or take a recent fight between the singer Chris Brown and his ex Karrueche: "When they were going at it on social media, that was sparked from The Shade Room."
Early on in The Shade Room's existence, Nwandu got into a spat with the rapper Azealia Banks. Banks had posted "that The Shade Room was for mindless black bitches," said Nwandu. "And I took offense to that — she just hit a nerve inside of me because that was one of the things I really don't want to do. I don't want to be that demographic. I don't want to feed people things that will dumb them down all the time." Nwandu "went in on her," as she put it. "I posted a picture of her and I called her all kinds of names. I talked about her for being on Playboy; I said, you know, you're out there posing nude for Playboy, and things like that. I definitely regret that because, for one, you need to be professional, but also, two, I regret it because I don't think she deserved that kind of ridicule, and I was kind of bullying her."
It's hard to imagine even TMZ's Harvey Levin — known for his combativeness — responding like this to a celebrity who attacked him (he never responded to Chris Brown calling him the devil on Instagram, for example). But it's also rare for celebrities themselves to jump into the comments on TMZ; most celebs seem to keep their distance, at least in public.
It's not rare, however, for celebrities to comment on The Shade Room's posts — or, in the site's parlance, "step into The Shade Room." "It's really crazy because we created a culture where it's OK for the celebrity to step in and say what they want to say, because we post it," said Nwandu. "So they like it because they're like, well, at least they'll post what I have to say, even if it's bashing us. Nicki Minaj stepped into The Shade Room today and she bashed us — she thought we picked a bad picture of her. And then that becomes news, and it's like our own exclusive."
Khloé Kardashian stepped into The Shade Room to apologize about making a joke about polygamy on The Ellen Show; 50 Cent and Vivica Fox were attacking each other in The Shade Room. Chris Brown stepped in to clarify the meaning behind a new song that many took to be bashing Karrueche. The celebrities will comment on a post, and then The Shade Room will screenshot that comment and turn it into its own post.
So this is how some of your celebrity news sausage gets made in 2015. The nature of celebrity news is changing faster than most legacy media organizations can keep up; as John Herrman pointed out on The Awl recently, celebrity magazines are quietly panicking because they're getting scooped by celebrities themselves on social media. Hence the news "items" about a celebrity posting a photo to Instagram — they're the celebrity magazines' desperate attempts to maintain relevance in a rapidly changing media landscape.
"It's definitely changed the way I consume celebrity news," said Ebony magazine columnist Michael Arceneaux. "If you had asked me a year ago, I would have named a bunch of different sites, and now I just go to The Shade Room."
In April, Jenna Wortham called The Shade Room "Instagram's TMZ" in the New York Times Magazine, writing that "The Shade Room is flourishing in a time when media outlets are struggling to figure out their relationship to social media." And it's also left those media outlets on the defensive. Several competitors I contacted via email about The Shade Room declined to comment. One wrote back that if I was open to doing another story on her site, then she would be happy to speak with me, "and can speak more on staying power vs. trendy media then...." (When I asked Nwandu what she thought of this characterization, she was quiet, then finally said: "Oh, wow, that's interesting. They were referring to us as trendy media. Oh, that's mean. Oh, wow, OK. I don't know — they don't get what we do, so that's fine.")
Arceneaux pointed out that speed is one of The Shade Room's advantages. "Like, in the morning, if Beyoncé puts up a picture, seconds later they have it up. I'm like, how many people actually run this account and are they literally always on their phone?" he said. "To me it's like a mix of modern and old. The way people battle out in the comment section reminded me of when I used to be on internet message boards. I've seen high school and college friends going back and forth in the comments section, which is hilarious to me."
Just like on message boards, The Shade Room has also spawned its own vocabulary, or at least made it more common, particularly through its use of hashtags. There's #ClapBackSeason, which points out when a celebrity is attacking a critical fan (celebrities, it turns out, are just like us when it comes to getting defensive). There's also #BaeWatch, for someone looking especially hot or on posts of celebrity couples (to keep tabs on who's dating whom), and #TSRPositiveImages, for celebrities doing good things in the community.
Certain celebrities inspire more heated discussion than others. Nwandu counts the Kardashians, rapper Meek Mill, and Raven-Symoné as among the "most hated" celebrities she covers. She acknowledges she can't compete with the TMZs of the world on breaking news and crime, so she stays focused on her bread and butter: relationships, whose ups and downs can be more easily sniffed out on social media. TMZ may know the courthouse, but The Shade Room knows what a "like" means. "Peter Thomas cheating on his wife, Cynthia Bailey, T.I. caught with another woman on Mother's Day," she said, recounting some of The Shade Room's biggest news items ever.
Still, Nwandu said she's struggled to get recognition from the wider black celebrity media world. "I think a lot of people in our community, as far as the other black blogs that do what we do, I don't think they really respect The Shade Room. I can feel it when I go to events — I feel like they don't want to give me a chance or let me into the circle. They don't respect what we do. I don't know what it is."

Nwandu's perspective on what she will cover has evolved as The Shade Room has grown. "What's bad for someone could be good for The Shade Room — if we're exposing you, or we're doing something to you that is huge and people will talk about it, it would help my website, but how does it affect you in your life?" she said. "That's what I have to live with when I lay my head down to sleep."

Her most dramatic philosophical shift has been in how she approaches posting about people's sexuality. "I'm not going to expose anybody's sexual preference anymore," she said. "We get a lot of stories like that and we put that out before, but now, some things are private and I shouldn't make you come out. I shouldn't shame you."
Last fall, The Shade Room posted a picture of the rapper Rich Homie Quan with a transgender woman. "When we posted that, the girl who was in the picture — it kind of ruined her," said Nwandu. "She would contact us crying, and he's contacting us, and after that I was like, I'm not going to mess with those kinds of stories anymore. So I kind of stay away from those kinds of stories. But if you're cheating on your wife and you're being loose and reckless about it, that's different to me."
She approaches ads in the same way she approaches content — by trial and error. In addition to banner and video ads on TheShadeRoom.com, Nwandu says she runs eight sponsored posts per platform per day — mostly for things like waist trainers, vape pens, weaves and hairstyling tools, and clothing. Any more than eight and people start to get annoyed.
Doing things solely on instinct has occasionally gotten her into trouble, though. In August, Nwandu got called out on the fashion and culture site Swagger for posting ads for a skin-lightening cream called Whitenicious. Why, asked writer Cassandra Alcide, "would a black-owned publishing company with what seems like a social conscience shill products that perpetuate the erasure of black identity?"
Nwandu admitted that she didn't do her due diligence before accepting the ad. "The ad didn't say it was for skin lightening — it said it was for dark spots and blemishes, but the woman who sold the product actually was an advocate for bleaching your skin," she said. "We looked at the product, and she didn't have any complaints with the Better Business Bureau, so we were like, Oh, OK, but we didn't look any deeper into who she is."
A few times during our conversation, Nwandu alluded to her Nigerian heritage as an excuse for The Shade Room's occasional missteps. "We said 'Mammy' in one post," she said. "[Readers] killed us for that. They were like, 'Did you know that Mammy was what they called the slaves?' And we were like, Oh my god. I'm definitely getting an education because I'm Nigerian, and I'm still learning what's acceptable and not acceptable. I have to be educated on these types of things. We posted something on Beyoncé and she had a cartoon character on her shirt that represented an old restaurant called Coons that got shut down because it was so racist. And I was like, how was I supposed to know that this character was from that? I had no clue. People were like, 'Why would you do this and support that?' So I definitely have to educate myself and I'm happy to do so because I need to be educated."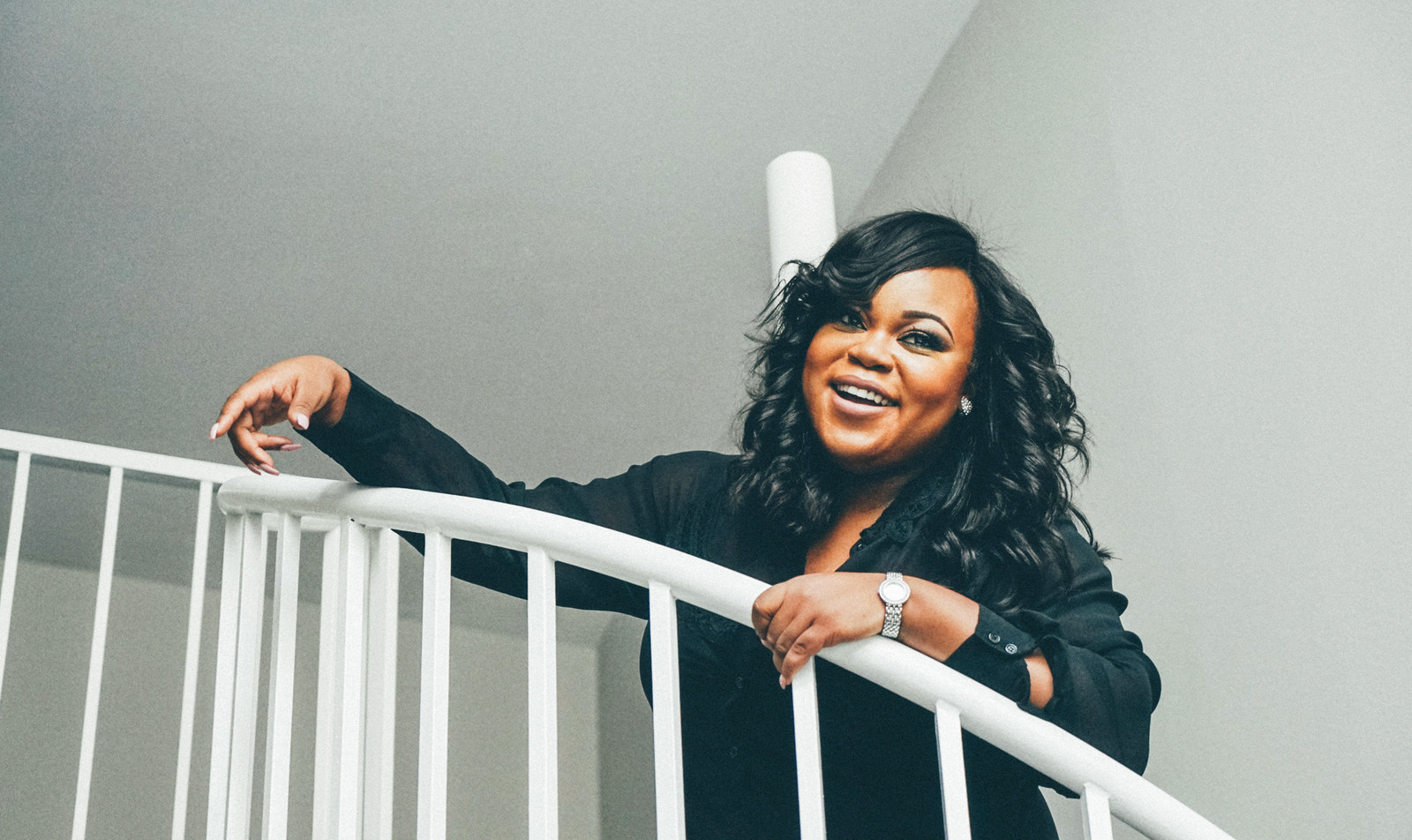 When I first spoke with Nwandu, she was also getting revenue via a company called Adwizar, an agency that capitalizes on the hazy world of monetized Facebook traffic. Users who clicked on links on The Shade Room's Facebook page could find themselves directed to a different site with ads on it, creating additional traffic. Or as Adwizar's 29-year-old founder, Spectacular Smith, put it, "We take what she's doing for free and turn it into dollar bills."
According to Smith, who refused to divulge exact figures, Nwandu "makes as much in one month as somebody makes in the whole year in a 9-to-5 job." Nwandu herself said "you can monetize with them and make about $60,000 to $100,000 a month — they'll pay you just for posting links."
But by the time I spoke with Nwandu again in mid-December, she was already renegotiating her contract with Smith. "The way he was monetizing the social media wasn't working," she said. Readers were upset that they were being taken to non–Shade Room links. "It wasn't worth making the Roommates angry — they were saying, 'We're going to unfollow if you guys keep doing this.' It was making money in the beginning, but to me it wasn't worth risking the platform." Nwandu said she's thinking about using Smith to offer compilations of Shade Room articles, kind of like a syndication deal, and that she's just trying a lot of different approaches and seeing what sticks. "A lot of the things are so new — I'm just like, branching out and doing new things."
Nwandu seemed surprised when I asked her if all of her advertisements were labeled as ads. "Why should it matter if it's an ad and they don't know?" she responded. "It's not harmful for it to be an ad. I guess I've never thought about that. When it comes to talent, [readers] don't know necessarily," she said about ads on her Instagram and Facebook
accounts that are not labeled as such. Did she worry about whether readers would trust her if they knew that something she was promoting had actually been paid for? "I never thought of it that way," she said. "That's actually a good point that you made. I never thought of it from that angle."
Nwandu has no board of directors or senior staff, or even advisers. She's doing this all on instinct, but she's forthcoming about not being afraid to mess up and learn from her mistakes. A few days after our November conversation, I got a text from her: "You inspired me to look at certain things from a different perspective. I just wanted to let you know that!"