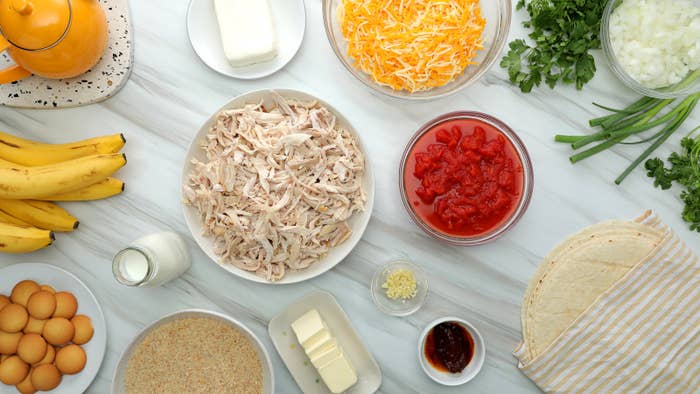 Chicken Tinga Party Ring
Servings: 10
Ingredients:
1 tablespoon vegetable oil
1 yellow onion, diced
3 cloves garlic, chopped
1 chipotle in adobo
1 (28-ounce) can diced tomatoes
1 tablespoon kosher salt
1½ pounds shredded cooked chicken
10 burrito-size flour tortillas
4½ cups shredded Mexican blend cheese
1 bunch scallions, thinly sliced
1 bunch cilantro, minced
Preparation:
1. Preheat oven to 350ºF.
2. In a high-walled skillet, heat vegetable oil over medium heat. Add onions and garlic.
Cook until softened, about 5 minutes, stirring occasionally. Add chipotles, diced
tomatoes, and salt, stirring to combine. Bring to a simmer. Let simmer for 10 minutes,
then remove from heat.
3. Let tinga sauce cool for 15 minutes. Pour into a food processor and puree until smooth.
Pour sauce over chicken and toss to coat.
4. Cut off two round sides of the tortillas, leaving a 5-inch-wide middle section. Cut the
middle section in half vertically to create two thinner strips. Repeat with the rest of
the tortillas.
5. Spray a bundt pan with nonstick spray. Place the middle strips of tortilla in the bundt
pan in a fanning pattern to cover the bottom of the pan. Each tortilla strip should
slightly overlap the previous strip.
6. Spread a layer of shredded cheese on the tortillas. Top with a third of the chicken
tinga. Scatter some scallions and cilantro on top. Place the rounded strips of tortillas
on top, covering the chicken, in a fanning pattern. Repeat this layering two more
times for a total of three complete layers. (Before placing the top layer of tortilla,
spread out a little more cheese so that the tortilla will be sealed on top when the
cheese melts.) If the outer edge of tortillas stick out above the pan, trim with
scissors.
7. Bake for 40 minutes. Remove from oven and let rest for 15 minutes before slicing
and serving.
Banana Pudding Cheesecake Bars
Ingredients:
10 ounces vanilla wafer cookies, crushed to fine crumbs 1⁄2 cup melted butter
1 (3.5-ounce) package instant banana pudding
13⁄4 cups whole milk
8 ounces cream cheese, room temperature
1⁄2 cup sugar
1⁄2 teaspoon salt
11⁄2 cups whipped topping
Whipped cream, for garnish
Vanilla wafers, for garnish
Banana slices, for garnish
Preparation:
1. Line an 8x8-inch baking dish with parchment paper, allowing extra parchment to hang
over the edges.
2. Mix vanilla wafer cookie crumbs with melted butter. Transfer mixture to the baking dish
and press down into a flat, even layer. Place in freezer while making the filling.
3. In a medium bowl, whisk together instant banana pudding and whole milk. Refrigerate
for 5 minutes to allow pudding to set up.
4. In another bowl, add cream cheese, sugar, and salt. Using a hand mixer, beat until
combined. Add in whipped topping and beat again. Add in banana pudding and beat
until mixture is smooth.
5. Pour mixture over crust and refrigerate overnight.
6. Slice cheesecake into bars. Top each bar with a dollop of whipped cream, a vanilla wafer
cookie, and a banana slice.