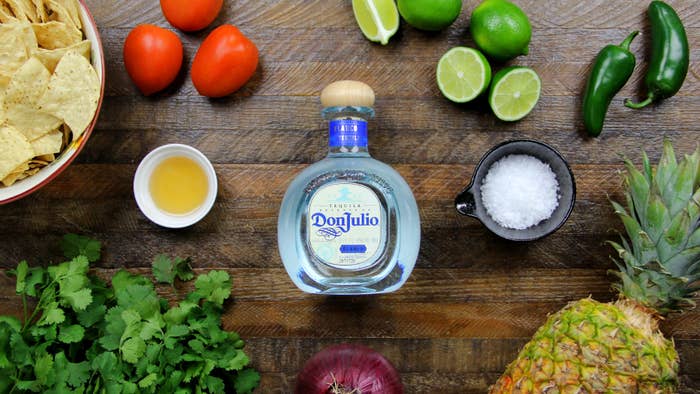 Ingredients
Spicy Cilantro Margarita
1⁄4 cup kosher salt
Lime wedge
1 bunch cilantro, stems removed
2 ​jalapeño​s, seeded
1⁄3 cup lime juice
2 tablespoons agave nectar
3 ounces Don Julio Blanco
Cilantro sprigs, for garnish
Jalapeño​ slices, for garnish
Hot Pineapple Salsa
1 cup small diced pineapple
1⁄2 cup small diced tomatoes
1⁄3 cup finely diced ​jalapeño
1⁄4 cup finely diced red onion
1⁄2 cup cilantro, roughly chopped
Juice of 1 lime
3⁄4 teaspoon kosher salt
Tortilla chips, for serving
Preparation
Spicy Cilantro Margarita
1. Place kosher salt on a small plate. Rub lime wedge around the rim of two rocks glasses. Dip the rim in the salt to coat. Set glasses aside.
2. Combine cilantro, ​jalapeño​s, and lime juice in a blender. Blend until solids are liquified. Strain through a sieve, pushing all the liquid through with a spatula. Transfer liquid to a cocktail shaker.
3. Add agave nectar, Don Julio Blanco, and a handful of ice to the shaker. Shake well.
4. Pour cocktail over fresh ice in each of the prepared glasses.
5. Garnish with cilantro sprigs and ​jalapeño​ slices.
Hot Pineapple Salsa
1. Mix together all ingredients. Enjoy with tortilla chips!