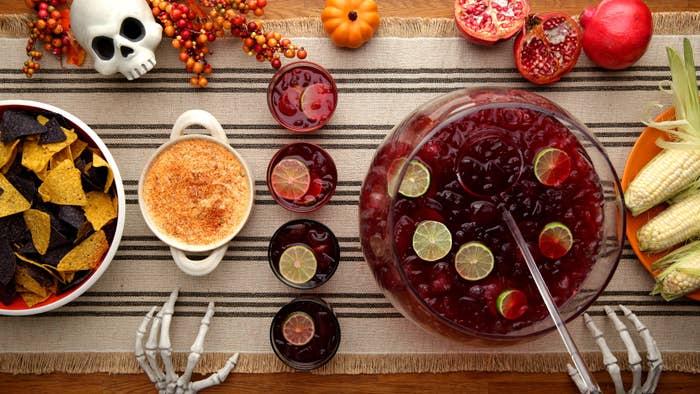 Ingredients
Pomegranate Tequila Punch
1⁄4 cup agave
1⁄3 cup water
1⁄2 cup lime juice
15 ounces Don Julio Reposado
3 cups pomegranate juice
3 cups sparkling water
Ice
Lime rounds, for garnish
Smoky Queso Dip
2 tablespoons butter
Half a yellow onion, minced
2 cloves garlic, minced
1 jalapeño, minced
1⁄2 teaspoon kosher salt
3 chipotle chilies (from a can of chipotle in adobo), chopped
1 tablespoon cornstarch
1 & 1⁄2 cups half-and-half
4 ounces softened cream cheese
12 ounces sharp cheddar cheese, shredded
Chipotle powder, for garnish
Tortilla chips, for serving
Preparation
Pomegranate Tequila Punch
1. In a small pot, combine agave and water. Place over medium heat. Bring to a simmer, stirring occasionally to dissolve agave. Let simmer for 5–10 minutes. Remove from heat and let cool.
2. In a punch bowl, combine cooled simple syrup, lime juice, and Don Julio Reposado. Stir well. Add pomegranate juice and sparkling water. Add ice. Float lime rounds on top of ice. Serve!
Smoky Queso Dip
1. Melt butter in a saucepan over low heat. Add onion, garlic, jalapeño, and salt. Cook, stirring occasionally, until softened and translucent, about 5 minutes. Add chipotles and cook for 1 minute.
2. Stir in cornstarch and half-and-half. Heat until bubbles begin to appear at the edges of the pan, then whisk in cream cheese.
3. Gradually whisk in cheddar cheese, allowing cheese to fully melt before more cheese is added. Once queso is smooth and all cheese is melted, remove from heat.
4. Pour into a serving bowl and sprinkle with a bit of chipotle powder. Serve with tortilla chips.