Texas Democrats Use Creative Maneuvers To Kill Anti-Gay Bill
Lawmakers ran out the clock with procedural tactics. The bill would have prevented the state from spending money issuing marriage licenses to same-sex couples, an attempt to defy a potential Supreme Court ruling for marriage equality.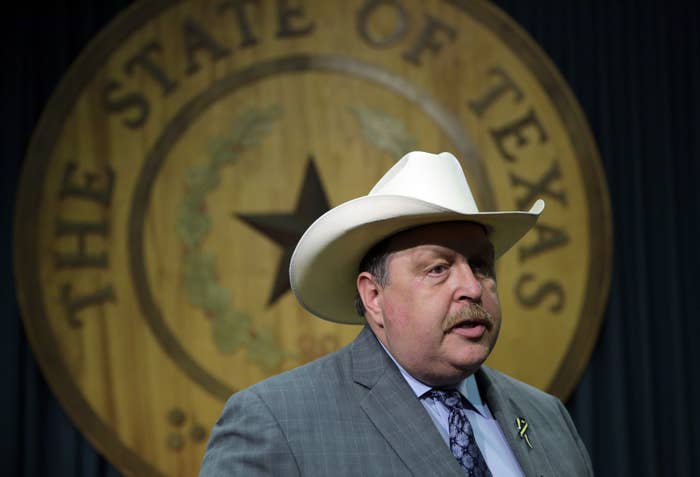 LGBT advocates and Democrats in the Texas Legislature scored a victory late Thursday night when a bill designed to prevent same-sex couples from marrying in Texas, regardless of how the Supreme Court rules next month, failed to get a vote before a midnight deadline.
Democratic lawmakers ran out the clock by introducing amendments to other bills, while drawing out debate and filling time in a practice called "chubbing" – essentially forcing dozens of bills to languish on the House calendar.
"If you've never seen lawmakers chub before, Democrats in the House are offering a textbook illustration tonight," Dan Quinn of the Texas Freedom Network, one of the leading groups opposing the bill, told BuzzFeed News just before midnight.
"As each of their bills comes up, no matter how noncontroversial, they're coming to the mic to thank the author for offering such brilliant legislation, ask all kinds of questions, and generally use up every single minute available for debate on the bill," Quinn explained. "They're determined not to let the marriage bill come up for a vote. It's boring to watch, but you have to admire them. "
Thursday was the last day for lawmakers to vote bills out of the chamber in which they were introduced.

LGBT advocates had marshaled supporters to flood the capital with calls and emails protesting the marriage legislation, while major businesses — including Dell and American Airlines — spoke out against it.
Texas Republicans filed a record 22 pieces of anti-LGBT legislation this year, ranging from measures to limit the rights of transgender people to bills that could limit adoption, telegraphing the policy fights to come around the United State even after the Supreme Court rules on marriage in June.
But now that the marriage bill has missed a cut-off to pass out of the House, the chances of a similar proposal being reintroduced as an amendment to another bill and passing before the session ends this month are considered slim.
"We hope today's action means the death of this irresponsible bill," said a statement from Kathy Miller, president of Texas Freedom Network. But, she added, 17 days remain in before the legislative session ends and "we're not letting our guard down now."
Terri Burke, executive director of the American Civil Liberties Union of Texas, said the bill's failure "is an encouraging reflection that most Texans value equality."
The Dallas Morning News reported Friday that bill sponsor Rep. Cecil Bell said he would study whether parts of his legislation could be revived by attaching it to a "germane" bill.
HB 4105 was designed to undermine a potential marriage equality ruling by the Supreme Court by preventing state officials from spending money furnishing marriage licenses to same-sex couples or performing any task that recognizes those marriages. If a court ordered the state to comply with a federal ruling, the bill said, Texas officials could not spend a dime carrying out the court order.
According to bill sponsor Rep. Bell, the legislation attempted to use the "power of the purse" to defy the judicial branch in much the same way Texas has restricted the scope of abortion rulings with financial regulations. "The bill gets its traction from the fact that it literally seeks to make sure that our taxpayer dollars are used the way Texans want them to be used and defines our sovereignty."
Bell told BuzzFeed News in April that his bill and others measures like it could trigger lengthy court fights over the state's sovereignty, which, critics point out, could put same-sex couples' rights in limbo.
Concerned that the bill was a trial balloon for similar legislation other states, Texas Freedom Network, Equality Texas, the ACLU of Texas, and the Human rights Campaign mobilized members to make calls and send emails to the capital protesting the bill.

Texas-based American Airlines lambasted HB 4105 this week. Asked about the company's position on bill, American Airlines provided a statement to BuzzFeed News that said, "We oppose any legislation that directly or indirectly discriminates against individuals based on their gender identity or sexual orientation."
Meanwhile, Texas-based Dell denounced the bill, saying the company "opposes Texas HB 4105 and has communicated its opposition to the governor," and BP Oil spoke out against it, saying "BP opposes discrimination of any kind."