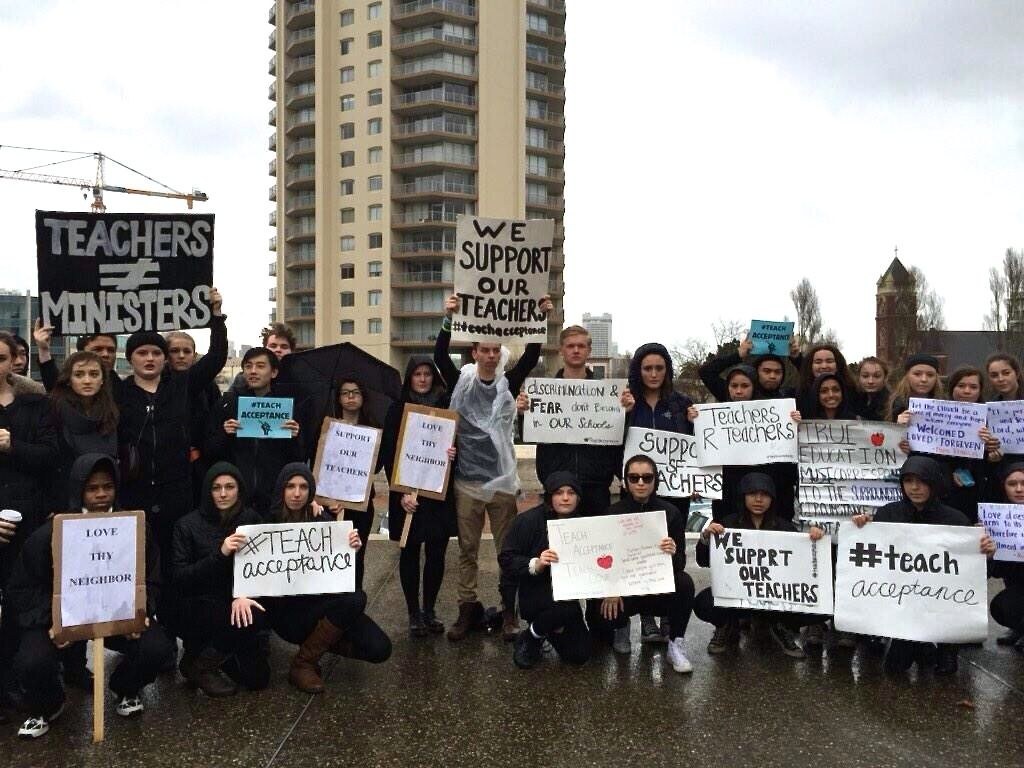 Catholic high school students in San Francisco are sticking up for their teachers and challenging their archbishop, Salvatore Cordileone, after he announced new morality standards last week for high school faculty. Cordileone, who oversees all Catholic schools in the city, said he will add a new document to the faculty handbook that focuses particularly on LGBT teachers.
Cordileone's document calls homosexuality "gravely evil," going on to condemn "homosexual relations" and "the grave evil of artificial reproductive technology," which is sometimes used by lesbian couples who want to have a baby. The directive says teachers must also conform their "private behavior" to the teachings of the Catholic Church, he wrote, and "refrain from participation in organizations that call themselves 'Catholic' but support or advocate issues or causes contrary to the teachings of the Church."
The students immediately organized, helping gather thousands signatures for a petition that asks Cordileone to "cease his efforts to institute outdated and discriminatory 'morality clauses,'" and they protested last week outside Saint Mary's Cathedral to defend their teachers.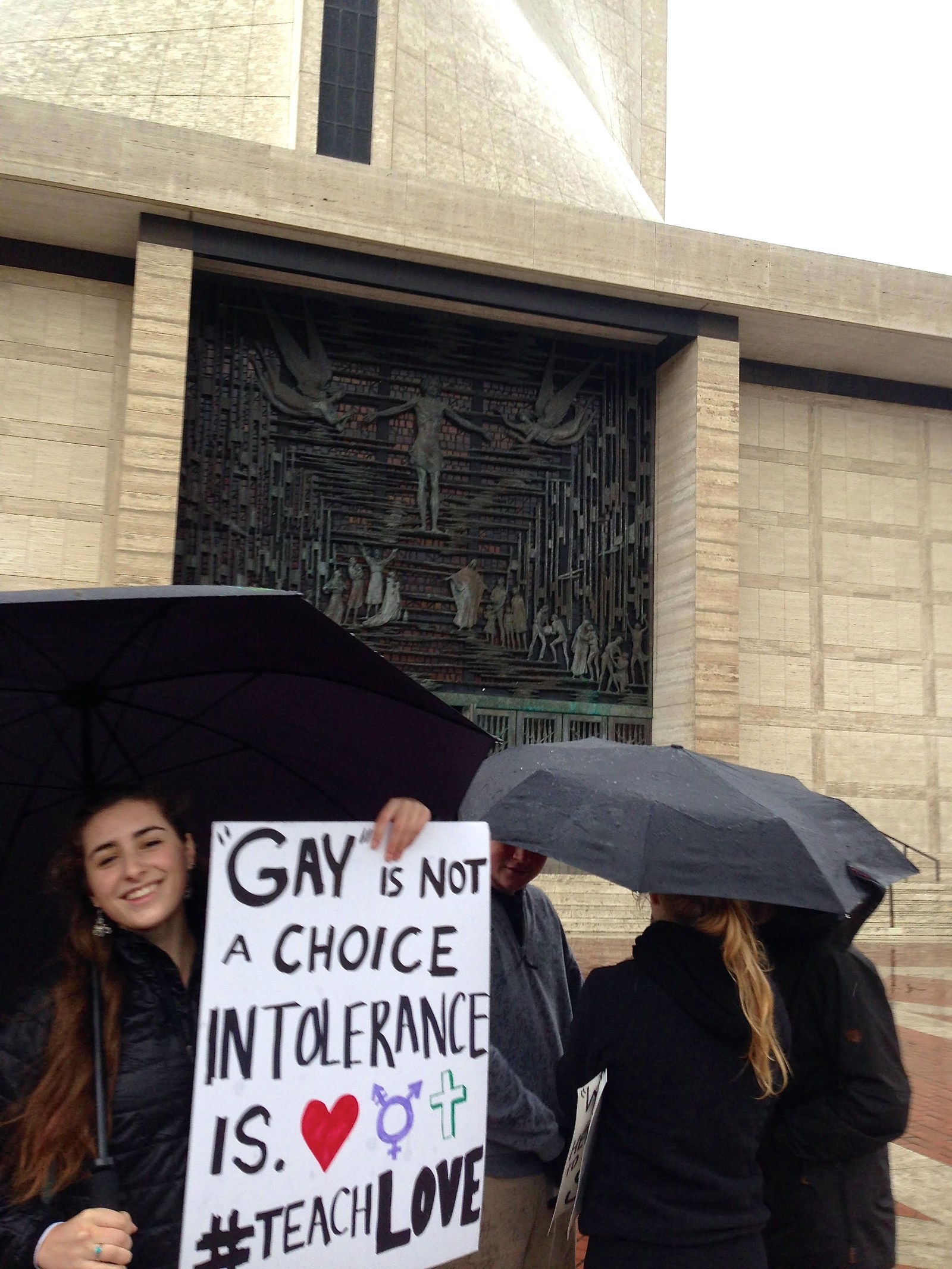 "This was a student-led vigil that we organized," Olivia Hohe, a student at Sacred Heart Cathedral Preparatory, told BuzzFeed News. "All participants dressed in all black clothes and came with supportive signs for our teachers. While the teachers were in the cathedral, we led a prayer service outside in the middle of a storm!"
"Then we formed a single line from the steps of the cathedral, connecting to Sacred Heart, which is on the next block," Hohe said. "Faculty, staff, representatives, nuns, Brothers, and Sisters left the Cathedral and walked down our silent, student-led streets. Many teachers were crying and thanking us for our support."
Like other Catholic bishops, Archbishop Cordileone oversees all the churches and schools in his diocese. His decree would apply to nearly 500 employees at four high schools. In a letter to teachers, he wrote, "I wish to state clearly and emphatically that the intention underlying this document is not to target for dismissal from our schools any teachers."
Despite San Francisco's reputation as an LGBT-friendly city, Cordileone has become a prominent figure there fighting LGBT rights, helping draft an initiative to ban same-sex marriage, and donating money to the campaign. Cordileone also opposed a federal bill that would have banned discrimination against LGBT employees.
Around the country, Catholic bishops have been cracking down on LGBT teachers, especially those who get married to same-sex partners. In January, a Catholic diocese in North Carolina fired a 68-year-old English instructor who announced plans to marry his partner.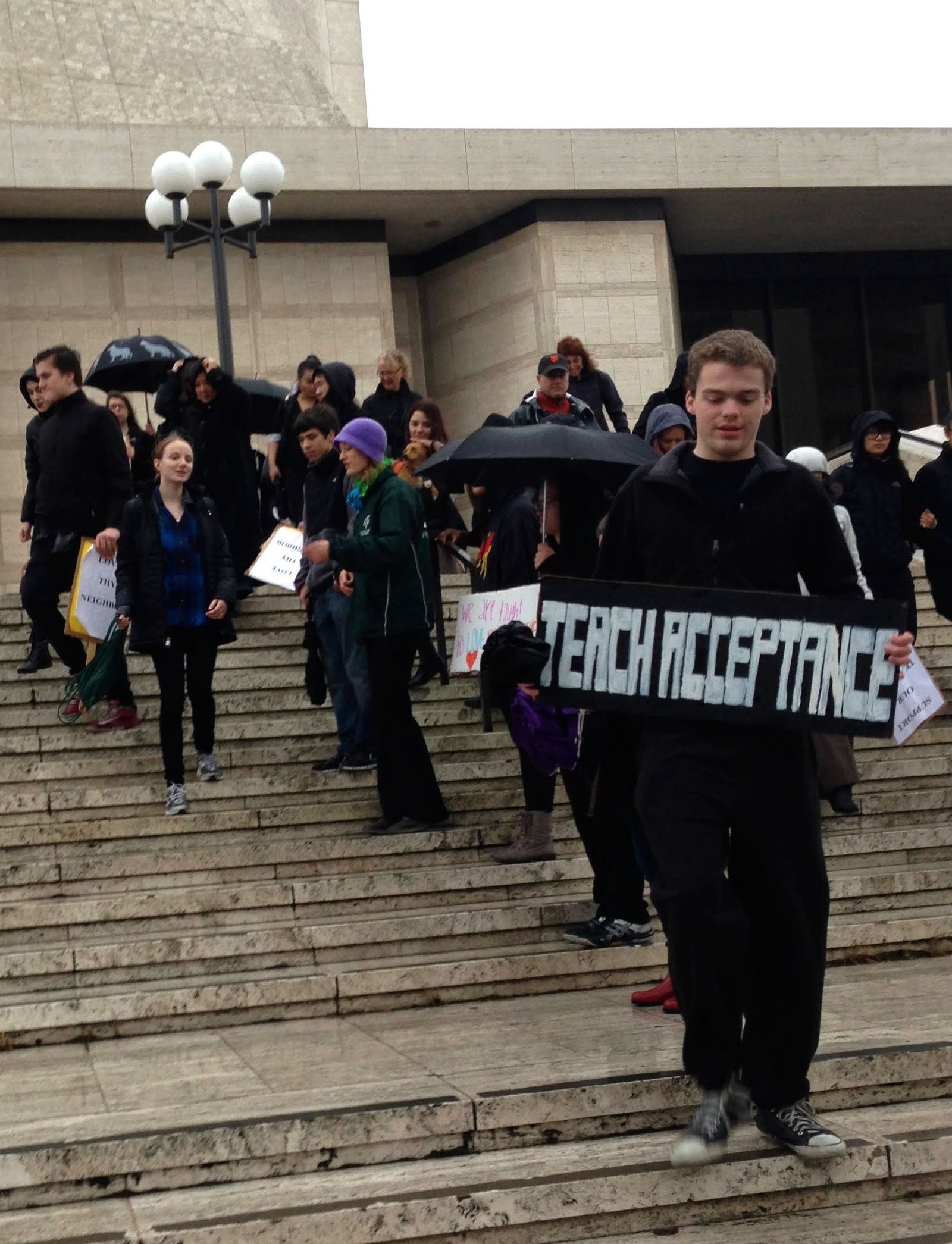 In recent years, a Catholic school in New York City fired a teacher who came out as transgender, and a diocese in Michigan fired a female teacher — who is married to a woman — on moral grounds after she received in vitro fertilization. A Catholic school near Seattle fired a vice principal after learning he married his boyfriend, which prompted students there to protest en masse to stand up for their teacher.
In San Francisco, the students are also resisting — and Hohe says many people are on their side.
"People driving past showed support by giving thumbs up or honking like crazy!" she said. "We were hoping to show our support primarily, but also hope to spread the word about the cause and gain more supporters!"
A petition to Archbishop Cordileone has already gathered more than 5,000 signatures. "The proposed changes directly contradict the Pope's teachings, the Catholic values of inclusion and diversity, and the free and open exchange of ideas, which is the hallmark of a good education," the petition says. "They create a culture of fear that denies staff the right to follow their own individual consciences and harms students."