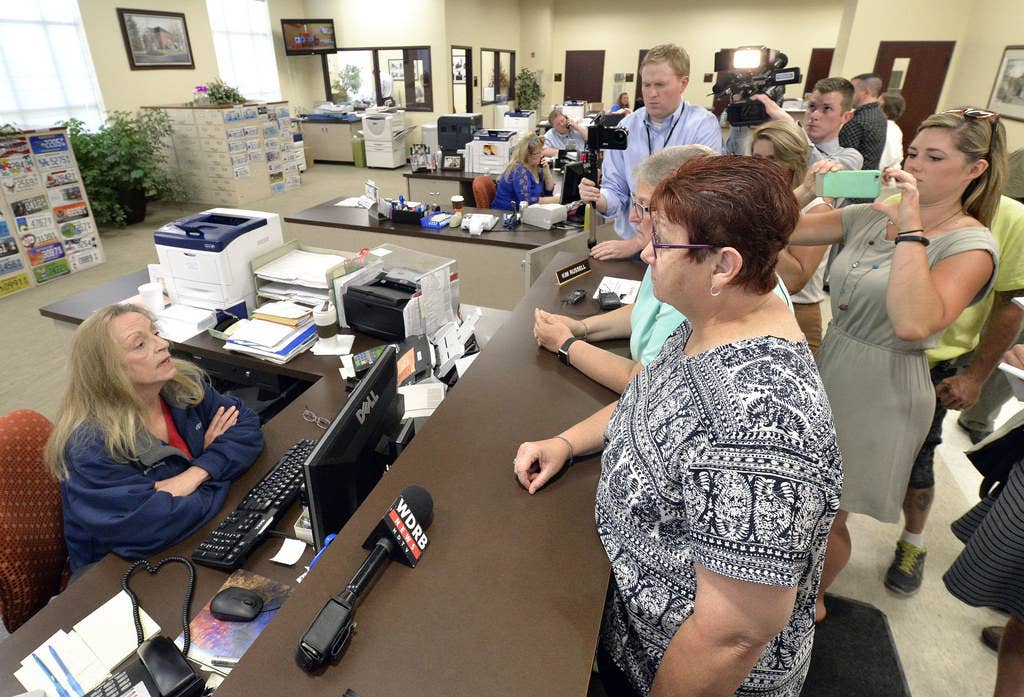 This week, an employee at the Casey County Clerk's Office in Kentucky said on the phone that officials are not issuing marriage licenses to anyone — not to same-sex couples or different-sex couples. Nobody at the office would explain the reasoning for the decision, she said, and hung up the phone. BuzzFeed News called back to ask why and get her name, but she hung up again.

A few miles south at the Clinton County Clerk's Office, an employee hung up when asked if the county was issuing marriage licenses since the Supreme Court's June ruling for marriage equality. Another call back, another hang up.
Farther east in the Bluegrass State, however, the elected clerk of Rowan County is perfectly clear about her reasoning and practices.
Kim Davis is doing battle with four couples and Gov. Steve Beshear in federal court, arguing in court documents this month that she has a religious objection to her name appearing on the marriage licenses of same-sex couples. So instead, Davis barred all six of her deputies at the Rowan County Clerk's Office from issuing marriage licenses to anybody — even though at least one deputy clerk was willing.
A federal judge ordered Davis and her office on Wednesday to start issuing licenses, but when a same-sex couple applied for a license the next morning, staff at the office refused.
Cases like these are the exception since the Supreme Court's June 26 watershed ruling in Obergefell v. Hodges, after which the states that still had bans on same-sex couples marrying accepted the ruling. Governors in all those states, albeit some more slowly and reluctantly, since said their state's policy now reflects the court's decision. Hundreds of counties in the South and Midwest have updated forms, accepted same-sex couples tying the knot, and issued licenses.
But BuzzFeed News has found more than a dozen counties in which local government officials either refuse to solemnize marriages or refuse to issue marriage licenses entirely. Probate judges and magistrates are refusing to perform marriages in Nebraska counties, for example, while, as in Kentucky, at least 11 counties in Alabama and 1 county in Texas appear to be refusing to issue marriage licenses to anyone.
The position taken by local officials is technically sex-neutral — all couples are denied licenses equally — but critics say the practice specifically marginalizes gays and lesbians.
"The message to straight couples is, 'We like you and we want to issue you a marriage license, but we can't because of those darn gay people,'" Scott McCoy, staff attorney of the LGBT Rights Project at the Southern Poverty Law Center, told BuzzFeed News.
In effect, McCoy said, gay couples become "scapegoats" when couples are forced to drive to the next county, an inconvenience created by government officials.
"The reason they don't want to issue license at all is because anti-gay bias or a belief in traditional marriage," McCoy continued. "Otherwise they would be issuing marriage licenses."
Roger Gannam, who is representing the county clerk in Rowan County, Kentucky, said issuing these licenses to same-sex couples would violate the conscience of some clerks. The Supreme Court's ruling did not address a looming question of religious freedom for government employees, he said.
"This case in Kentucky is really the first case," Gannam, who works for the Liberty Counsel, a nonprofit law firm and self-described Christian ministry, told BuzzFeed News. "It happens to be the first case that tests that issue, so we do hope for a result that finds free exercise rights are not necessarily trumped by the newly announced right to same-sex marriage."
The push for marriages in all counties, he argued, is not actually a quest to obtain marriage licenses — which couples could get by driving for 30 minutes into another jurisdiction. Gannam contended, rather, "The activist proponents of same-sex marriage want to eliminate all vestiges of dissent."
On Davis's behalf, Gannam has appealed the judge's ruling in Kentucky and sought to have it put on hold — but he did not answer questions from BuzzFeed News about why his client refused to issue licenses while those requests are pending.
Activists, clerks, and local officials are watching that case to see what it could mean for them. In the meantime, BuzzFeed News looked at how marriage equality was being implemented in states like Kentucky and the rest of the country. While in some places it is difficult to precisely ascertain what is happening, here is what we found.
Alabama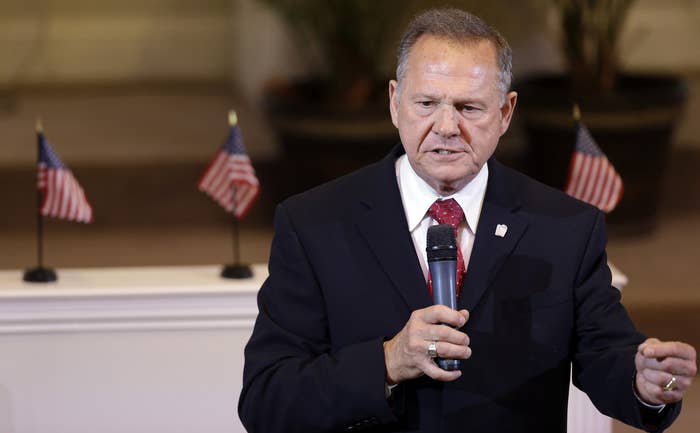 A quirk in Alabama state law says county officials "may" issue a marriage license — which also means, they say, they "may" not. And several aren't.
Eleven counties are not issuing marriage licenses at all and five more counties' practices are unclear, according to a survey conducted this month by staff at the Human Rights Campaign and shared with BuzzFeed News.
The counties not issuing marriage licenses are Autauga, Bibb, Chambers, Choctaw, Clarke, Cleburne, Covington, Geneva, Marengo, Pike, and Washington. The counties where practices are unclear are Colbert, Coosa, Greene, Houston, and St. Clair.
"The public servants whose duties include issuing marriage licenses to all couples have an obligation to serve the public equally," Jason Rahlan, a spokesperson for the Human Rights Campaign, told BuzzFeed News.
"Those individuals who refuse to issue licenses should either check their personal beliefs at the door and accept their responsibilities as public servants, or step aside so others who can fulfill them will," he said.
Indiana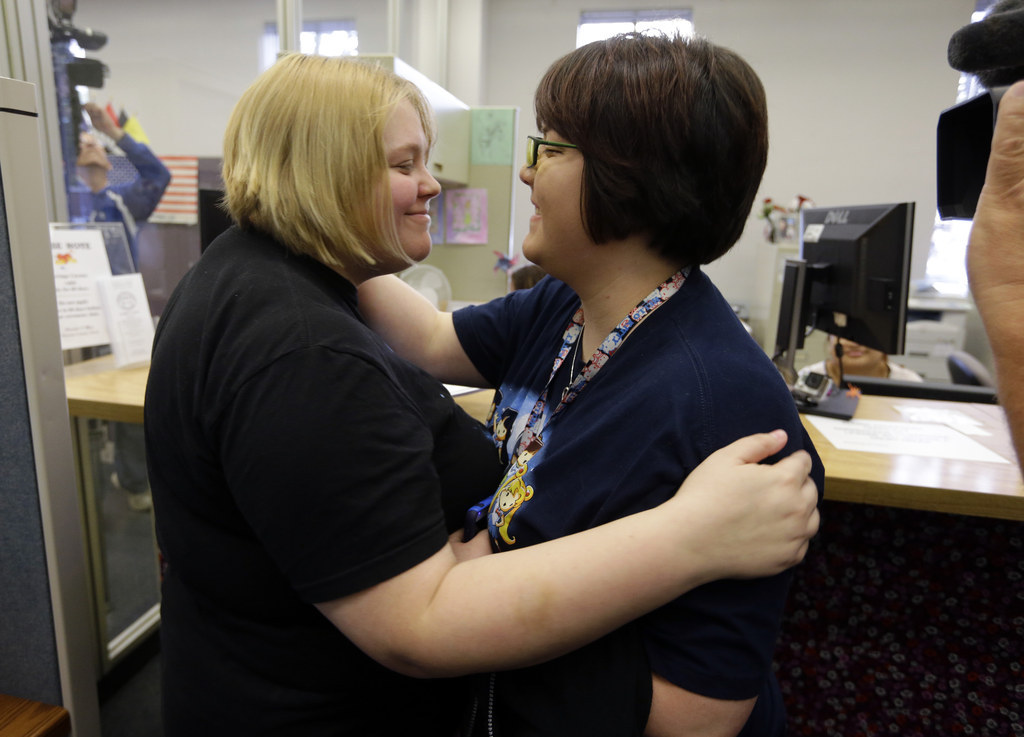 Throughout Indiana, marriage licenses appear to be available to all couples, but a federal lawsuit underway in one county that provides a twist on the issue in Kentucky. A deputy clerk — an employee, not the elected clerk — is raising a religious objection.
After courts ordered same-sex marriages to proceed in fall of 2014, Harrison County Clerk Sally Whitis subsequently instructed her staff in an email memo to issue licenses to same-sex couples "[e]ven though it may be against your personal beliefs."
A same-sex couple went to the Harrison County Clerk's Office seeking a marriage license in December, and they were assigned to get that license from one of the deputy clerks, Linda Summers. But Summers informed her boss that she could not issue the license "because of her religious beliefs" and requested an exemption from the task. The next day, according to a lawsuit Summers filed in U.S District Court in Indiana, Whitis fired her for refusing to issue the marriage license.
Summers argued in court records filed in July that her termination was an unlawful form of religious discrimination and that it denied her equal employment opportunities under federal law.
Rick Masters, one of the lawyers representing Summers and a partner at the private law firm Masters, Mullins, & Arrington, told BuzzFeed News that Whitis should have simply given Summers an exemption. "The clerk has a number of employees and those individuals told Linda [Whitis] that they would process these applications," he said. "We think it would be a reasonable accommodation that could be made without unduly burdening the clerk's office."
Whitis and Harrison County, both named as defendants, however, argued that sort of accommodation "posed an undue hardship," according to a brief filed on Aug. 7. In denying any wrongdoing or discrimination, they also said that Summers refusing to "perform essential duties of her job and the resulting insubordination were not based on a sincerely held belief."
Lawyers for Whitis and the county did not reply to calls and emails from BuzzFeed News asking what undue hardship would be created by letting another employee in the office handle marriage applications and why they did not believe she was motivated by sincerely held belief.
Speaking for the fired deputy clerk, Masters said "this is a markedly different case" from the one in Kentucky because it involves an employee of government, not an elected government official who is essentially hired and fired by voters.
Kentucky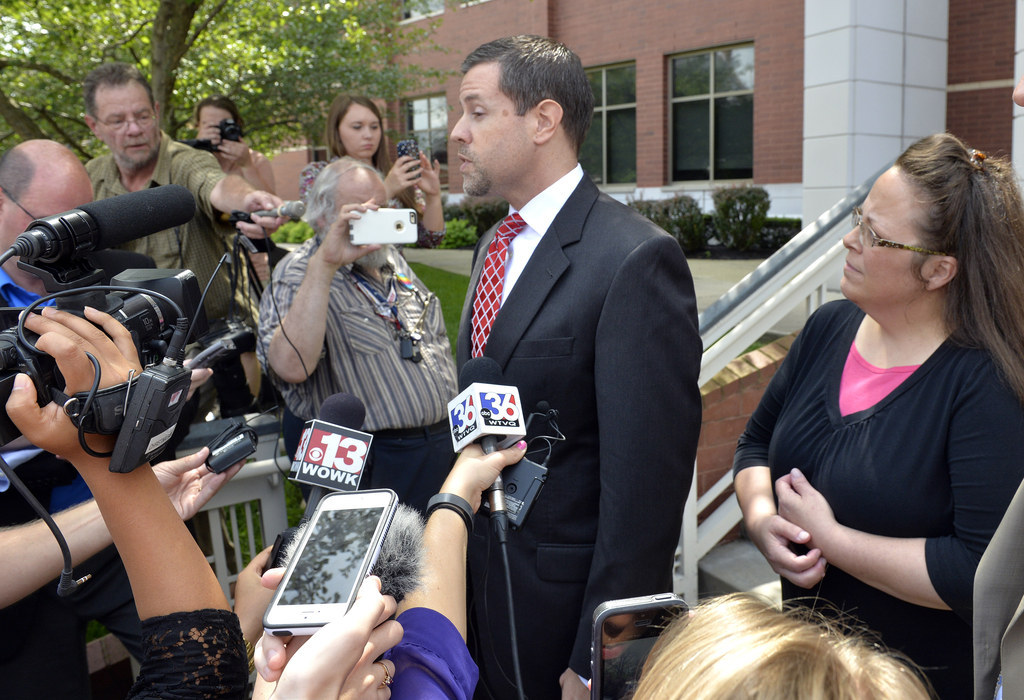 On Thursday — one day after U.S. District Court Judge David L. Bunning ordered Rowan County Clerk Kim Davis to begin issuing marriage licenses — a woman answered the phone in the Rowan County Clerk's Office.
"No, sir. We are not," she said, when asked if the office was issuing marriage licenses. Davis was not in the office at all that week, the woman explained. Asked why the staff were refusing to issue licenses despite the judge's order, she referred BuzzFeed News to Gannam, a lawyer for the private Christian advocacy group Liberty Counsel, which is representing the clerk. Then the woman hung up the phone.
Gannam and other lawyers at Liberty Counsel also did not answer questions about why Davis's office was not issuing licenses despite a court order the day before. A statement by the group's chair, Mat Staver, said, "The religious conviction of Kim Davis should be accommodated and this matter needs to be reviewed by a court of appeals, and thereafter perhaps by the U.S. Supreme Court."
As of Thursday, they filed an appeal with the 6th Circuit Court of Appeals and also asked that Bunning put his ruling on hold in the meantime.
The dispute arose after Davis, an elected official, barred her six-person staff from issuing marriage licenses to all couples following the Supreme Court's ruling that same-sex couples have a constitutional right to marry nationwide.
In a lawsuit brought by four couples who sought marriage licenses in Rowan County, Davis argued that marriage licenses from her office for a same-sex couple would violate her religious conscience. Kentucky requires the head clerk's name to appear on all marriage license forms that come from their office. Davis argued that her name on those forms created a type of endorsement of same-sex couples marrying, which infringed on her faith.
Although she is the defendant in the case, Davis has also filed a complaint against a third-party defendant, Kentucky Gov. Steve Beshear, saying that he violated her religious faith by sending a letter instructing county clerks to issue marriage licenses.
In his order regarding Rowan County Clerk Kim Davis, Judge Bunning stated that the government "is not asking her to condone same-sex unions on moral or religious grounds, nor is it restricting her from engaging in a variety of religious activities."
"She is even free to believe that marriage is a union between one man and one woman, as many Americans do," the order continued. "However, her religious convictions cannot excuse her from performing the duties that she took an oath to perform as Rowan County Clerk."
Bunning also addressed the forms in his 28-page order: "The form does not require the county clerk to condone or endorse same-sex marriage on religious or moral grounds. It simply asks the county clerk to certify that the information provided is accurate and that the couple is qualified to marry under Kentucky law. Davis's religious convictions have no bearing on this purely legal inquiry."
The preliminary injunction order — which immediately prohibits Davis from withholding licenses — said the couples were likely to succeed as the case proceeds through the courts, with Bunning finding that the clerk's ban caused them irreparable harm.
Dan Canon, who is representing the couples in the case, seemed unfazed that Davis appeared to disregard a court order.
"Why should this be a surprise?" he said. "She's already ignored the clear mandate of the Supreme Court of the United States and a direct order of the Kentucky governor. Why should a district court be any different?"
Gannam said this earlier in the week about his hope for the outcome of his first-of-its-kind case: "It is our hope that no one is forced to violate their conscience and participate in a same-sex marriage they disagree with. But what I don't think we will see if Kim Davis is successful is a rush to the courthouse to raise religious objections to same-sex marriage. It's just not something that happens very often."
Nebraska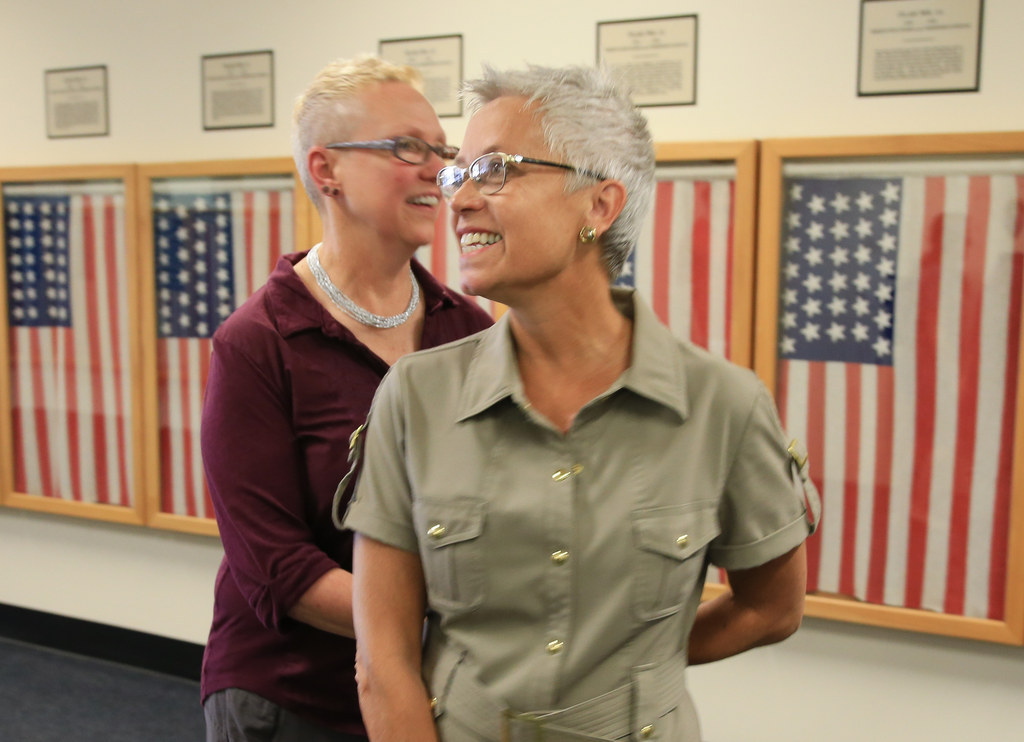 Couples can apparently obtain a marriage license in every Nebraska county, but finding a government official to solemnize a marriage is a challenge in some — and certain officials appear to resent the Supreme Court's ruling.
The day BuzzFeed News called the Dakota County Clerk's Office, the website's section on marriage licenses began with a question: "Who can Marry in Nebraska?" The answer, the website said, was a citation of a Nebraska law passed by citizens initiative: "I-29. Marriage; same-sex relationships not valid or recognized," the clerk's office website declared.
That language was "an oversight" and "was supposed to have been taken off," Ted Piephoi, the county clerk, told BuzzFeed News in a phone interview. Piephoi said he would issue a marriage license to a same-sex couple — though none has applied — but he disliked the court decisions that require him to.
"I would want you to know I am resigning partly over that fact," said Piephoi, who added that his last day will be in October. "If they need to get married, they could have one by contract. I'm a Christian and I've got my beliefs and whatever. I think it's awfully sad when the Supreme Court overrides an election by the people in the state."
The language about same-sex couples' marriages being banned had been removed from the Dakota County Clerk's Office website two days later.
Like in Dakota County, you can obtain a license from the clerk in Red Willow and Hayes County, but you cannot get that marriage solemnized by the clerk magistrate, said Gretchen Wiebe, who served both counties.
When BuzzFeed News asked Wiebe why she refused to perform the marriages, she said it was her own decision and refused to elaborate.
Susan Messersmith, the county clerk in Hayes County, explained that while Wiebe will not solemnize the marriages, a probate judge can perform the ceremony when the judge comes to visit the county one day a week.
In Dixon County, Tara Carlson, a secretary in the clerk's office, said that while officials will issue marriage licenses, she doesn't know any officials who will solemnize the marriage. "I honestly believe they have opted out," she said. "Our judges and magistrates are not performing them." But, she added, no same-sex couples that she knows of have asked for a government officiant, either.
Texas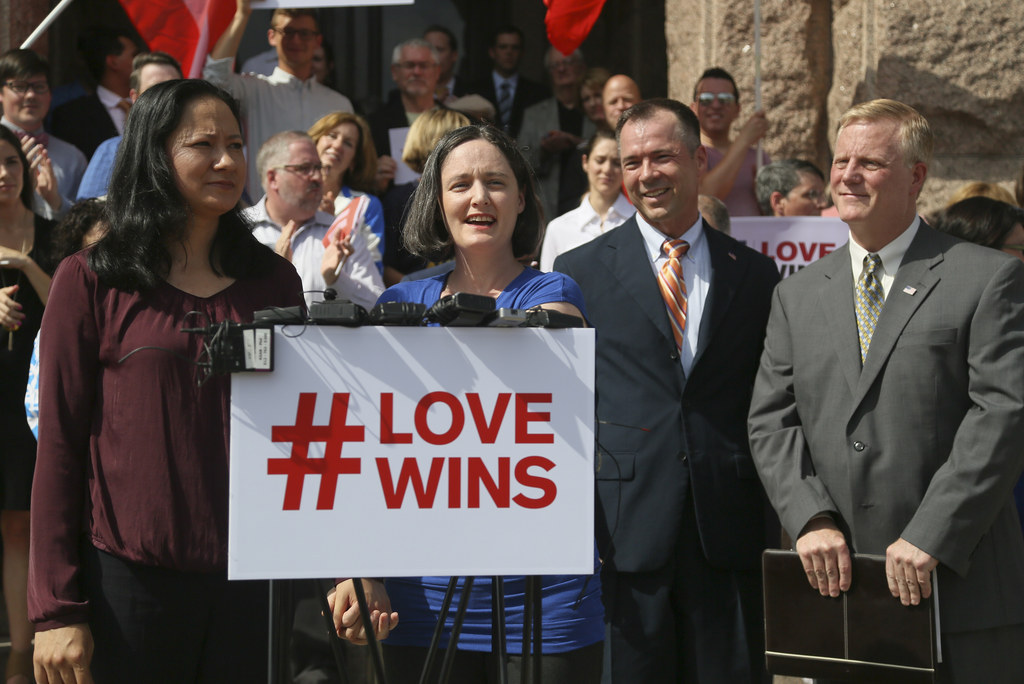 Texas officials were obstinate in the hours after the Supreme Court's ruling, including Attorney General Ken Paxton, who issued a letter to county officials suggesting that they could invoke a religious objection to issuing licenses to same-sex couples.
"Even though there was a lot of handwringing after the marriage decision, most counties have fallen into line," Rebecca Robertson, legal and policy director of the ACLU of Texas, told BuzzFeed News. Her office sent letters to every county clerk instructing them that religious objections did not constitute a legitimate legal defense. As of this week, Robertson said, only two counties had yet to agree to give marriage licenses to same-sex couples: Irion and Hartley Counties.
BuzzFeed News called officials in both counties.
At the Irion County Clerk's Office, a woman who answered the phone said couples who wanted marriage licenses needed to show up in person with proper ID. But asked if the office was, in fact, issuing marriage licenses to same-sex couples, she hung up the phone. When BuzzFeed News called back, nobody answered.
In Hartley County, County Clerk Melissa Mead picked up the phone. She had enjoyed a 25-day waiting period after the court decision, she said, but explained the office would now give a marriage license to any couple who qualifies.
Asked if the office has issued any licenses to same-sex couples, Mead said "no," paused, then asked, "Do you want know how many marriage licenses we usually issue in a year total?"
"Three, maybe," she said.