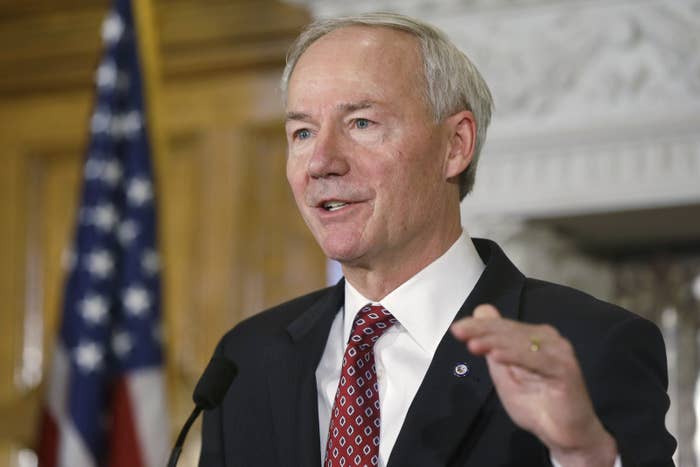 In a crushing 24-7 vote, the Arkansas state Senate on Friday approved a religious freedom bill that critics warn will open the floodgates for discrimination against LGBT people.
The state House had passed a similar version of the bill in February, and after technical tweaks to mesh the Senate version, it will go to the desk of Gov. Asa Hutchinson.
"I will sign this bill as amended," Gov. Hutchinson said in a statement. "This bill is designed to protect the religious freedoms of all Arkansans. It's no different than legislation that has passed in 20 other states, from Illinois to Connecticut. Arkansas is open for business, and we recognize and respect the diversity of our culture and economy."
The bill, however, brought swift condemnation from LGBT advocacy groups, civil rights leaders, and business leaders. Apple CEO Tim Cook lamented on Twitter that Indiana's governor signed a similar bill this week and urged Hutchinson to immediately veto the bill in Arkansas: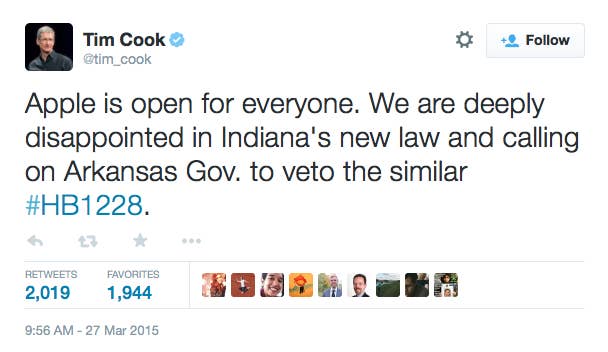 According to HB 1228, "a state action shall not substantially burden a person's right to exercise of religion." Proponents say it will bring Arkansas in step with federal law that prevents government from intruding on religious practices.

But civil rights lawyers are alarmed that provisions in the bill may be much more broad in their application.
Jenny Pizer, the law and policy project director at Lambda Legal, says portions of the bill suggest government may not have to be a party to any proceeding — raising the possibility that the laws could be used in lawsuits between private parties.

Pizer added that comparisons to the federal Religious Freedom Restoration Act and the history of similar laws in more than a dozen states are unfit. Since the U.S. Supreme Court ruled last year in the Hobby Lobby case — which found a closely held corporation could deny contraception health care benefits on religious grounds — state religious freedom laws are newly open for interpretation. Even similar state laws now have unpredictable consequences, she said, including the possibility of using religion to reject customers.
"We should work with the assumption that bills being championed by religious arch-conservatives who delighted in the Hobby Lobby decision raise serious concern," Pizer said. "Everyone who may be on the pointy end of the stick of someone else's religion could be refused."
Pizer also rejected the idea that intrusion on people's faith matches the hardship experienced by LGBT people.
"Our community experiences high levels of pernicious discrimination in ways the broader American public is unaware," Pizer said. "So where proponents of bills for religious rights talk about discrimination against people of faith, and Christians in particular, I have to shake my head in amazement."
"That is simply not the reality in which most of us live," she added.
The Human Rights Campaign is also asking Hutchinson to veto the bill, noting in a news release that the proposed law has been opposed by Wal-Mart, Apple, and the Arkansas Municipal League.
Dr. Julian Bond, a civil-rights movement leader, added in a statement: "This legislation cloaks discrimination in the guise of religion — and it will mark people of color, LGBT Arkansans, religious minorities and women as second class citizens. Governor Hutchinson has a duty and a moral obligation to veto this legislation or the ghosts of the past will haunt his legacy."