Democrats Would Quickly Push LGBT-Rights Bill In Congress If They Win Big
The Equality Act would ban LGBT discrimination nationwide in housing, employment, and public accommodations.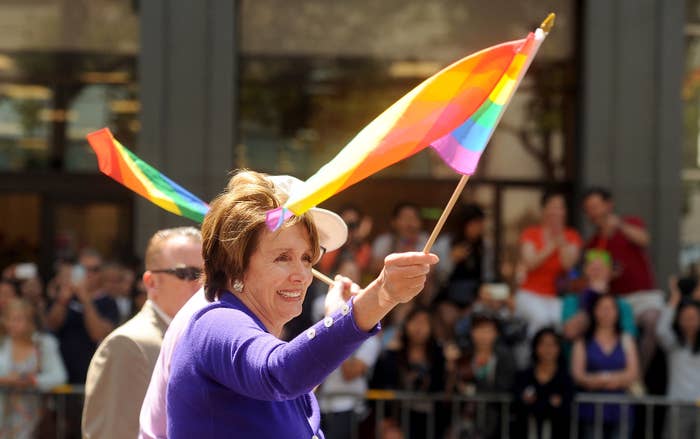 With the odds favoring Hillary Clinton to win the White House and if Democrats take the Senate, Democrats and LGBT advocates say they would quickly try to pass a major LGBT-rights bill if they can also win the House of Representatives.

"With a Democratic House and Senate, the bill would absolutely be a top priority in the first 100 days," a spokesperson for House Minority Leader Nancy Pelosi, Drew Hammill, told BuzzFeed News. "The votes for House passage are there today, even in the current Congress, if Speaker Ryan would just get out of the way."
Democrats winning the House is a particular long shot, and its unclear if the Republicans would use procedural maneuvers to block the bill in the Senate.

The Equality Act would ban discrimination LGBT nationwide by adding protections to existing civil rights laws for sexual orientation and gender identity. But Republican leadership has denied a hearing on the bill, which has become a top priority for LGBT advocates after they won marriage equality, since it was introduced in 2015.
Maya Harris, a senior policy advisor to Hillary Clinton, said in a statement to BuzzFeed News that if Clinton wins, she "will make it a priority as part of her agenda to fight for the Equality Act and full non-discrimination protections for the LGBT community." She did not, however, put a timeline on advancing the bill.
But Sen. Chuck Schumer of New York, who could become the Senator Majority Leader if Democrats pick up enough seats on Election Day, put a two year timetable of passing the bill if conditions are right.
Calling the bill part of the party's "fight for equality," Schumer told BuzzFeed News that "Democrats will fight hard to get it on the President's desk in the next Congress."
Should the stars align for them this election, the Human Rights Campaign, the country's largest LGBT group, would want to see "significant movement in the first 100 days," according to Sarah Warbelow, the organization's legal director.
It is "reasonable" for Congress to hold a hearing on the Equality within the first 100 days, added the group's government affairs director, David Stacy. "We would want to get a bill on president's desk as soon as possible, hopefully within the first year, but certainly within that Congress."
The bill's House sponsor, Rhode Island Rep. David Cicilline, concurred on moving the bill quickly. His spokesman, Richard Luchette, said by email, "If Democrats hold the White House and win back Congress, the Equality Act should be taken up in the first 100 days of President Clinton's term."