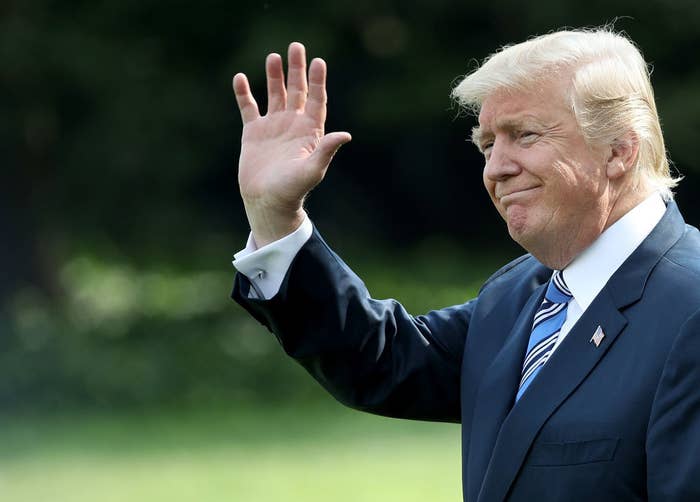 Five active-duty transgender service members sued the Trump administration in federal court on Wednesday, arguing the president's recent tweets foretelling a ban on transgender military service impinge on their constitutional rights.
"The directive to reinstate a ban on open service by transgender people violates both the Equal Protection component of the Fifth Amendment and the Due Process Clause of the Fifth Amendment to the United States Constitution," says a complaint filed by the five anonymous Jane Does in US District Court in Washington, DC.
The White House has not conveyed a new policy on transgender service members to the Department of Defense since Trump tweeted that the military "will not accept or allow transgender individuals to serve in any capacity" on July 26, nor has the department promulgated one.
Sarah Huckabee Sanders, a spokesperson for the White House, told BuzzFeed News on Wednesday, "As has been said before, we will work with the Department of Defense to lawfully implement the policy." She did not elaborate on how or when a policy would be released, or what impact it would have on transgender troops currently serving.
"As is with any ongoing litigation we cannot comment on it," she added in an email.

For now, a 2016 policy established by the Obama administration that allows transgender people to serve openly remains in effect. Several LGBT groups are waiting to see what sort of policy the Trump administration would create to repeal the 2016 rules before taking further action.
But the suit filed on Wednesday argues there is already a draft policy or de facto policy, stating, "Upon information and belief, the White House outlined a plan to end the active service of transgender servicemembers to be transmitted to the Department of Defense for implementation."
The suit names Trump as a defendant, along with several top military officials, including Defense Secretary James Mattis and Joint Chiefs of Staff Chairman Joseph Dunford.

Lawyers for the National Center for Lesbian Rights and GLBTQ Legal Advocates & Defenders — two legal groups on the complaint — write that they are seeking a judgment declaring that Trump's "directive to categorically exclude transgender people from military service is unconstitutional" and an "injunction prohibiting the categorical exclusion of transgender people from military service."
Shannon Minter, legal director of NCLR, said in a statement, "Trump's attempts to reinstate a ban have blindsided thousands of transgender service members who are now scrambling to determine what this means for their families and their futures," adding, "we want to send a message loud and clear that we will aggressively challenge any attempt to harm them."
The Williams Institute at the UCLA School of Law estimates that there are more than 15,000 transgender troops in the US military. The RAND Corporation estimates that there are between 1,320 and 6,630 transgender personnel in the active service, and between 830 and 4,160 in the selected reserve.
The Department of Defense did not immediately respond to a request from BuzzFeed News to comment on the complaint's allegations or whether a specific policy was in the works.