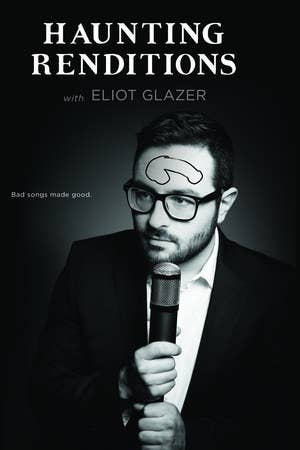 Eliot, who studied classical singing at NYU, uses "Haunting Renditions" as an outlet to perform mindless pop songs with a level of respect and poise usually reserved for Wagner. The tagline really sums it up: "Bad songs made good."
Is "California Gurls" about the frivolity of West Coast summer love or a mediation on the secret pain that we all hide from the world?
Pagers, AOL, the pope, using the word "hot." Did Destiny's Child predict our addiction to social media?
Classic teenage love affair, or postmodern analysis of Romeo & Juliet?
Was Paula Abdul asking America to interrogate race relations in the 1990s?
Much like Freud's approach to "the super-ego," Next demands that we honor the deeper meaning of boners.
The agency of female sexuality. Can we deny its prowess? No. We cannot.
Is Ashley Simpson our generation's JFK? Well... Probably not. But this medley is very catchy!
Be sure to catch Eliot in the next season of "Broad City" and also on Above Average where he has an original sketch show called "Eliot's Sketchpad."