Disneyland's New $15,000 Dining Location Is Now Open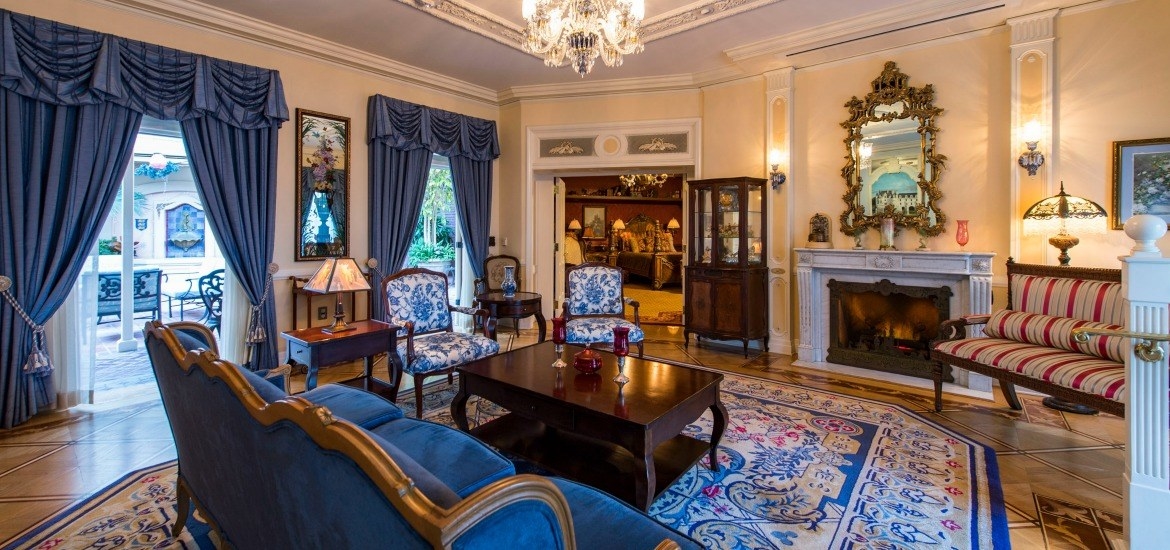 onesmartmouse.com
The new dining venue is located at 21 Royal Street in New Orleans Square. Their address is right next door to the also infamous Club 33 (33 Royal Street). However, this new dining experience may top anything Club 33 has to offer.
It does offer a lot for the ultimate Disneyland fan. However, the $15,000 price tag makes it only a dream for most. Here's a sample of what guests will experience:
"In keeping with its unique location, discreetly perched above Royal Street in New Orleans Square (upstairs from the famed Pirates of the Caribbean attraction), 21 Royal is decorated in the Empire style made popular in 19th century New Orleans.
Today, when you host your special evening at 21 Royal, you add your own chapter to the residence's storied history and carry forth the spirit of Walt and Lillian's enduring vision of an exceptionally enchanted experience.
On the evening of your 21 Royal experience, your guests will arrive at the majestic Disney's Grand Californian Hotel & Spa, where they will be greeted by the hotel's valets. Once your entire party has assembled, they will be given a VIP escort to the site of the evening's festivities.
21 Royal Dining
Legendary Disney service is on display from the moment your guests are welcomed by the 21 Royal staff. First, signature cocktails are served by professional butlers in the salon, then everyone is invited out to the patio for a casual reception. You and your guests will also have time to explore the different rooms—and discover some of their more magical features.
Then it's time for dinner. You and your guests take your seats around a lavish table covered in white linens, fresh flowers and set with gold-plated dinnerware and fine crystal. This is when the evening's adventure really begins—as a fascinating tale unfolds told through fine food and drink.
In true Disney fashion, you can end your evening with a grand finale—dessert on the private balcony, where you and your guests are treated to a spectacular view of the Rivers of America, and on certain nights, prime viewing of the park's nighttime entertainment."
What does this translate into? You're basically paying for the opportunity to hang-out and dine at the Dream Suite. A place not many have been. One Smart Mouse was able to tour it a few years back under very special circumstances and it is amazing; but not $15,000 amazing. Trust us.
However, hanging-out there is only a small part of your experience. It's mostly about a very unique and intimate dining experience.
" The highly customized menu for your 21 Royal experience is created by a culinary team of two master chefs and an expert sommelier.
Using your chosen theme for the evening as inspiration, the team thoughtfully prepares a menu that weaves together a tapestry of imaginative dishes that combine to tell a tale that is uniquely yours. The result is Disney storytelling at its delicious best.
To obtain the freshest and finest ingredients available, the chefs work directly with premier suppliers—both local and international—including farmers, fishermen and other sustainable sources.
By combining these ingredients with skillful techniques and time-honored traditions, then matching them with the perfect pairings from the extensive 21 Royal wine collection, your culinary team creates a symphony of innovative dishes that are dazzling in both flavor and appearance."
So there you have it. The chance to hang-out and dine in the Dream Suite, Walt's luxury apartment, legendary Disney service, and probably one of the best meals you'll ever have in your life (and most expensive). We have hear that the experience does include your ticket entrance and a few other things.
We're not big fans of waisting precious and historical Disney space for things like this so we'll more than likely never experience it. If you do though please share!
This post was created by a member of BuzzFeed Community, where anyone can post awesome lists and creations.
Learn more
or
post your buzz!
Looks like there are no comments yet.
Be the first to comment!