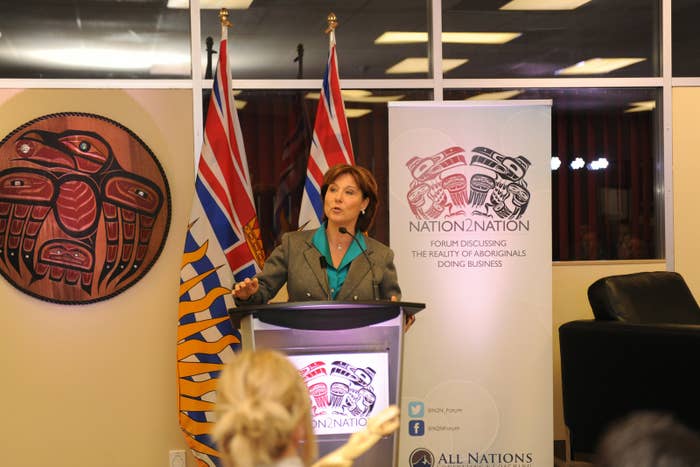 This story was reported by Brielle Morgan and Ash Kelly for Discourse Media

At a June 3 press conference, British Columbia Premier Christy Clark said a major hurdle had been cleared for the proposed $36 billion Pacific NorthWest liquefied natural gas pipeline and plant.
"The Lax Kw'alaams voted massively in favour of supporting LNG, with some conditions," Clark said.

The "massive" vote in favour of the liquefied natural gas project was a major win for Clark, who is up for re-election next year and has invested considerable political capital on promises of jobs and tax revenue from Pacific NorthWest LNG.
Pacific NorthWest LNG calls for the construction of a liquefied natural gas (LNG) facility on Lelu Island, which the First Nation of Lax Kw'alaams claims as part of its traditional territory. Prior to Clark's announcement, it was the lone First Nation among five that Pacific NorthWest LNG was required to consult with that had not signed an agreement or term sheet with the company.
"It's important that people in Vancouver and across the country see how much support there is for LNG in these communities," Clark said.

However, an investigation by Discourse Media, which sent two reporters to Lax Kw'alaams, suggests that no vote in favour of the project ever occurred.

The revelation comes just before a series of meetings the Lax Kw'alaams First Nation has scheduled with its members next week about the project.
The proposed Pacific NorthWest LNG project is in the final stage of government approval, with a decision from the federal government expected any time between now and the end of September.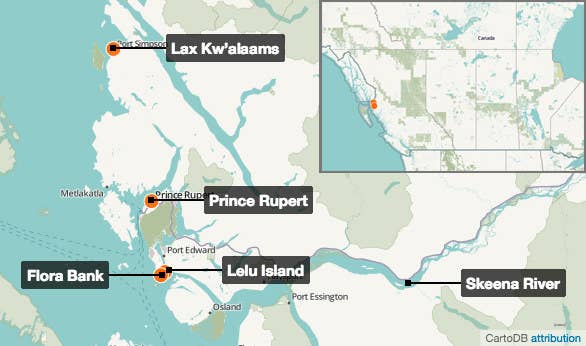 Project proponents and the B.C. government are legally obliged to seek "free, prior and informed consent" from five First Nations in the region, including Lax Kw'alaams.
At the Western Premiers' Conference in early May, Clark said the Lax Kw'alaams leadership "voted overwhelmingly in favour of moving forward into the next stage of this agreement on LNG."
In an emailed response to Discourse Media about the meeting, the premier's office stated, "First Nation officials carried out their own internal engagement processes prior to their vote and letter of support to the federal government." The premier's office stated that Lax Kw'alaams voted 244 to 3 in favour of developing Lelu Island.
Discourse Media's investigation found no evidence of such a meeting. In May 2015, community members in Lax Kw'alaams voted to reject a benefits proposal from Pacific NorthWest LNG, which is majority owned by Malaysian company Petronas. No further band meeting appears to have occurred since a new mayor and council were elected in November 2015.
Neither the premier's office nor the band council provided any documentation of any band council or community vote. Discourse Media also could not identify a single community member who attended or was aware of such a public meeting.
Political pressure on Lax Kw'alaams, the small community located near Prince Rupert at the centre of the controversy, has been immense.
Locals describe a community deeply divided over its future, desperate not to miss out on the economic opportunity Pacific NorthWest LNG could provide. However, the majority of community members were opposed to locating the plant on Lelu Island because of the location's impact on salmon.

There are multiple issues at stake that make Pacific NorthWest LNG a tricky project to execute.

Federally, Prime Minister Justin Trudeau promised a renewed "nation-to-nation" relationship with Indigenous peoples based on "recognition of rights, respect, co-operation, and partnership." Canada also committed to the U.N. Declaration of the Rights of Indigenous Peoples in May.
Former Truth and Reconciliation Commission chair Murray Sinclair, now a senator, says projects like Pacific NorthWest LNG are an opportunity for Trudeau to demonstrate his commitment to reconciliation.
Provincially, Clark is jockeying for re-election in 2017, and the approval of LNG is a key piece of her economic message.
And then there are those directly affected, such as the people of Lax Kw'alaams.
"Everybody's bickering and fighting. It is tearing the whole village apart," says Corinne Dudoward, who has lived in Lax Kw'alaams most her life.

As for Pacific NorthWest LNG, the company declined multiple interview requests, but did provide a written statement. "PNW LNG is working collaboratively and constructively with local First Nations. We do not comment on band governance issues."