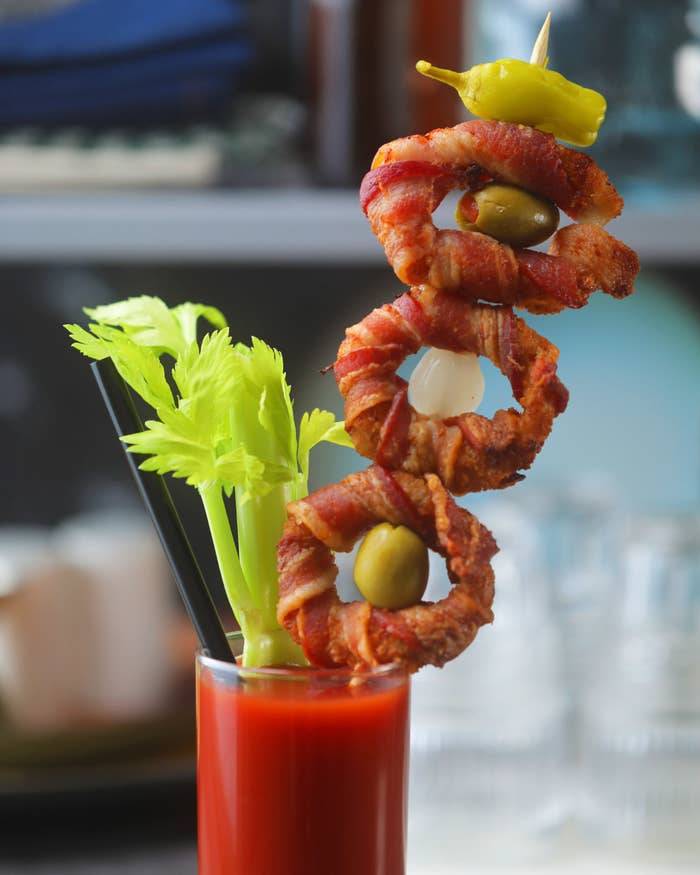 Servings: 1
INGREDIENTS:
Onion Rings
5 pieces of bacon

5 frozen onion rings

Bloody Mary
3 cocktail onions

Juice of half a lemon

1½ tablespoons pepperoncini juice

1 teaspoon Worcestershire sauce

½ teaspoon horseradish

½ teaspoon hot sauce

6 pickled jalapeños slices

½ teaspoon onion salt

½ teaspoon salt

¼ teaspoon pepper

¾ cup tomato juice

2 ounces vodka

Garnishes
1 stick of celery

Bacon onion rings

Cocktail onion

Olives

Pepperoncini

PREPARATION:
Preheat oven to 400º. Wrap bacon around onion ring, circling the bacon through the center like a wreath.

Bake bacon onion rings on a parchment-lined baking sheet for 20–25 minutes, until bacon is cooked. Drain onion ring on paper towel.

In a pint glass, combine the cocktail onions, lemon juice, pepperoncini juice, Worcestershire sauce, horseradish, Tabasco, jalapeños, onion salt, salt, and pepper. Muddle the contents until well crushed. Pour in tomato juice. Place a cocktail shaker over the glass and give it a few shakes.

Place ice in a wide highball glass. Pour in vodka, then strain tomato juice mixture into glass.

Place the celery stick in the drink. Place the rest of the garnishes onto a long skewer, with the bacon-wrapped onion rings on the top. Serve with a straw and enjoy!