My own private gallery. I photographed a total solar eclipse from atop a mud brick citadel in Bam, Iran on August 11th, 1999.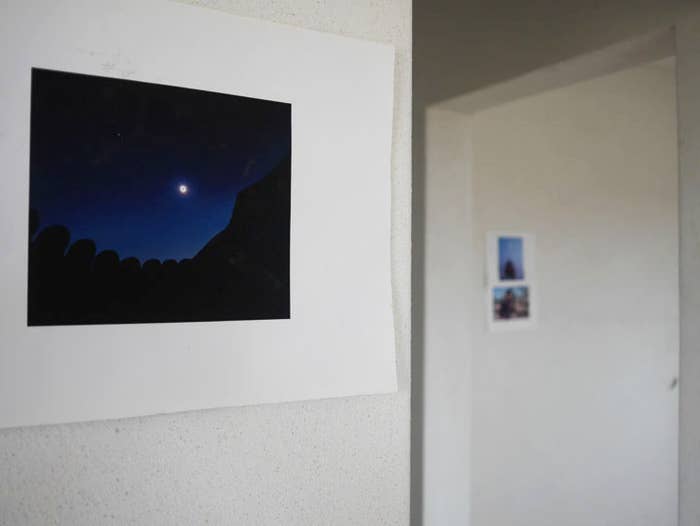 On a quiet hill on the dusty backside of the Cycladic island of Thira, more commonly known as Santorini, in Greece's timeless South Aegean, I found an unfinished and likely abandoned stucco house near Monolithos Beach. Here it seemed like the perfect place to put up a photo installation of my prints from 1999-2001.
Before 9/11, I was conceptualizing a idea I called the Fabled City (which if doing it today I would brand as #fabledcity ). The idea was to use stark, striking imagery to pique public interest into the world's more forlorn locales, with Afghanistan at that time being chief among them. My idea was to do a guerrilla poster campaign on the U.S. east and west coasts and then in cities throughout Western Europe once my idea caught on.
In San Diego at that time, it was the apex of Shepard Fairey's street art campaign based on his read on the concept of 'phenomenology.' While I was a high school student, Fairey's stickers of Andre the Giant from his days at the Rhode Island School of Design were seemingly everywhere, permeating the local skateboard scene in Providence and environs. The graphic morphed from stickers to t-shirts and a few years after I settled in I San Diego, billboards.
An image from the Sultanate of Oman from 2000 hangs in my makeshift gallery.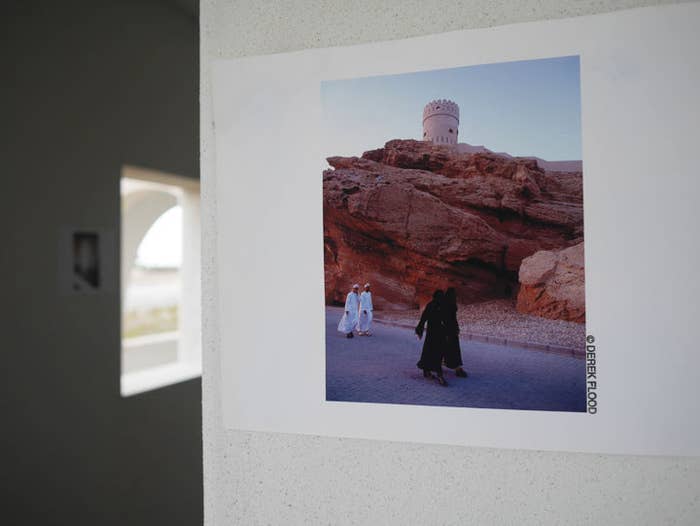 Through my own personal migration from east to west coast following a natural arc of skate culture which originated in Southern California, I'd witnessed the evolution of the art campaign from being on the doors of New England surf shops and on stop signs to the sides of buildings by the late 90s in and around downtown San Diego. It first employed the replication of ideas and later spoofed propagandist Eurasian socialist realism, I supposed perhaps lambasting the official artistic output of totalitarian societies during the Cold War.
By 2000, street poster art was thriving on both coasts and I thought it would be worthwhile to employ this memetic style to a more significant use than just pop art. I named my idea #fabledcity alluding to the deep history of troubled, under-traveled regions. In these places, emperors and explorers were driven by ego and curiosity to create lasting historic narratives that put whatever was the news headline of our present in a much broader, healthier perspective.
When I travelled around the periphery of Afghanistan in Iran and Pakistan as an undergraduate and heard tales of life under the Islamic Emirate, as the Taliban government referred to itself, I became increasingly fascinated by the most elusive place for photographers in the world.
My goal was dashed when I went to Afghanistan as a nascent war photographer instead of traveling there to glorify the history and people there before it was too late as I had originally hoped. A cataclysm seemed on the horizon but I could not imagine exactly how it would materialize. The country was in a constant state of civil war in the north and bin Laden was living there freely. The neighboring states had diametrically opposed foreign polices toward their Afghan neighbors. It was a cauldron that would explode in an unimaginable way.
I began installing images in Long Island City, Queens at the beginning of the summer. These prints date from Afghanistan, November 2001.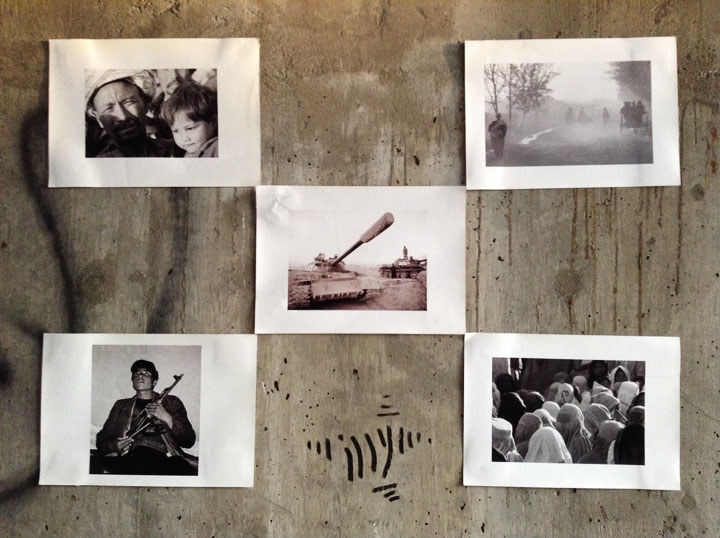 As Afghanistan had become a painfully closed society virtually walled off from the rest of an increasingly integrating global economy, I felt it was a place and a people that should be somehow engaged rather than shunned. To me, Afghanistan was a forgotten place if only by default. The collective ignorance about a land that was in the very center of Asia just as we were transitioning from an "Atlantic Century" to an "Asian Century" was confounding.
Afghanistan had been in some form of conflict since the end of 1979 and I had an asymmetrical artistic idea of how to bring positive attention to it but unbeknownst to me the sand was running through the hour glass as the 9/11 plot gathered steam. Two of the hijackers even attended a mosque three blocks from my San Diego apartment.
In the years since, Afghanistan went from being a place few journalists bothered to go to, and when they did only the most dour stories borne out of retrograde Taliban edicts slipped out, to the storyline locale of a host of big budget Hollywood films. It became one of the world's most talk about places for over a decade.
Next I moved on to Barcelona where I began doing small installations alongside local street art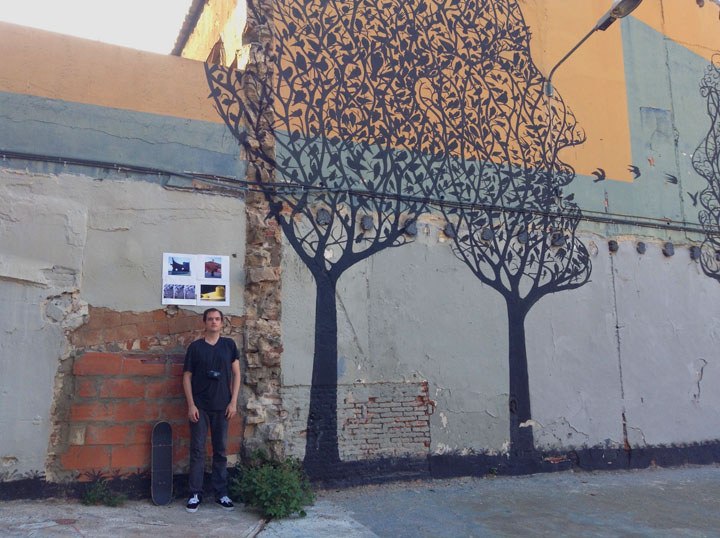 Like New York, Barcelona is a city littered with street art of all kinds. I don't know if anyone there would have been interested in my old works other than perhaps members of the city's burgeoning Pakistani migrant community. But I took pleasure in finally getting these images from storage to daylight in one of the EU's most vibrant cities.
I then put together a gallery in a disused, incomplete home in Santorini, Greece. While I was photographing locals, they videotape an outsider in their midst in our own mini "dialogue among civilizations," Esfahan, Iran, August 1999.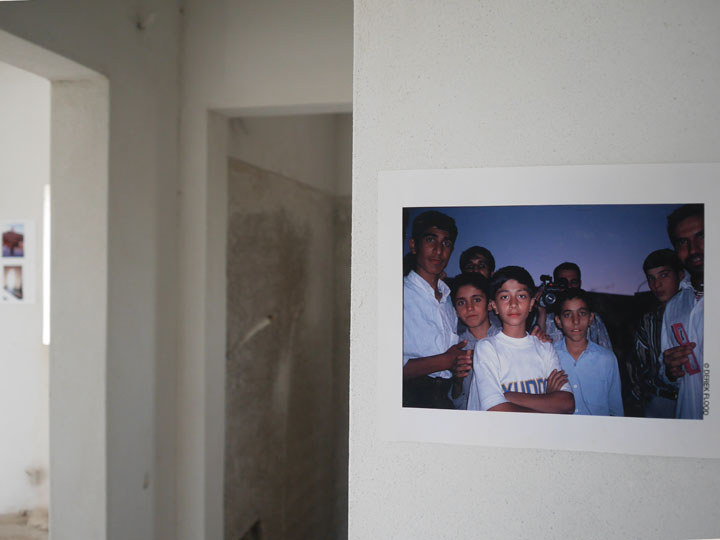 This house felt to me like the perfect art space with its spanning white walls and multiple rooms with an array of potential angles.
Contrast of night and day. My image of the Shah Faisal mosque in Islamabad hangs in an empty house on Santorini.
Before Pakistan became a synonym amongst the world public for "Taliban" or "terrorism," I explored it's litany of fantastic historic sites. Here, a Punjabi teenager shows off his ferret in the magnificent ruins of Uch Sharif.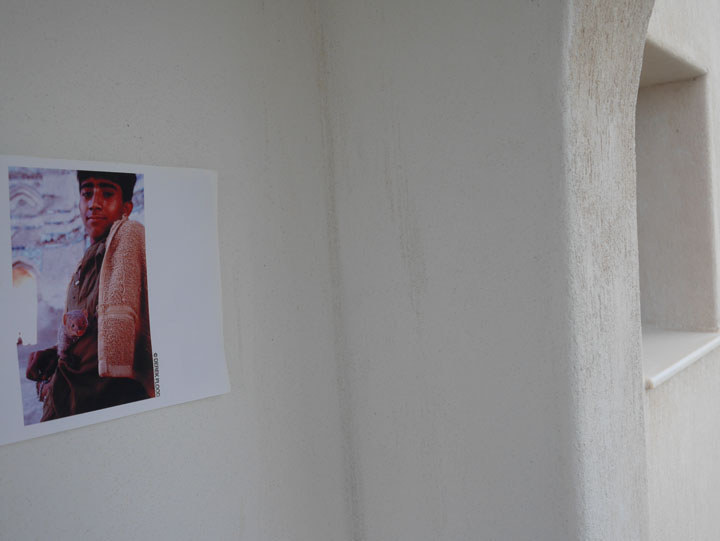 My images of 9/11 hanging on an otherwise unadorned stucco wall. This event effectively ended my vision for the #fabledcity and set my life on an unimagined course of war and despair.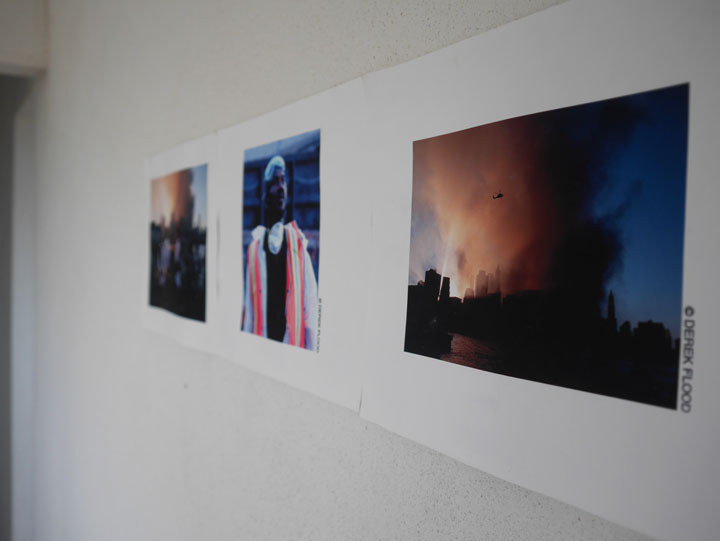 Though I ultimately abandoned my #fabledcity concept in the wake of 9/11, I never forgot it. Thus far in 2014, I've been taking a hiatus from the nonstop cycle of heading into war zones to finish some longer term projects. It never is too late to finish something.
Follow Derek on Instagram @derekhenryflood