Mediterranean Chicken & Green Beans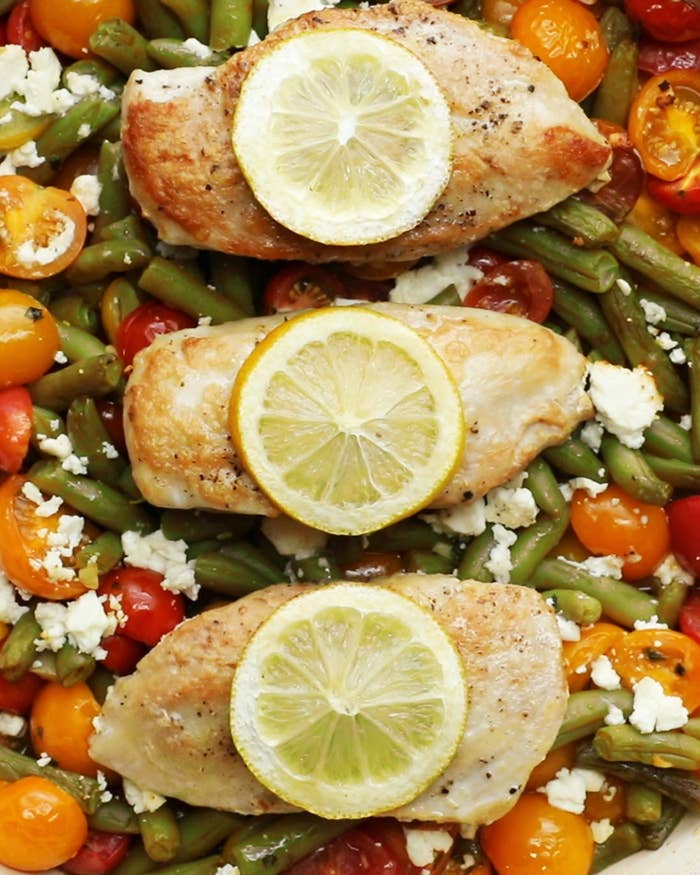 INGREDIENTS:
16 ounces boneless, skinless chicken breast (about 2 large pieces)
1 teaspoon salt
¼ teaspoon black pepper
5 tablespoons olive oil, divided
Lemon slices
3 tablespoons garlic
1½ pounds cherry tomatoes (preferably a mix of yellow and red), halved
2 cans (14.5 ounces each) Del Monte® Cut Green Beans, drained
Fresh parsley (garnish)
½ cup crumbled feta
1 teaspoon fresh or dry oregano, chopped
PREPARATION:
1. Preheat the oven to 375℉/190°C.
2. Season the chicken breasts with salt and pepper on both sides.
3. Heat a 12-inch oven-safe skillet over medium-high heat. Add 1 tablespoon olive oil. Brown the chicken on both sides. Remove from pan and set aside. Turn the heat down to medium-low.
4. Add 3 tablespoons olive oil and garlic to the same skillet and cook until fragrant, about 1 minute. Add the tomatoes, cook until just warmed through. Fold in the Del Monte® Cut Green Beans. Season with salt, pepper, and oregano. Remove from heat.
5. Sprinkle the feta over the green beans and tomatoes in the skillet. Reserve about a tablespoon. Place the chicken breasts in the skillet over the green beans and tomatoes. Top each chicken breast with a slice of lemon.
6. Cook 15-20 minutes or until the chicken is cooked to an internal temperature of 165℉.
7. Top the finished dish with fresh parsley, oregano, and the reserved feta.
8. When cooled, slice the chicken and divide chicken and vegetables between four containers.