This Country Town Shows How Easy It Is To Accept Refugees
While the world wrestles with how to help people fleeing war and persecution in Syria – one Australian country town is showing how it's done.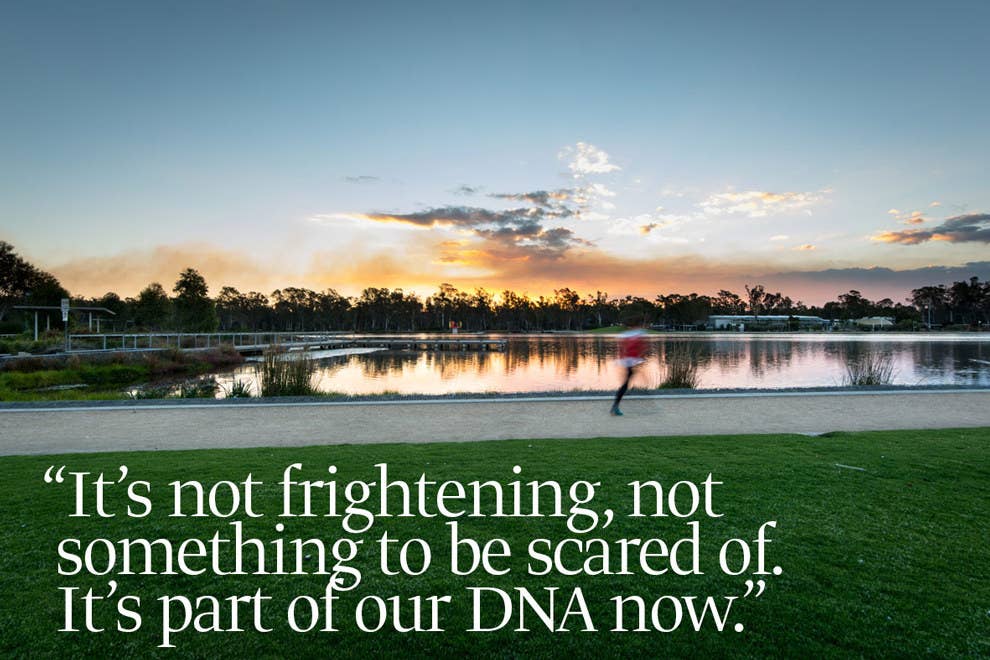 "It's not frightening, not something to be scared of. It's part of our DNA now."

Those are the words of Shepparton mayor Dennis Patterson, speaking of his town's long history of accepting and embracing refugees from war-torn nations across the globe. And as Australia prepares to accept 12,000 Syrian refugees whose lives have been destroyed by civil war, the little town 200km north of Melbourne may provide the blueprint on how to embrace an influx of refugees without the bitter social divisions predicted in some quarters.
A town of about 30,000 people, Shepparton is best known around Australia for tinned its peaches, but it's also one of the most welcoming places in the country – where "it's no big deal" to share a workplace, a classroom or a meal, with a refugee from Iraq, Afghanistan, the Congo or Sudan.
The low skilled work on offer in the factories, dairies, farms and fruit orchards of the fertile Goulburn Valley first drew immigrants after World War I; Greeks, Italians, Macedonians and Albanians. After World War II, it was the Turks and then in the late 1980s, Punjabi Indians and Pacific Islanders came.
"I found it a welcoming place. It seems to be in the nature of the town," says Thon Thon, a 40-year-old member of the Lost Boys of Sudan, an orphaned generation who fled the brutal civil war that began in Sudan in 1983. He knows the "Shepp experience" better than most.
Thon fled his home in south Sudan aged 11 and walked for months across Africa to reach safety, with many thousands dying along the way. He spent more than 14 years in refugee camps after the horrifying march to Ethiopia before he was sponsored by an Australian and migrated to Australia in 2005.
"They changed my life and I don't even know who they are," he said.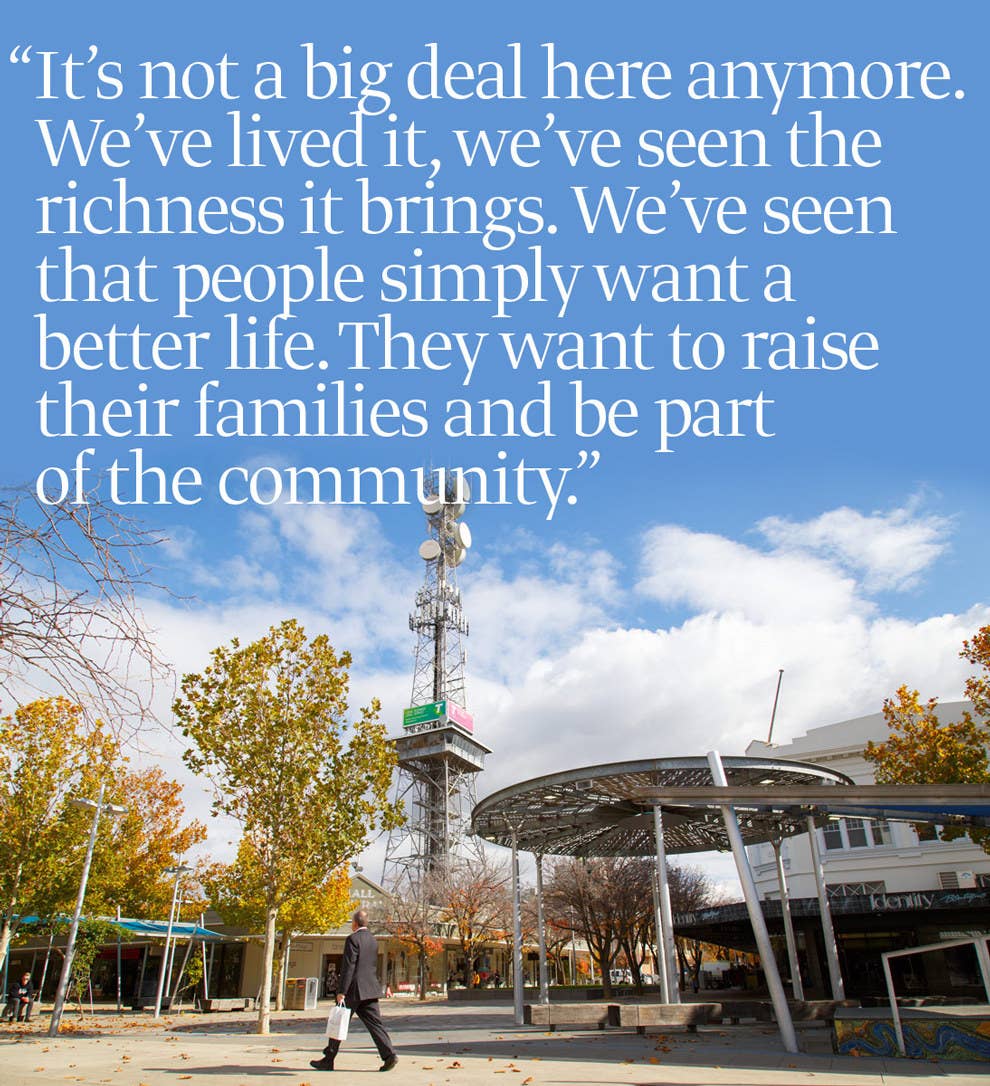 In the 1990s, further European immigrants arrived and as conflicts rage across parts of Africa and the Middle East today, Afghani, Iraqi, Sudanese and Congolese people continue to seek a new life in Shepparton.
The most recent census shows more than 13% of Shepparton's population was born outside Australia; 9.9% from countries where English is not the first language. In recent years, the number of people born overseas has increased dramatically, as has the number of people from non-English speaking backgrounds.
There's an estimated 4,500 Iraqis, 1,600 Afghanis, 1,050 Sudanese and 280 Congolese living in the town. In Shepparton close to 5% of the population was born in either India, Afghanistan or Iraq.
The data dwarfs that of other towns of similar size across the country, and especially neighbouring towns, like Echuca, just 70 kilometres north-west, which is one of the least culturally diverse places in Victoria.
But it's not just about numbers; it's the ready acceptance and embrace that new arrivals receive that sets Shepparton apart.
After feeling "a little lost" in Melbourne, Thon moved to Tatura, then to nearby Shepparton with his wife, Nancy. "I come from a small town, so it made sense to move to a small town here too. And I knew I would be able to find work of some kind," Thon said.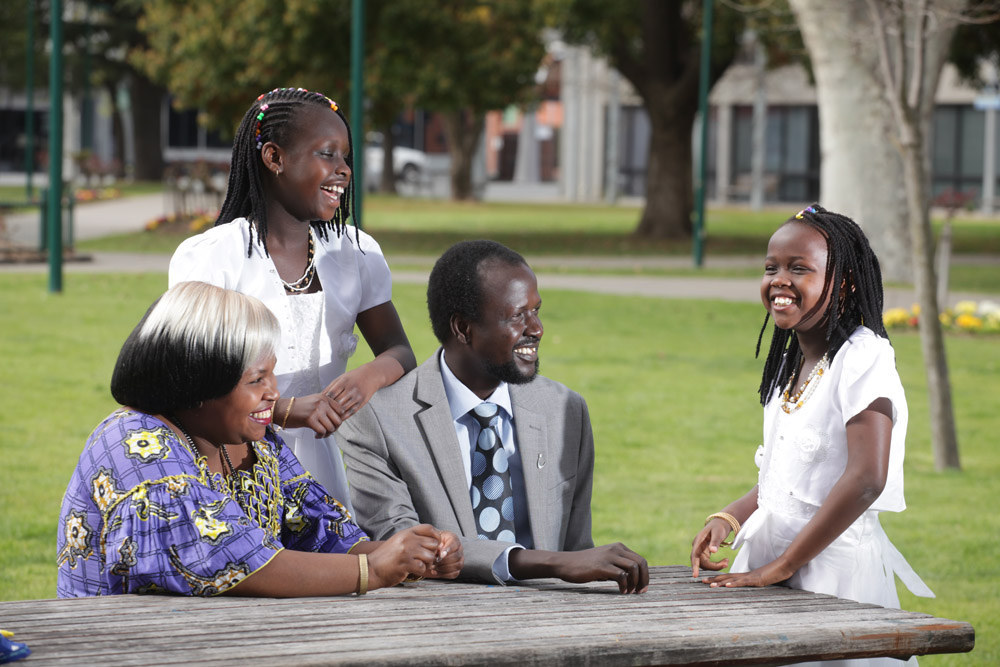 Thon's experience is like so many others in Shepparton, a town with an identity that's undeniably shaped by its experience accepting waves of immigrants and refugees.

Led by immigrants, four mosques have been built, countless cafes, restaurants and service businesses opened by new residents, religious festivals celebrated, choirs formed – all seemingly without the angst seen elsewhere. The quiet existence of four mosques in Shepparton is in contrast to the violent protests witnessed in Bendigo just this week about the proposed building of one there. The two towns are only 120km apart.
Patterson said that while the city still faced challenges, and no one had the "formula for acceptance", three factors contributed; experience, which negates fear, a concerted effort by council, health, government, community and cultural groups to help new arrivals and good 'ole fashioned country hospitality.
"We have witnessed wave after wave of immigrants in our region, starting with the Italians and Greeks, who came to make a new life after the war. They picked fruit, worked hard and are now a vital part of the fabric of our society … they are the Goulburn Valley," Patterson said.
"And that tradition – of people wanting to work hard, to make a better life after experiencing something awful – has continued with each successive wave; whether it's people from ethnic minorities from Iraq or Afghanistan or those fleeing conflicts in other troubled parts of the world; like our most recent arrivals, from both north and south Sudan and the Congo," he said.
"It's not a big deal here anymore. We've lived it, we've seen the richness it brings. We've seen that people simply want a better life. They want to raise their families and be part of the community," Patterson said.
Patterson also cited "tireless work by many, many good people over the years", in proactively helping people settle into their new home – and culture. From specialist programs by local health providers to support from charities like St Vincent de Paul, to the establishment of an Ethnic Council, with dedicated case workers for different groups, to informal support groups and more, the web of community support is vast.
"It hasn't just happened. Many people, who hold strong humanitarian beliefs, have actively worked to make the place welcoming. From the school principal taking extra time to understand a new students' cultural differences to the charity workers buying second-hand fridges and having them delivered to a new family, to the work local council does; every small action makes a difference," Patterson said.
The instinctively welcoming nature of country people also played a role, he said. "We do have the advantage of experience, but I think people tend to just be friendlier in the country too," Patterson said. Such kindness is repaid. "At this year's ANZAC Day ceremony, the Sikh community donated breakfast for the 400 or so people. It's a great example of Shepparton. The past is the past, the future is the future."
Like the mayor, Thon credits the "first wave" of Greeks, Italians, Macedonians and Albanians for breaking cultural ground. "They came into the area for the same reason as people today, to find work, to raise their families, to be safe. I think the community understands refugees because of what they did," Thon said.
After initially finding work translating, Thon now works for the Ethnic Council of Shepparton and District as a community development officer, helping other new arrivals find their feet. On paper, he works to help people "become self-reliant and participate equitably in Australian society as soon as possible after arrival." In reality, he helps people, in the same way he was helped.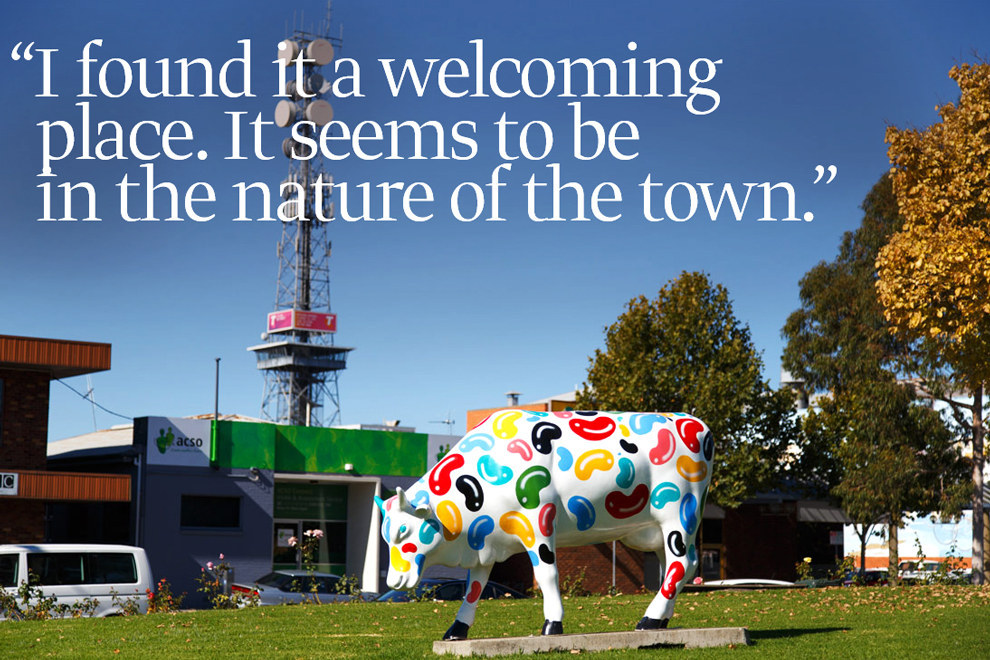 "I sit down and I say, ok, what do you need? Do you have accommodation? Are the kids enrolled in school? Do you need help finding a job? Do you have somewhere to worship?" Thon said.
There are many pieces to the puzzle, but the community is more adept at putting it together than ever. "There are still issues of course, but we try to help people settle as quickly as possible and understand the cultural and religious differences which may be impacting on their lives. When they see other people being accepted, that's a huge part of it," Thon said.
Thon said he is proud to be raising his children Dend, 16, Shelom, 10 and Adau, 7, in a town "where nobody really cares if someone builds a mosque."
Both Thon and Patterson were certain Shepparton residents would have been moved by the recent images of Syrian refugees across Europe. "Any person who has seen that picture of the dead three-year-old on the beach and doesn't have a hint of sadness, doesn't want to do something to help, simply doesn't have a heart," Patterson said.
"I think Shepp people would be the ones helping at the border, like we've seen people do in Europe," Thon said. "Many people I talk to want to do something, anything, to help. They want to know what they can do," Thon said.
And while the town wouldn't want to take more people than it could handle, both men also agreed the area would welcome an intake of Syrian refugees coming here for a new life.
There'd be few better towns.