This Week: German moms on Tinder = quite possibly the best wingwomen we know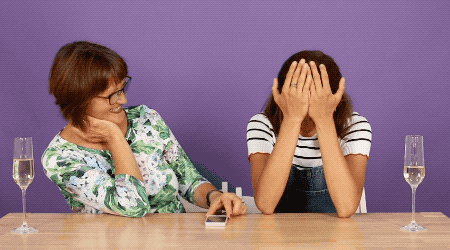 So it turns out that, wherever you are in the world, some things always hold true: dating's weird, dating apps are even more so, and having Mom swipe on your behalf? It's equal parts well-meaning and mortifying — as BuzzFeed Germany most recently highlighted in one of their latest videos, Moms Using Tinder For Their Kids.
This video (which has English subtitles) was created via a partnership with Tinder with the goal of making a German audience more comfortable about using dating apps, according to Phil Jahner, BuzzFeed Germany's head of video and deputy head of entertainment.
And for more parent-powered swipes, be sure to check out Mothers Make Their Kids Tinder Profiles and Asian Moms Take Over Their Kids' Tinder Profiles from BuzzFeed U.S. And then like, go call your mom today. 'Cause hey, she just wants you to be happy, okay??
---
International Hits
In Australia — Let us pause and cringe at all the useless belts and thin scarves that dominated '00s fashion, may it rest in peace.
In Brazil — In true "Thank U, Next" fashion, this quiz will reveal what your last relationship taught you (in Portuguese here).
In Canada — The first snow of the year is always magical, but just watch these refugee kids experiencing the first snow of their lives!!
In Germany — These crazy photos are gonna make you feel super teeny (German here).
In Spain — Everyone's personality is embodied by one line in "Bohemian Rhapsody," and here's yours! (Spanish here)
In India — Anyone living with their parents and dealing with the whole no privacy thing will feel this video sooooo hard.
In Japan — Do you need a puppy pic break? Yeah ya do (Japanese here).
In Mexico — Zombie ant fungi, sleepy snails, and ducks with BDE: This weird animal facts list has it all! (Spanish here)
In the UK — Bust out this main dish vs. side dish poll at Thanksgiving and we guarantee you'll be stirring up the pot!
---
Elsewhere on the webz:
Chances are you haven't heard too much about "The Laddie Wha Lived," but that's just 'cause you haven't had the distinct pleasure of flipping through the Scots edition of Harry Potter, as this Twitter user did.

And if you're curious about what the adventures of house Gryffindor, Corbieclook (!), Hechlepech (!!), and Slydderin sound like read aloud, this video from Stylist Mag's got you. ⚡

---
---