As a huge magazine nerd, I love keeping track of how the biggest titles in media are constantly adapting and transforming according with the times. And in my opinion, one of the most interesting magazines to watch is Vanity Fair, which has totally changed the game when it comes to magazine covers, representation, and so much more. It's all been happening under the watch of editor-in-chief Radhika Jones, who's been quietly implementing change over the past three years of her tenure. I had the chance to interview her about her work for my passion project newsletter about the media industry, Deez Links, and then share the interview here on BuzzFeed as well.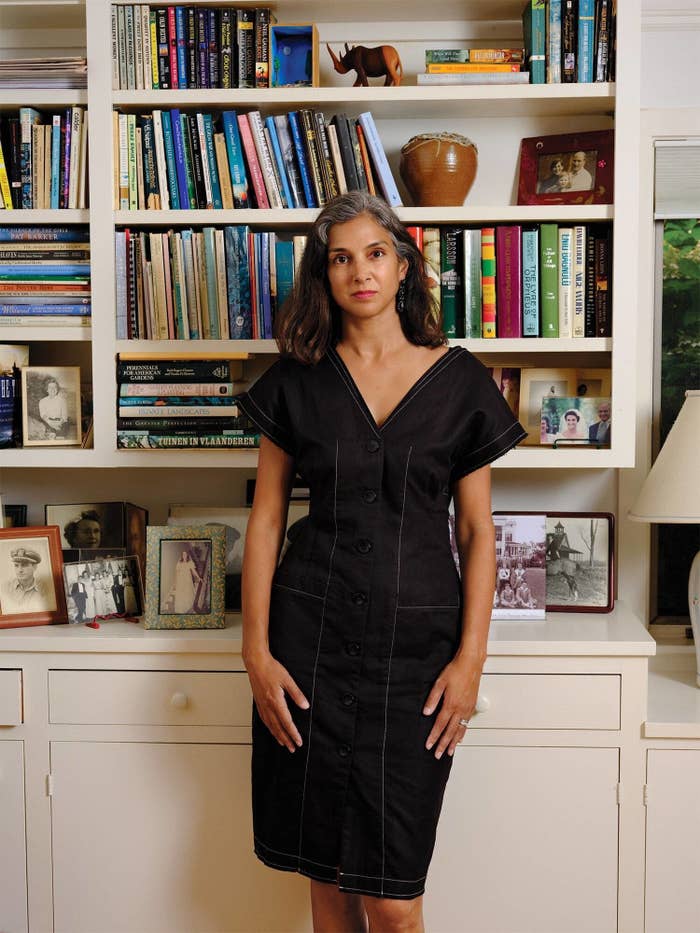 I've written a bit in Deez Links before about the bold new Radhika-era Vanity Fair we've seen unfold before us over the past three years, so it was fascinating to get Radhika on Zoom to chat about everything from this year's historic September issue, to magazine covers, to the specifics of enacting institutional change. I hope you find it as illuminating as I did.
I was thinking of you last Thursday, when Time announced the Person of the Year, since I know you used to work on that whole franchise when you were there. What'd you think of the choice of Joe and Kamala?
I wasn't surprised. I remember one year — honestly, I can't remember which — but after we revealed the choice, somebody tweeted, "You know, if the person of the year isn't a surprise, that probably means they chose correctly." Like it should be the person who impacted the news in the most noteworthy way. So I think it was good!
Right, like it makes sense that the Person of the Year choice should confirm your sense of reality.
Exactly. There's plenty of things that don't, so I think we should take pleasure in it being the expected.
So are you still in New York? How's that been?
I'm in Brooklyn. It's quite hospitable these days. I've gotten maybe too accustomed to not commuting to the office. Very often, I walk in the park in the morning before my workday starts, and just this week I've started ice skating at LeFrak.
Is it strange to be putting together a physical magazine while working remotely, where everything about the process is kind of so intangible?
It's funny to think back to those first staff meetings in March we had on Zoom. Now it's such a second nature. There are things that I obviously miss about being together in person, but there have been some silver linings. One is that we have people on our team in LA who are a big part of our process, and there's something leveling about everybody on the screen together. Everybody can see what we're all looking at.
I'll be happy when things are safe and we can see each other in person, but I'm also so proud of the work that we've been able to do. There is something to be said for coping with unforeseen challenges. It focuses the mind. It has made my team so creative and innovative in ways that we never could have predicted — everything from doing a photo shoot with Catherine O'Hara using a drone, to photographing Janelle Monáe over Zoom, to conducting interviews and meetings in this new medium.
I definitely want to zero in on the work you've done in 2020, but first I want to take a bird's eye view of your work, especially regarding the Vanity Fair covers.


I'm personally kind of obsessed with magazine covers. It's a small part of what a publication is, obviously, but on the other hand, it still means so much, right? So I've been really interested in how you've spent the past three years changing the idea of who a Vanity Fair cover subject is.


I went into the archives and counted up all the covers you've done. If you look at just solo covers, 43% are of Black people or people of color. Then there are other big milestones, too — the September issue with Amy Sherald's portrait of Breonna Taylor, of course. July/August 2020 was shot by Dario Calmese, which made it the first cover made by a Black photographer. You wrote in your editor's letter for that July/August issue about how, in the 35 years before you were editor, Vanity Fair published only 17 solo covers featuring Black people. You've already published 11 in three years.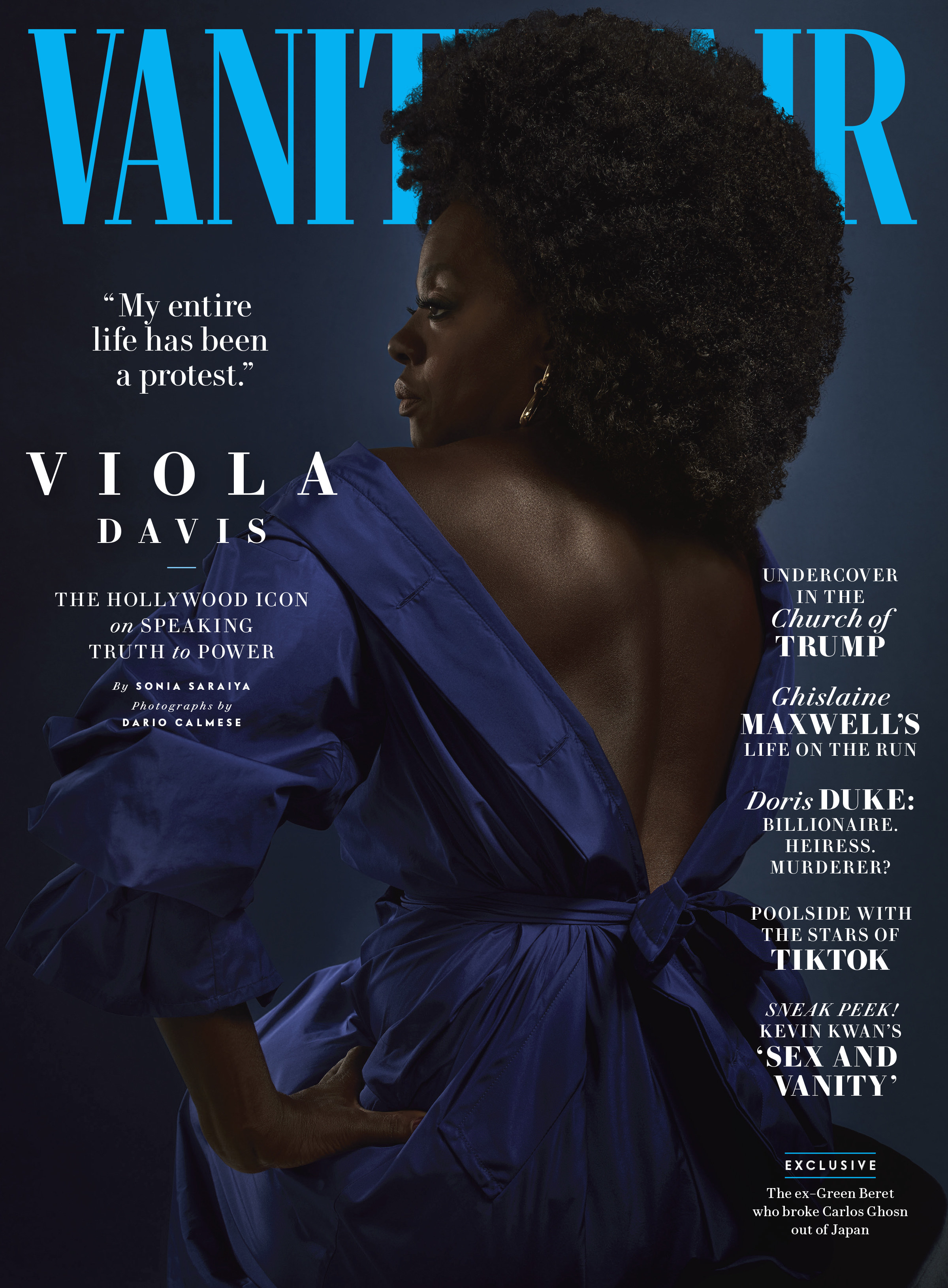 So this is all a lead-up to ask: Well, what did it take to make that kind of change? Was shaking up the cover a conscientious goal you had coming in? And was it a whole system of pulleys and levers you had to rewire, or was it really as simple as being the person at the top to say, "We're doing this"?
I agree with you about covers. They are not everything that a publication can represent, but they are in a certain sense the most important thing. They are content and creative, but they are also a marketing tool projecting the identity of the brand. So when you're choosing a cover, you're choosing a person who's the subject of a profile and photography, but you're also choosing someone whom you want to provoke a conversation about in terms of who's important in the culture right now.
When I think about my first cover with Lena Waithe, and I think about my thought process at the time, it came back to seeing that speech she gave at the Emmys. I had just started at Vanity Fair, and I was thinking about the idea of aspiration.
We traffic in celebrity and entertainment and politics and culture, but a common theme that runs through it is aspiration. You have that dream of accepting your Academy Award or ascending to the White House, whatever it is that goes hand in hand with power and influence. To me, I thought if you had aspirations in Hollywood and you had seen Lena Waithe accept her historic Emmy, you would aspire to be like her. She's a creator, she's a writer, she's an actor. You felt the star power emanating from her.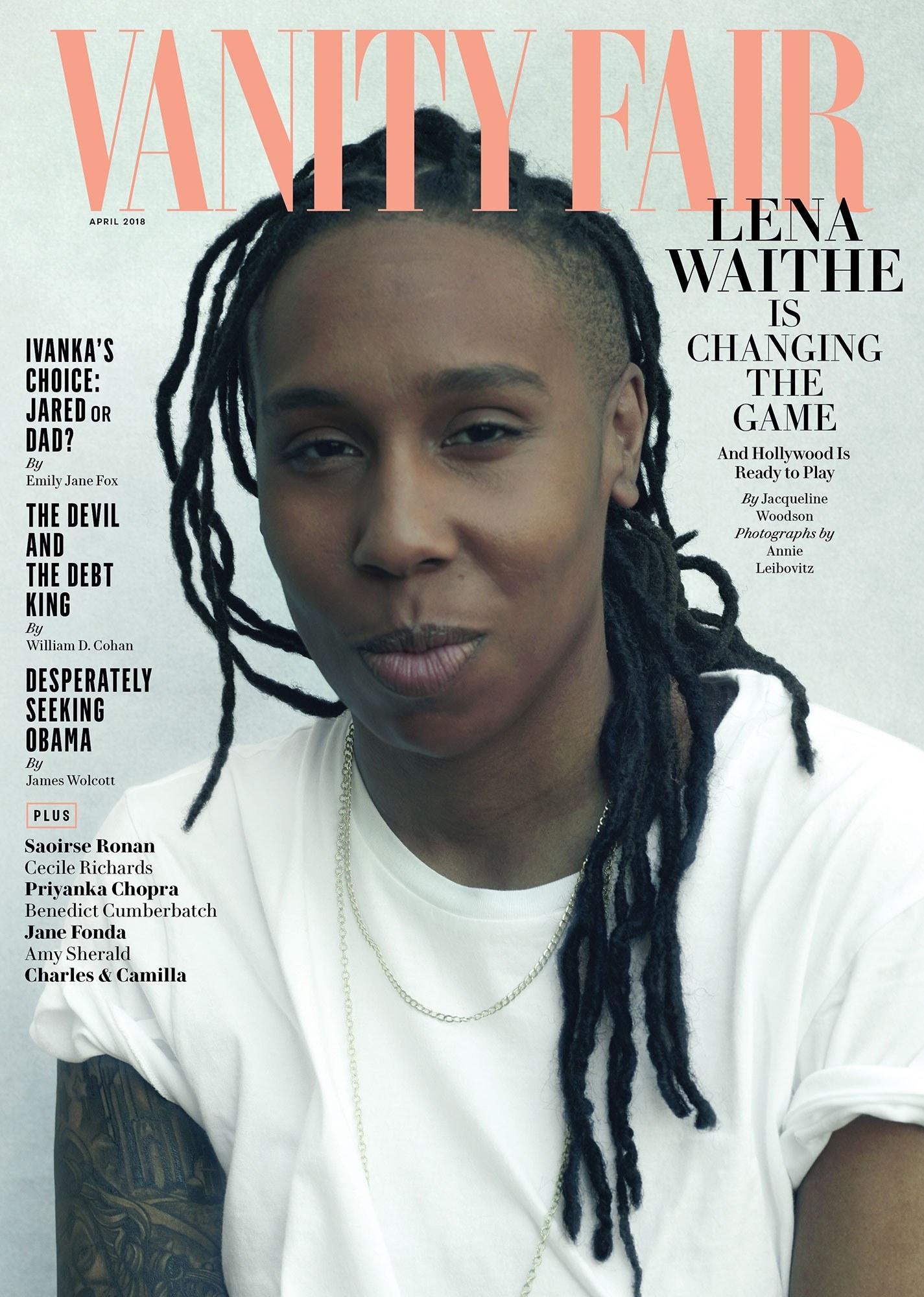 So for me, it's been about choosing the people who make me think about dreaming big. Or being creative. Or using talent and influence in ways that are unexpected. So we make those decisions in conversation with my team, and we have a lot of dialogue around who goes on the cover and when and why. But it does come down to who we think is representative of where the culture is, or where we want it to be.
It's interesting what you say about using the cover as this arbiter of recognition in the same way an Emmy could be, especially compared to what we were talking about with Person of the Year. POY is supposed to confirm what you see around you, while a Vanity Fair cover is supposed to look forward.
It's aspiration as a driver of dreams in Hollywood or in politics, but it's also our own aspirations and the aspirations of our peers. And it does come down to being the person who is the editor-in-chief, who ultimately makes the decisions. You ask about institutional change, and I think it comes down to individual decisions. Each day you're making the call about what stories to pursue, and those choices add up every week, every month, and that is how change happens incrementally. You have to have a lot of faith. People will come along with you.
So speaking of the Lena Waithe cover, I also want to talk about the pushback. For example, there's the well-known "Ebony Fair" comment that came up in that New York mag piece last year. Earlier this summer, the NYT had a quote about a Conde Nast exec saying that Vanity Fair should feature "more people who look like us." Have there been more incidents like that?

Not to my knowledge. But my knowledge is not all encompassing.
How do you respond to stuff like that?
Perhaps I'm a little ornery, but they've only confirmed to me that we were doing something right. I've worked in magazines for two decades and I don't think I had a very thick skin when I started, but I think I have a pretty thick skin now. I felt very confident about the decisions that we were making, and so I find those kinds of reactions appalling. But they don't mess with my ability to move forward.
For the most part, I tune it out. I want the magazine to start conversations — we publish stories that are provocative and divisive, and that's fine, that's part of what Vanity Fair's brief is. But I feel kind of like I'm at an age and at a point in my career where it's...I don't want to say easy exactly, but it's not hard for me to stick to my guns anymore.
I noticed in your How I Get It Done interview from last year that you mentioned taking up boxing around the time you started at VF. I remember reading that and thinking, Hmm, I wonder if those are interconnected.
You are a very good reader of personalities.
We should obviously talk about this year's September issue, which was nothing short of historic. You have Ta-Nehisi Coates guest-editing, Amy Sherald's painting elevating Breonna Taylor's image to the cover, this enormous breadth of stories reflecting the complexity of the movement.


I was listening to Ta-Nehisi's Longform interview about it, and I thought it was interesting that, during the part where he discusses whether it could feel kind of cheap to do up a big racial justice issue, he talked about how, way before summer 2020, you turned Vanity Fair into the kind of platform that could then speak to the movement with credibility. Were you afraid it would come off as gimmicky when you were putting it together?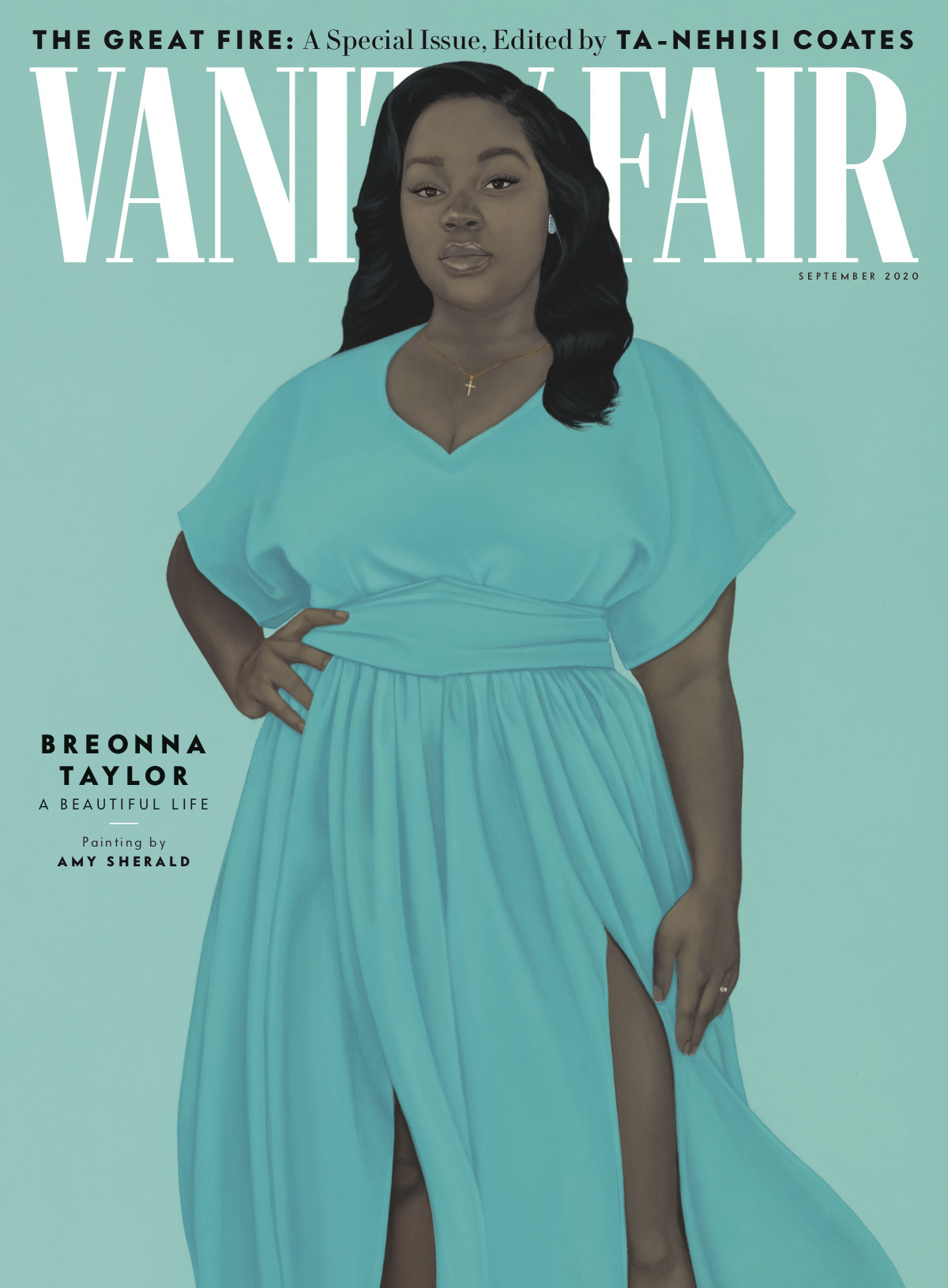 As an editor, you're always trying to anticipate the various ways a project will be received. You come to your work with conviction and a desire to tell a story with integrity and fairness, especially in the case of investigative journalism. With September, just given the types of stories we were telling, that obviously felt very important, to be thinking through these decisions in such a way that we could present them with the gravitas and integrity and thoughtfulness they deserved.
I listened to that podcast as well and heard that conversation. It was one we had internally. One thing that I try to do as an editor — and it's a little hard in the days of Zoom — is to be forthcoming and transparent about my decision-making. We want our staff and people who contribute to the work to feel proud of it. So we talked a lot about how to present the issue and about the cover in particular.
For me, it was a real dream to have Amy Sherald make that painting and to be able to talk to her about that process with it. She came to it with so much intention and so much emotion and a desire to get it right in honor of this young woman whose name, in the ordinary course of things, we would never have known, but whose death brought her before us. So a lot of the decision-making behind that cover had to do with just making sure that we were showing the depth of our work and commitment.
So making a piece of art, having an artist of the caliber of Amy Sherald, having a thinker of the caliber of Ta-Nehisi Coates, having writers like Jesmyn Ward contributing to that issue — that to me represented our commitment. That's what we have in our power to do, to bring artistry and emotion and a sense of integrity to the work.
Right. There's a universe where the concept of having Breonna Taylor on a magazine cover just translates into like, enlarging a photograph and calling it a day. But what you said about the symbolism of having Amy Sherald making a painting that becomes the cover and advances the meaning beyond just, here's this woman's image, everyone's talking about her, that's really interesting.
We actually ran a piece about Amy's process in that issue and online, partly because we wanted to be transparent about it and because her process is so amazing. The level of thought and detail she put in making every step of that painting is truly phenomenal.
And what I will say is that even for people who didn't read that story or don't understand the tradition of Amy's art, my hope is that when they look at that painting, they feel something. And that was a reaction we heard over and over — that people felt that it stopped them. It was something about the expression, the color palette, the composition. In this day and age, if people have a moment to stop and reflect, I think that's an achievement.
How early did you start working on the issue?
Right at the end of May. We had been talking with Ta-Nehisi Coates about a different piece that fell through. But in the meantime, after the murder of George Floyd, after the protests began in Minneapolis and beyond, our executive editor Claire [Howorth] said to Ta-Nehisi, "Would you ever consider guest-editing?"
It was exciting and a little scary because I've never worked with a guest editor, and he'd never done it. And we knew we would have to do it over Zoom and in a relatively short amount of time. But I think that got us even more excited.
I'm getting a little personal now, but I'm curious how you've negotiated evangelizing this vision to make Vanity Fair more diverse and representative along with your own identity.


It's something you touched on in your first letter from the editor, but I feel like leaders who are women of color have this double bind where you are expected to be this champion and talk about your identity yes, but not too much, right?
It's one of those things where it's like, god, we would just never get out of bed if we let this stuff sink us, right? You kind of move through your life and do good work and be true to your values and hope things work out. But the way you describe it, it's true it would be exhausting to have everything in perfect balance.
I think I came to the job with the sense of what I wanted to do, that I wanted the magazine to reestablish itself as a magazine about the zeitgeist. I wanted it to feel timely and relevant. And one of the ways to accomplish that was to shake up the roster of who our subjects were. Because that's what happens in the culture at large. That's just us doing our job. So I felt pretty clear about that.
But the personal part of it is...it's hard to talk about, not because I'm reluctant to talk about it. But it's always something that's evolving. Even as I'm working and absorbing the culture and being one of the people who ideally helps to shape the culture, I feel like I'm on a constant personal project of learning why I like the things I like. Why am I more interested in this actor than this other actor? What is it about the culture I grew up with in the '80s that sparks my imagination about the culture we're creating now in 2020?
I don't want to sound hokey, but there's a lot of self discovery that comes with being an editor. Or a writer for that matter. You're writing through the reasons that certain art forms matter to you and certain kinds of expression matter to you. And I'm still discovering and learning all those things. Does that make sense?
It does, and honestly I've thought a lot about the inherent weirdness of this kind of question. Because no one went around asking Graydon or Tina, like, "How has your background as a WASP informed your work?"


But when it comes to leaders and artists and thinkers who are Black or people of color, there's the expectation to have your little thesis that perfectly articulates your worldview and how it ties to your work. When in reality, it's as you say, a general ongoing process of self-discovery.
One thing that's kind of fun, which my team has great great tolerance for, is that as an editor, you start to discover your quirks. On any given day, am I making a decision as a person whose father was Thelonious Monk's road manager, or am I making a decision as a person who is an enormous fan of Buffy the Vampire Slayer? I am both of those things. They come together in funny ways.
And I think that it's a great joy of working at a place like Vanity Fair where we touch all points of the culture. We get to access so many of those different parts of our personality. I feel lucky to be able to explore these things and do it with a community of people every morning in our morning standup and conversations on Slack, to talk to people who also bring those parts of personalities to their jobs. That is a great joy.
A few more questions that are a little less existential. First up: What's your wish list for next year?
I know you're talking about work, but of course I'm immediately like, "I would like to take a vacation."
Oh yeah. Where's the first place you would go?
Venice! I've never been. But also Japan, because I've never been to Japan and this year, my son and I became obsessed with Salt Fat Acid Heat. We love the salt episode, where Samin Nosrat goes to Japan and experiences amazing soy sauce. My son is 6, and he and I are like, "We are going to Japan! We are going to meet the soy sauce whisperer!"
He sounds like such a discerning 6-year-old.
He is. You know, cooking shows and food shows are amazing family television. They're informative, and they double as travel shows. We also watched Taste the Nation, and he loved it. It's been fun to experience those kinds of shows with a small child who's just learning his way around the world.
But ah, you were asking about work. I think for 2021, I want things to get easier for my staff, who have worked so hard this year under circumstances that are really challenging, everything from handling childcare and school closures to being trapped in small spaces and going through a really relentless year of election coverage. It's not that everything in the world is looking rosy now, but I will say again how proud I am. I just want for everyone to be able to reset.
Last question, a fun question. We've been talking a lot about magazine covers, so I'm curious: Do you have a favorite magazine cover...of all time?
I'll give you an answer that's a little on the nose and Vanity Fair specific, but for me, it's the cover that represents the possibility of what a magazine can do. It's the Tina Brown cover of Demi Moore, naked and pregnant.
To this day, I think it is a monumental expression of maternity and femininity and sexuality. It started conversations about the intersection of all of those things, and I feel like we are still grappling with all of those issues.
So that, to me, is a cover that puts a magazine's identity out in the world. When I think about the possibilities of Vanity Fair — and I hope we've been able to do this — I think about, you know, "Can you make an image that starts a conversation?" Maybe even a conversation that lasts for decades! That's what that cover did.