This is a personal, non-sponsored post by a member of BuzzFeed's ad content team.
Double-Decker Steak Breakfast Tacos
Steak and eggs never tasted so good.
Double-Decker Steak Breakfast Tacos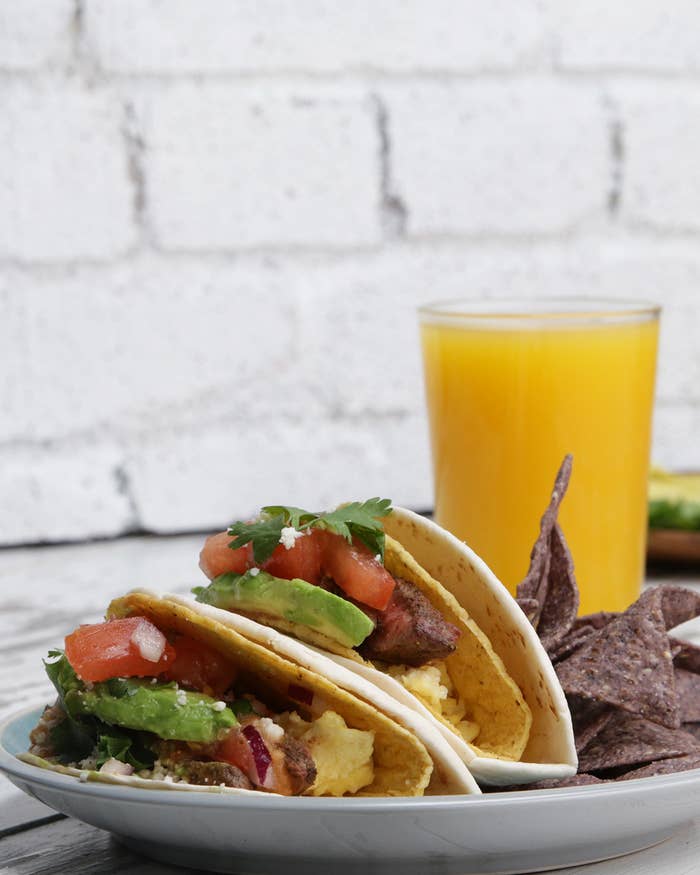 INGREDIENTS
Servings: 8
1 pound steak (flank, skirt, or flat-iron)
1 teaspoon salt
½ teaspoon pepper
½ teaspoon chile powder
½ teaspoon oregano
½ teaspoon garlic powder
½ teaspoon cumin
8 eggs, beaten
Salt, to taste
Pepper, to taste
1 tablespoon butter
8 small flour tortillas
8 hard taco shells
1-2 cups grated cheddar or jack cheese
Optional toppings
1 cup salsa
1 avocado, sliced
Crumbled queso fresco
Cilantro
Scallions
PREPARATION
1. Combine the cumin, chili powder, garlic, oregano, salt, and pepper in a small bowl. Rub all over the steak. 

2. Heat a large sauté pan over high heat until very hot. Add a splash of vegetable oil. Add the steak to the pan and cook 3-4 minutes per side for medium, or cook to desired doneness. Remove from pan and let rest at least 10 minutes. Thinly slice against the grain. 

3. Preheat an oven to 350˚F/175˚C. 

4. Place the flour tortillas on baking sheets. Sprinkle each with a small amount of shredded cheese, then place one hard taco shell inside. Heat just until cheese melts, about 3-5 minutes.

5. Heat a nonstick pan over medium heat and add butter. Scramble the eggs and season with salt and pepper. 

6. To assemble, fill each double-decker shell with a few spoonfuls of scrambled eggs and a few slices of steak. Top with salsa, avocado, queso fresco, cilantro, and scallions. 

7. Enjoy!