Here's What You Should Eat For Dinner
Tasty, nutritious and ready in less than thirty minutes. As dinner should be.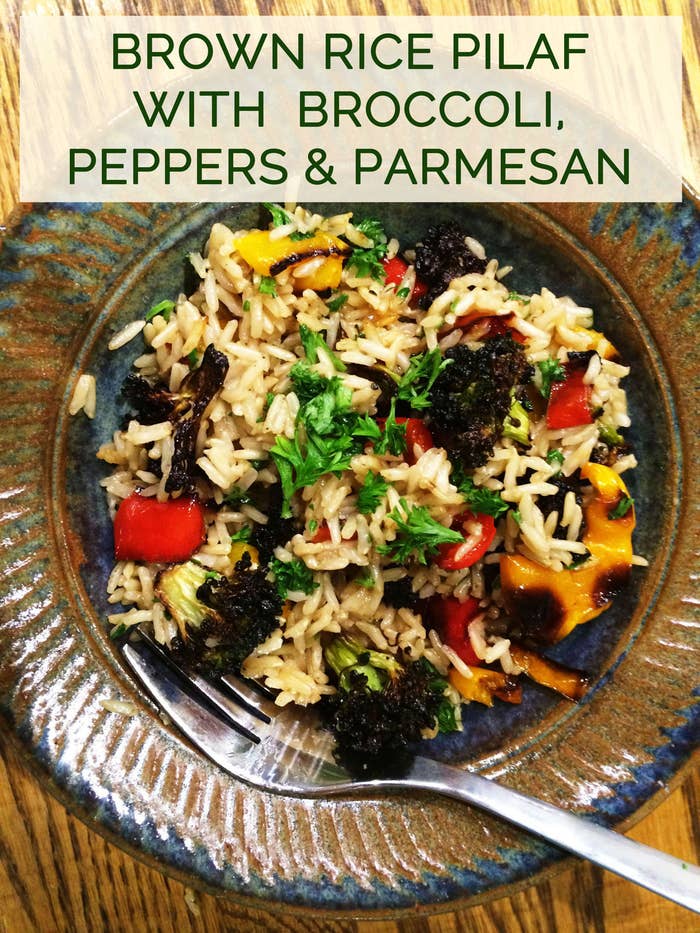 Easy Brown Rice Pilaf With Broccoli, Peppers And Parmesan
Recipe by Deena Shanker
Serves 2 – 3
INGREDIENTS
4 bell peppers, any color, cut into bite-sized pieces
1 head of broccoli, cut into bite-sized florets
3 tablespoons of olive oil, divided
salt and pepper, to taste
1 cup of uncooked brown jasmine rice
2 ¼ cups of vegetable stock (water is okay if you don't have stock)
½ cup of grated Parmesan cheese
1 tablespoon of parsley, chopped
PREPARATION
Preheat your oven to 450°F, and line two large rimmed baking sheets with parchment paper.
In a large mixing bowl, combine the chopped peppers and broccoli, 2 tablespoons of olive oil, and salt and pepper to taste. Toss everything together and then spread on the baking sheets.
Roast the vegetables for about 20 — 25 minutes. You want the broccoli to be slightly charred and the peppers to start to blacken around the edges.
Meanwhile, make your rice. In a large saucepan, heat the third tablespoon of olive oil and toast the uncooked rice for a minute. Add the vegetable stock and bring to a boil. (If you're using water, add some salt, too.) When it starts to boil, close the lid, turn down the heat to medium-low and simmer for about 20 – 30 minutes, or until all of the liquid is absorbed.
When the vegetables are done, add them to the rice, as well as the Parmesan and parsley. Stir it all together.
To serve, divide between 2 or 3 bowls, depending on how hungry you are. Garnish with extra parsley and/or Parmesan, if you want.