This is Andy Leek, an advertising creative, originally from Wolverhampton, and now living in Brixton, south London.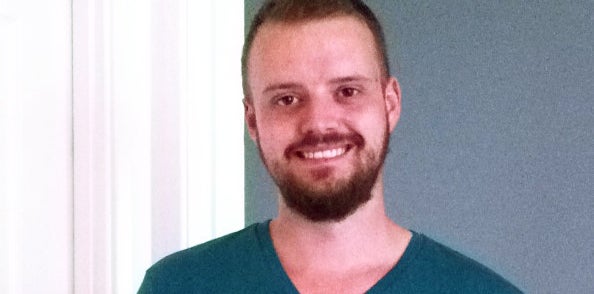 In January 2011, he lost his mum, Susan, to cancer, after battling the disease for 18 months. Andy's family was struck by cancer again in 2012, when his sister-in-law, Joanna, was diagnosed with the disease. Thankfully, Joanna got the all clear after a year of treatment.
But Andy's experience with cancer left him with a lesson that he couldn't shake off: Life is short, and you have to take chances.
He told BuzzFeed: "From the moment I got the news that my mum was sick, my life changed. The only positive thing I could find was this: You have to enjoy the good times of life. Because when the bad times come, and they do for everyone at some point, you long for the times when everyone was OK. These events taught me that life is for living, and to have adventures, whenever I can."
So, in October 2013, Andy decided to put a blank canvas up on eBay, with a promise that he would paint the portrait of the winner, no matter where they were in the world.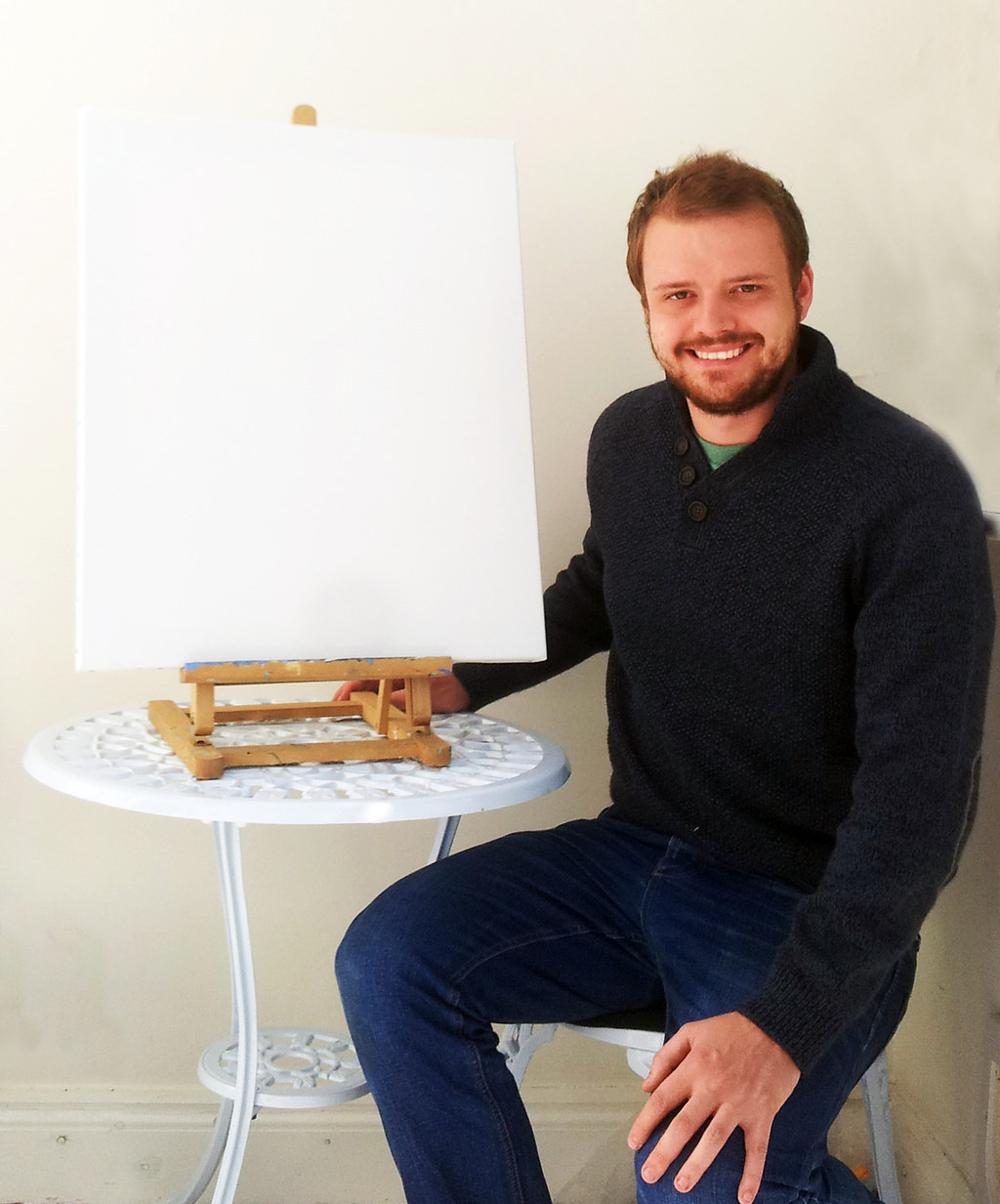 The auction lasted a week, with bids from the UK, Germany, and the Netherlands.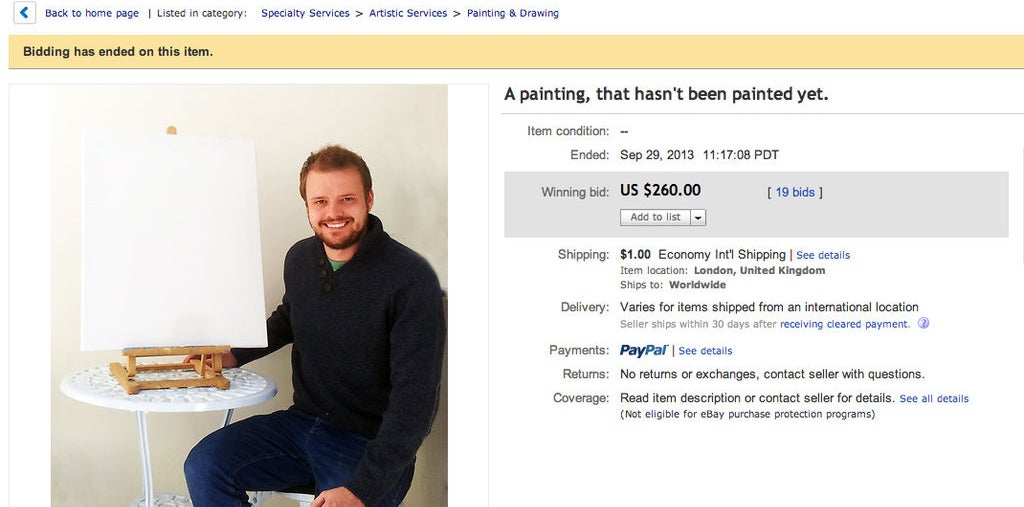 But the winning bid came from this lady, Laurel May Bond, from Las Vegas, Nevada.
Laurel, an artist and freelance journalist, found out about the bid through Reddit, and paid $260 for the painting.
Laurel had been documenting her cancer fight on a blog, called Cancer Is the New Black. Andy said: "She was excited, full of positivity, her emails were witty, she loved the idea, and we immediately took shared ownership of the project. We set up a charity page for people to donate in support of the project, with all the proceeds going to my mum's favourite charity, Compton Hospice."
Given Laurel's cancer diagnosis, Andy was determined to travel to Las Vegas to paint her portrait as promised.
Andy said: "I started by tweeting, emailing, and calling all the airlines and travel companies I could think of, and ask them if they would sponsor me. They all said no."
It looked like the trip wouldn't be possible until the amazing intervention by a friend of Laurel's named Dave Richardson.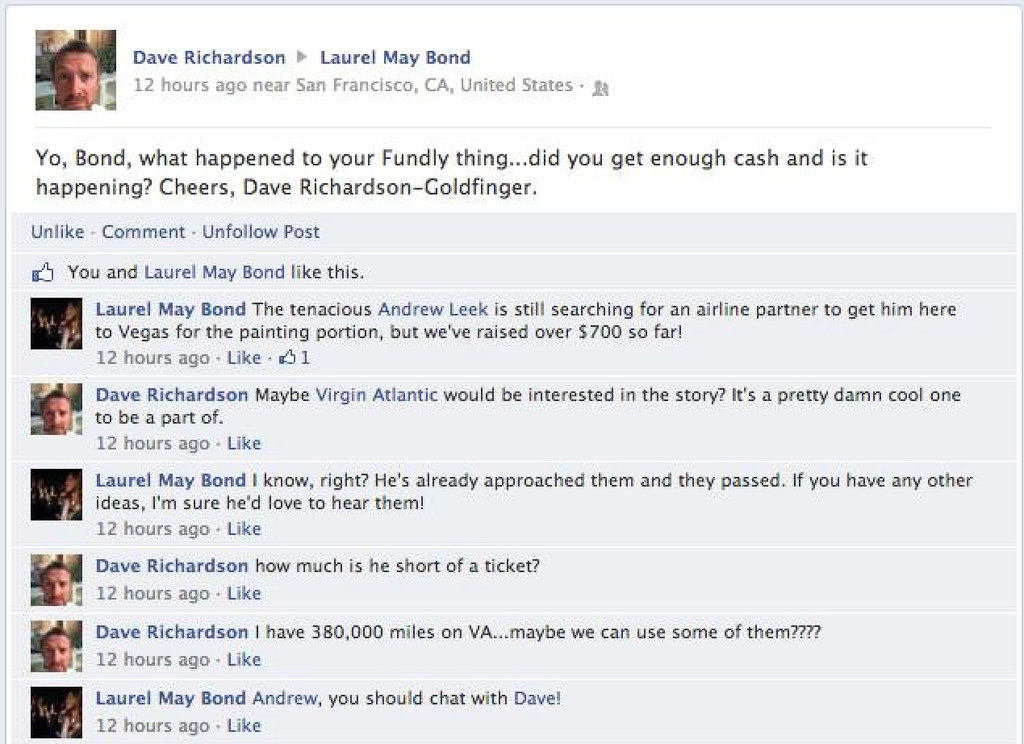 Dave donated 100,000 of his air miles on Virgin Atlantic to help Andy pay for a flight.
Andy said: "It turned out that Dave had lost his mum at a young age to cancer, and had recently undergone treatment for skin cancer. Later that night, I was transferring £100 to a complete stranger, halfway across the world, so that he could book me a return trip to Las Vegas.
"Dave's generosity and trust was such an amazing part of this story, and one that I could never have predicted. I highly doubt this would have happened without him, and I will be eternally grateful."
So in early 2014, Andy arrived in Las Vegas, where he met Laurel, as well as Dave, who flew from San Francisco especially.
Andy said: "Laurel was at the airport to greet me, and we instantly hit it off."
"I stayed in Vegas for one week. We both embraced the surreal randomness of the situation. Laurel showed me a side of Vegas that only the locals know: hidden amongst the casinos and all-you-can-eat restaurants are lots of art projects, pop-up restaurants, and innovative small businesses.
"Laurel had arranged free accommodation for me from a local creativity conference, on the condition that I gave a talk at their monthly showcase."
"It was absolutely terrifying, but also exhilarating, and the crowd were very nice and appreciative. Laurel was also in the crowd smiling with encouragement the whole way through, and also laughing the loudest out of everyone."
Then the moment came where Andy would fulfil his eBay promise, and paint Laurel's portrait.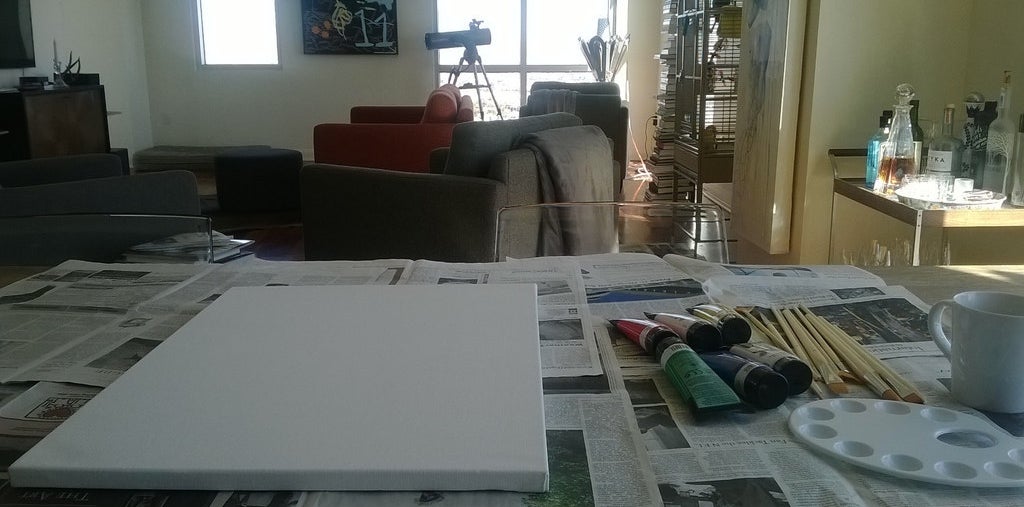 Andy said: "I mentioned that I was nervous about painting her, and messing it up, so she said, 'You don't have to.' She told me that Dave loved her dog, Manchester, so I could paint him, and then give the painting to Dave as a thank you for donating the air miles."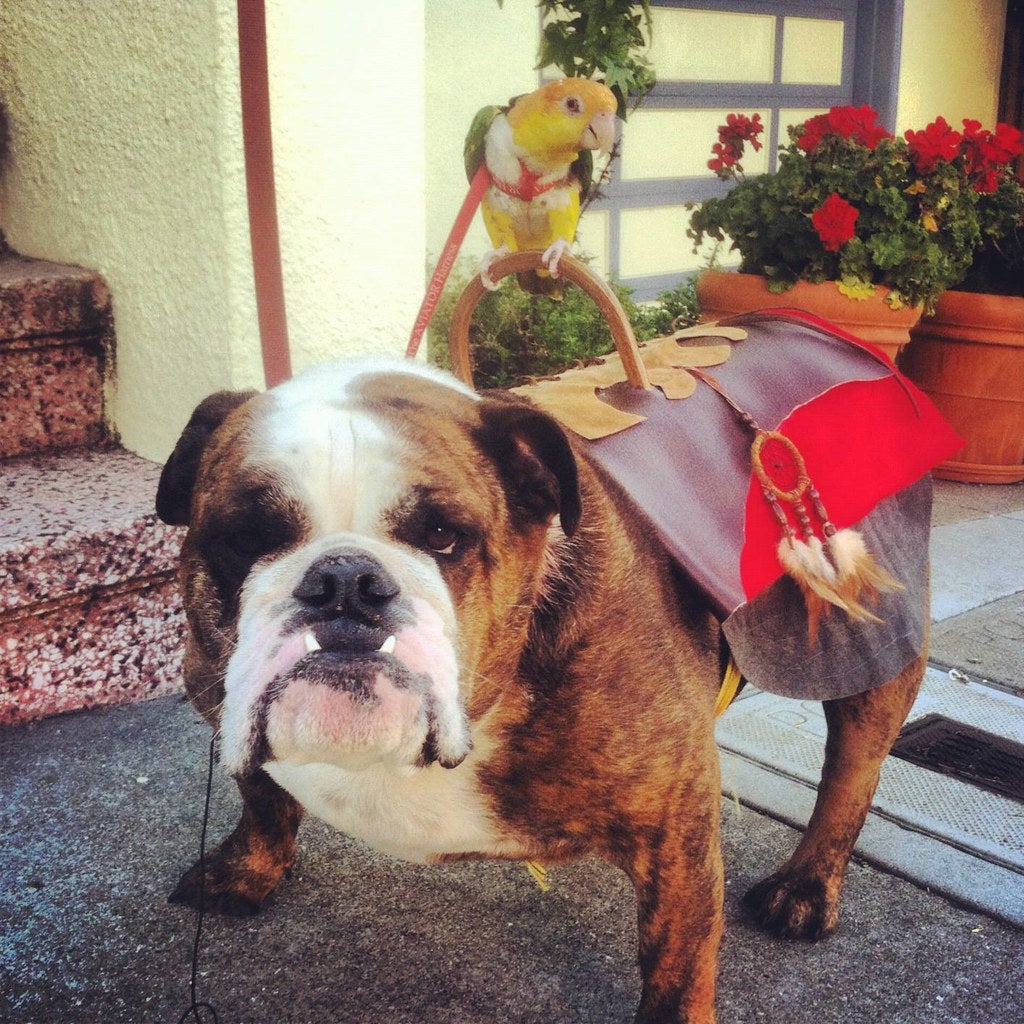 "I loved that she built in an extra twist to the story, so when everyone was expecting a portrait of her, you get a bulldog wearing a saddle (which she made) being ridden by her pet parrot, Pixel. I think in some way, this actually captures her mischievous, creative spirit much better than an actual portrait ever could."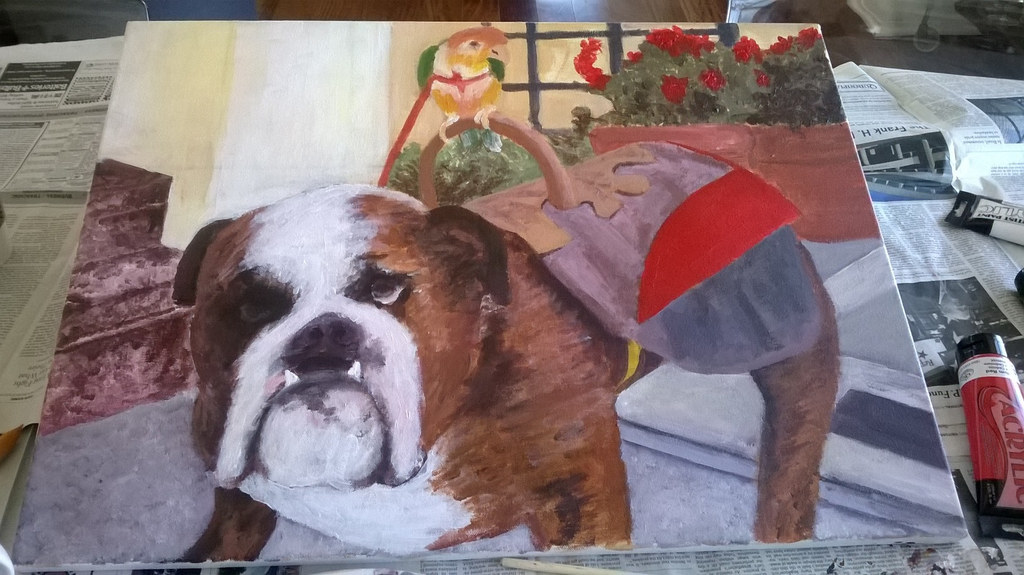 Laurel died on July 5 of this year. Andy's painting was on display at her funeral.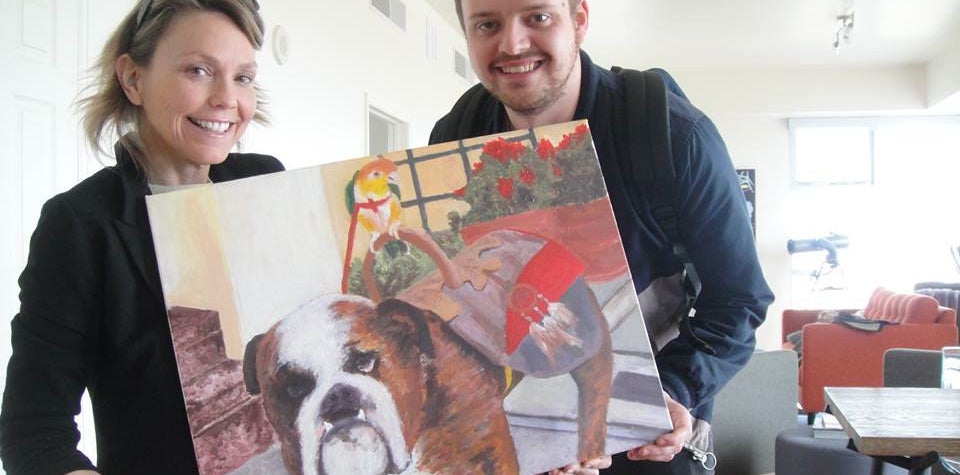 Andy said: "We had kept in touch, and I'm not sure if she read my last email, sent June 30, because I think she was pretty sick by this point. I hope she did. She had just posted on her blog about losing her hair due to chemotherapy, and I wrote that we now had another thing in common as I was going bald. I didn't manage to get to the funeral, however."
With Laurel's help, Andy raised over £1,100 for charity.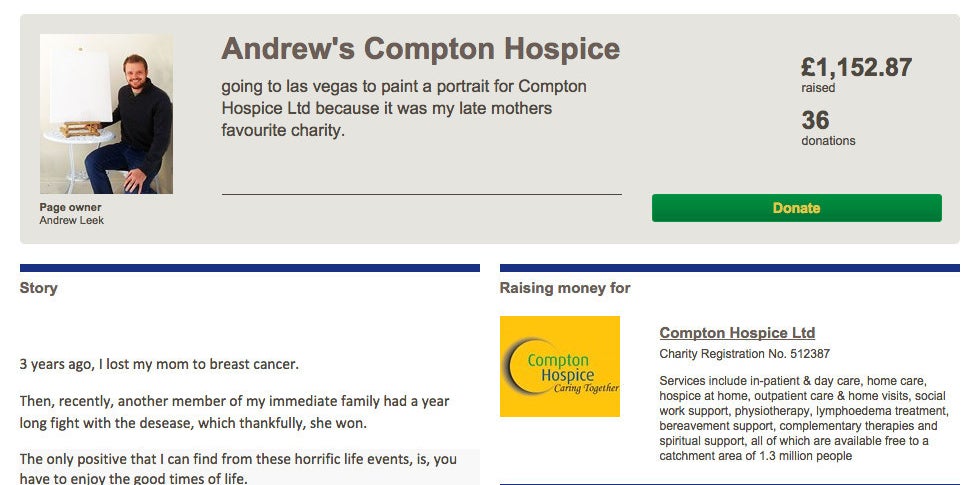 "Laurel was an artist – she saw the world differently," Andy said.
"I didn't expect to find a creative partner to win the auction, but that's exactly what happened. I'm deeply, deeply honoured to have co-created this with her. From the outpouring of messages and stories about her on her Facebook page, she was constantly being creative, and loved to make people happy through her projects.
"The way that she dealt with her cancer was nothing short of inspirational: always positive, optimistic, and often successful in finding the humour in it."