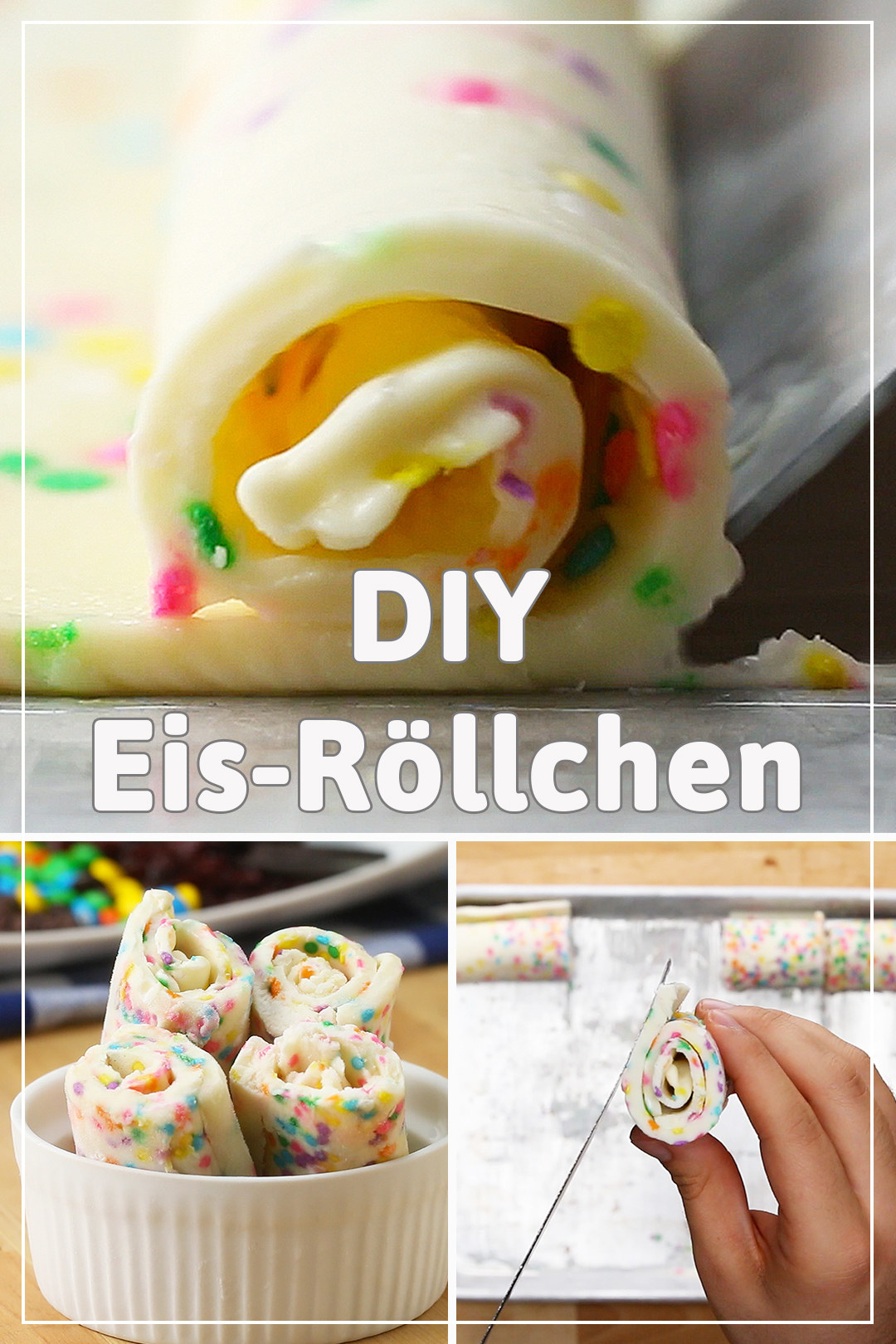 Zutaten
für 4 Portionen
480 ml Crème double
1 Dose gezuckerte Kondensmilch
1 Prise Salz
Topping deiner Wahl
Zubereitung
1. Verquirle die Crème double, die Kondensmilch und das Salz in einer Schüssel.
2. Gieße die Mischung auf ein 46 x 33 cm großes Backblech oder auf mehrere kleinere Backbleche. Achte darauf, dass die Eiscreme-Grundmischung den Boden gerade so bedeckt. Sie sollte 6 mm oder weniger dick sein.
3. Streue zerkleinerte Toppings deiner Wahl darauf. Mische die Toppings mit einem Schneebesen unter die Eiscreme-Grundmischung, um dafür zu sorgen, dass es gleichmäßig verteilt ist.
4. Friere das Ganze mindestens 4 Stunden ein. Achte darauf, auch deine Spachtel und Eisschalen ins Gefrierfach zu stellen, damit das Eis beim Rollen nicht schmilzt.
5. Wenn das Eis fest gefroren ist, nimm es aus dem Gefrierfach, setze den Spachtel schnell in einem 45°-Winkel an den Rand des Blechs und schiebe ihn langsam voran. Falls das Eis beim Formen ein bisschen Hilfe braucht, nimm ein Buttermesser, um die Eisplatte in eine Rolle zu drücken.
6. Setze die Eisrollen in eine gekühlte Schüssel und gib Toppings deiner Wahl darauf.
7. Guten Appetit!
Dieser Artikel erschien zuerst auf Englisch.
Looks like there are no comments yet.
Be the first to comment!