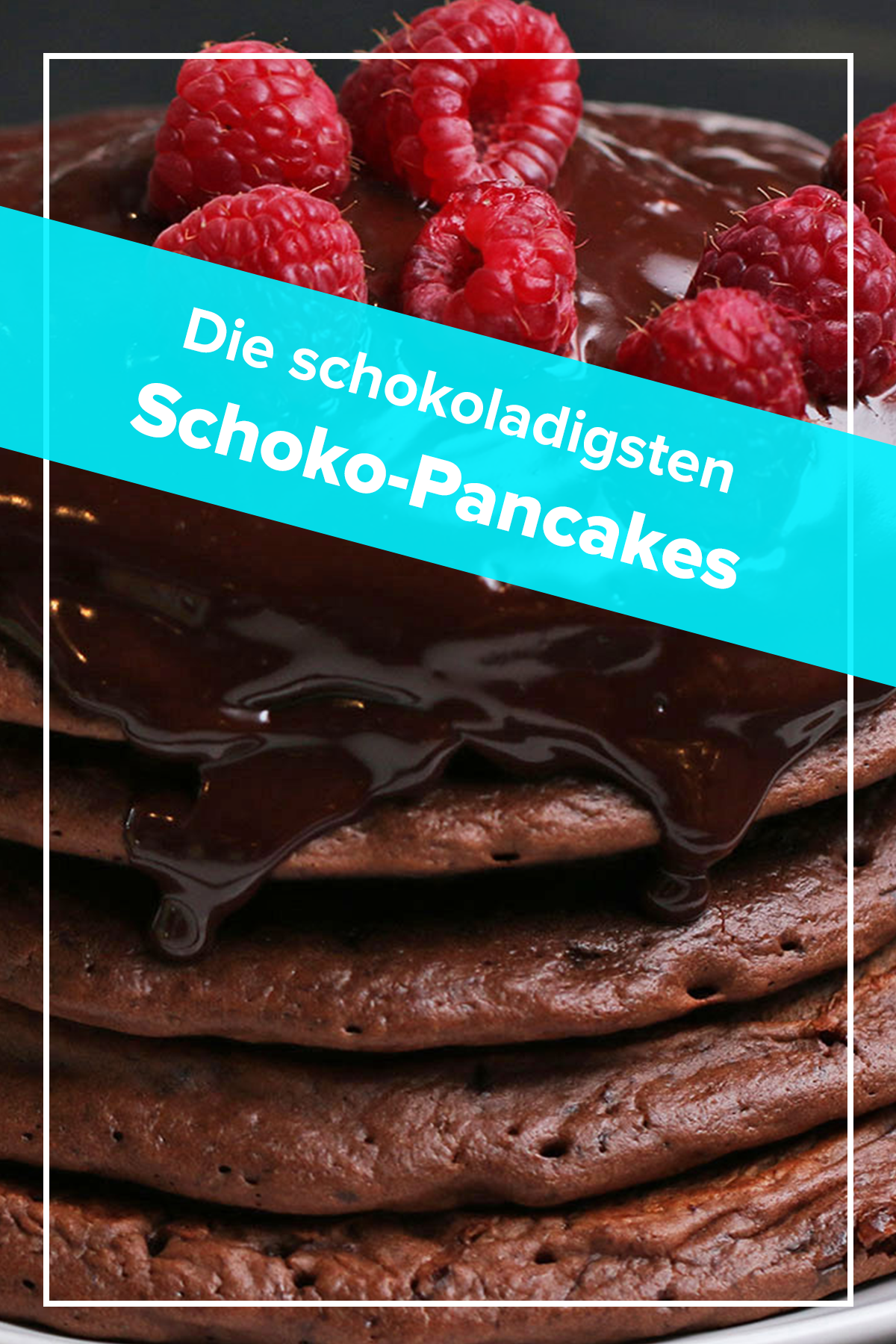 ZUTATEN
Für die Pancakes:
2 Eigelb
2 Eiweiß, geschlagen
3 EL Zucker
350 ml Milch
3 EL Butter, geschmolzen
1 TL Vanilleextrakt
200 g Mehl
30 g Kakaopulver
2,5 TL Backpulver
100 g Schokolade, fein gehackt
1 EL Butter oder Öl zum Braten
Für die Schokoladen-Ganache:
25 ml Sahne
200 g dunkle Schokolade, gehackt
eine Handvoll Himbeeren
ZUBEREITUNG
1. Eigelb und Zucker in einer großen Schüssel mixen, dann die Milch unter Rühren hinzufügen.
2. Eischnee vorsichtig mit einem Löffel unterheben.
3. Geschmolzene Butter und Vanilleextrakt untermischen.
4. Gesiebtes Mehl, Kakaopulver und Backpulver in einer anderen großen Schüssel mischen.
5. Eine kleine Kuhle darin formen und den Ei-Milch-Mix hineingießen. Dann den Teig glatt rühren.
6. Fein gehackte Schokolade hinzufügen und für 15 - 20 Minuten ruhen lassen.
7. Für die Ganache Sahne in einem kleinen Topf erhitzen, nicht kochen.
8. Topf vorm Herd nehmen, die gehackte dunkle Schokolade hinzufügen und zu einer cremigen Masse verrühren.
9. 1/4 des Pancake-Teigs in eine gut gefettete Pfanne geben und bei niedriger bis mittlerer Hitze braten.
10. Sobald sich Bläschen an der Oberfläche formen, den Pancake umdrehen und 1 Minute lang von der anderen Seite braten.
11. Wenn die Pancakes fertig sind, die Ganache darüber gießen. Harte Ganache wird in der Mikrowelle wieder warm.
12. Mit Himbeeren verzieren. Guten Appetit!

Du willst mehr Rezepte? Das Tasty-Kochbuch gibt es jetzt auch auf Deutsch. Hol es dir hier!
Looks like there are no comments yet.
Be the first to comment!